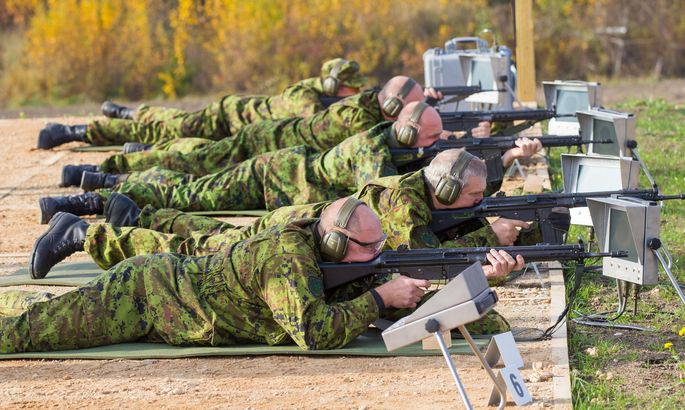 The Defense Forces will gradually switch to new, smaller-caliber automatic weapons and an updated soldier system. The aim of changes is to render the infantry lighter and faster in a matter of a few years.
The State Defense Investments Center's (RKIK) procurement plan suggests that the year 2018 will see the updating of the equipment of thousands of conscripts and reservists that has remained unchanged for the past decade.
This is the first time Estonia will buy new automatic weapons for the entire Defense Forces. "Regarding new automatic weapons, we will be procuring capacity as opposed to just buying guns. From magazines, munitions, harnesses to laser sights," said head of procurement at RKIK Priit Soosaar.
Procurement conditions will see the state buy nearly 11,000 5.56 and 7.62 mm automatic weapons in 2018-2021. Conditions include the possibility of procuring an additional 18,000 firearms until 2024. Approximately 1,200 firearms will go to the Police and Border Guard Board (PPA) to be used by patrols, guard stations on the green border, border stations, and special units.
Nine arms manufacturers have currently qualified for the procurement and have until the end of January to present detailed offers. All weapons will be tested in Estonian conditions by Estonian Defense Forces members before a decision is made.
Price and lifespan of weapons play an important role next to usability. Estonia will not take prototypes or obsolete arms as the weapons must be in use with other EU or NATO members.
Innovations in the pipeline
Change has been a long time coming. Estonia procured Galil assault rifles from Israel in 1994-1995. In 2002, the Defense Forces adopted Swedish-made AK-4 assault rifles conscripts quickly named oars for their unwieldly length and shape.
The AK-4 uses a 7.62 mm cartridge, while new arms will use NATO's 5.56 mm rounds. The Ministry of Defense says the switch has been carefully considered and should not result in compromise on the battlefield.
"Many Western countries are switching to the 5.56 mm cartridge. The main argument is that the weapon is lighter. The fighter can carry 30 or even 50 percent more ammunition," said Kusti Salm, head of the ministry's defense investments department. "Looking at operational development, this caliber should suffice for our needs."
The Defense Forces also plans to change the way infantry squads are formed by adding a sniper with a 7.62 mm weapon capable of hitting targets 600 meters away to every squad.
The Defense Forces plans to update soldier systems through cooperation between the general staff and the Estonian defense industry. The army will procure new bulletproof and flak jackets that mask infrared signatures and are more practical than harnesses. These are the most expensive element of the new soldier system upgrading of which will cost €24 million.
New materials are used in soldiers' fleece jackets and combat uniforms to be updated in 2018 and 2019. The new equipment must be lighter, more compact, dry faster, and make it possible to combine elements based on environmental requirements.
Contracts for SPGs
Estonia wants to sign a contract for 12-18 South Korean K9 Thunder self-propelled howitzers. An official bid is expected from South Korea. Estonia's partner in the procurement Finland has just bought 48 SPGs. The price the ministry manages to negotiate will decide how many howitzers Estonia will buy immediately and how many will be reserved as an option.
"It is very sensible for us to have the same capacity as Finland. We can pursue technical cooperation in case of a crisis – borrow ammunition or buy spare parts for example," Soosaar said.
Now could be a good time to procure the capacity for several reasons. The K9 is one of the flagships of the South Korean military industry that is expected to become a breakthrough on international markets. Estonia will be the first NATO country to buy the SPGs in this form. Others have shown interest. Estonia must have taken delivery of all SPGs it will procure, have the necessary infrastructure, support vehicles, and completed training by 2026.
Communication is vital
One of the biggest procurements of next year concerns large-caliber ammunition. The state wants 155 mm ammunition it procures to be usable in both FH70 howitzers and K9 Thunders.
There are several obstacles. Manufacturers must acquire certificates before new munitions can be adopted. This requires thorough testing to make sure the round and charge perform reliably in every situation. Several manufacturers are in the middle of this process.
Another unfavorable circumstance is the ongoing ammunitions boom. "All countries are procuring munitions – from large to small caliber – right now. The market is greatly overheated, and this affects delivery times," Soosaar said. No major manufacturer fills warehouses with munitions. This is contract work. That is why delivery of 155 mm munitions will be delayed, which caused a scandal in Estonia in making it look like €10 million had been removed from the defense budget.
One major upgrade next year will concern the air force that will take delivery of two C145 transport planes given to Estonia by the United States.
"These will boost the capacity of our air force considerably. These aircraft are used by special units in mission areas, but also as military transports," Soosaar said. The six-year-old planes have better range, cargo capacity, and maneuverability than Estonia's current AN-2 aircraft.
Among more important fields to be updated in the coming years is communications. The navy will receive updated software with which to exchange information with NATO allies that will give it capacity to conduct naval operations. Kusti Salm said Estonia will also get better battlefield communications to make it more resilient to Russian jammers. The more exact nature of changes is not disclosed.
"Communications is important on the tactical level, while it can be crucial on the strategic level to allow the government to continue running the country in a crisis. We are working on a new four-year development plan to move from satisfactory communications to proper communications by 2022," Salm said.