Pevkur prepared to cooperate with everyone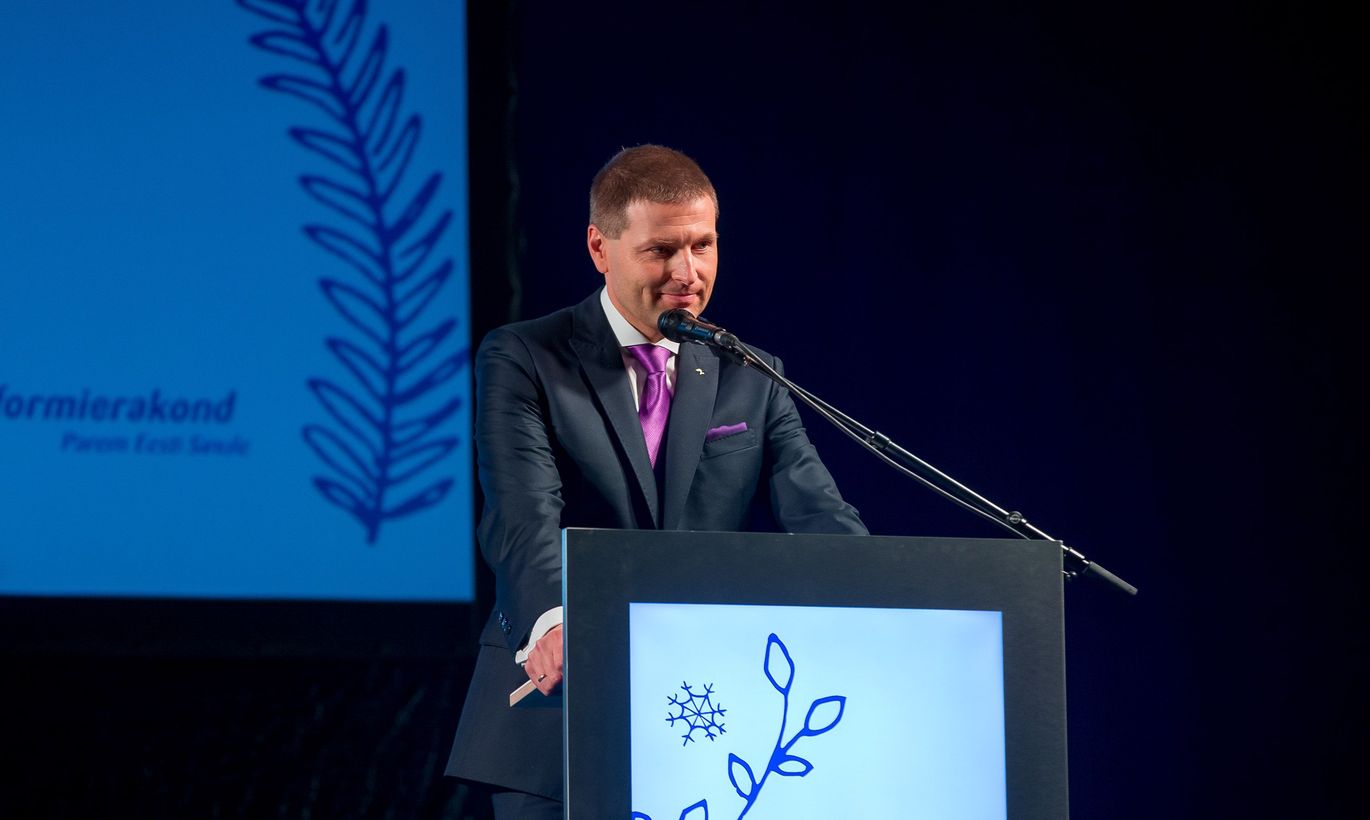 New head of the Reform Party Hanno Pevkur says that cooperation with the Center Party is possible if Reform has prime minister's chair.
Is it a dream come true for you?
That would perhaps be too grand; however, it is something I hoped to achieve. I only did it with support from members of the party. The trust placed in me on Saturday is a great responsibility.
Twelve hours later (the interview took place on Sunday – J. V.), I must acknowledge the party needs to be turned into a team. We are looking at a lot of work if we want to win the elections. I'm convinced we can do it as a united team.
When you launched your campaign a month ago you were playing catch-up. How did you manage to turn it into such a convincing victory?
I talked to people. The main reason was that not only people in the Reform Party, but everyone in Estonia want to see a more open Reform Party and expect us to explain our decisions more thoroughly. That way people will have a better idea of why we make the choices we make. This is the change that was authorized on Saturday.
Of course I also felt that people inside the party, in regions especially, want to talk and contribute. However, they need certainty in that their contribution will result in something.
This Saturday's "Aktuaalne kaamera" (ERR's main news program – ed.) aired a clip of your first meeting with opposing candidate Kristen Michal after your victory. You whispered something in his ear, and he replied: "Right. Everything is okay, let's smile." What did you tell him?
I told him we must more forward together. Really.
If we want to win the local elections ten months from now, we need everyone on board. We have to be a strong team. Both Kristen's 635 supporters and my 1,048 participated in democracy on Saturday. It was a victory for them and the entire party. For the first time we had a choice of who would lead the party.
Is Kristen Michal someone who can swallow defeat and move on with you?
It seems to me that Kristen Michal is a team player – we have played doubles tennis. We get along just fine.
What is important is that he has promised to fight for an elections victory at any cost as head of the Tallinn area, to bring the Reform Party back to power in the capital. He definitely has my support.
While it would be nice not to talk about things that were and all the mutual slander, there is one thing that needs to be clarified. In his election speech, Michal mentioned a forest thief who has been punished five times and who is somehow connected to you.
It is the story included in the prosecution's ruling on termination of investigation (the ruling to terminate criminal proceedings in the Reform Party's financing scandal – J. V.).
Someone I do not know gave false statements. The only thing I had to say to the prosecution was that I do not know that person and have no knowledge of the case he is referring to. That was the end of it, and nothing has changed since.
The person you didn't know was a forest thief?
Yes. I had no idea. The prosecution asked me about a name. I said I did not know it. That is where it ended.
You do know who it was now?
Someone went to the prosecution and just mentioned your name while testifying in the financing scandal case?
I say again that just as the matter appeared in the prosecution, that is where it stayed. I have nothing to do with it.
Let us move on to management board elections. The way a board is formed is very important. Siim and Kaja Kallas were given a powerful mandate. Are you the chairman of Kallas' party now?
No, definitely not. I talked at length with Kaja yesterday and Siim this morning. They are prepared to contribute to the development of the party.
The new board includes some telling changes. Some representatives of the backroom are gone. Whence the change?
Changes weren't extensive, while some members were replaced. It is part of the same phenomenon where members want to see more openness. What I stood for manifested in the result.
You now say that the party needs to be changed, and that next you will visit all the regions again. You have always referred to yourselves as the entrepreneur's party; however, the latter have not been so quick to associate themselves with you in recent years. How do you plan to convince them?
I said yesterday that the Reform Party will have to hoist that flag again and cooperate with entrepreneurs and experts.
First I plan to communicate closely with members of the party. They include a lot of business people: entrepreneurs from rural areas, small and medium businesses. I received quite a few SMS messages from entrepreneurs on election night. The chamber of commerce and industry, employers' confederation, and the small and medium business association will definitely be among my conversation partners in the near future.
We have the opportunity to listen to what ails them most. As we are in the middle of writing up a new party program, we can include those ideas and needs, after which we will ask the Estonian people for a mandate to make them happen.
Now it is your turn to talk about breaking out of stagnation. How to do that?
We have to talk about what benefits Estonia and what its people and entrepreneurs need to feel good. If it's a strong middle class, it cannot be achieved by way of blanket social benefits. That is the reason we are talking not only about entrepreneurs, but also social policy.
One thing we must talk about is that entrepreneurs must feel the state is not in their way. Legible tax environment, clear rules, and modest red tape – that is what an entrepreneur wants. The individual wants general prosperity to grow. Prosperity is born out of favorable business environment and economic growth. Money does not come from the budget. Money comes from the pocket of the taxpayer through work and increased productivity.
While that is all well and good, the universal child benefit was hiked and necessity-based support abolished (which, true, was not your promise) during your time in the government. How to ensure you won't sacrifice your ideology clinging to power in the future?
I cannot see any one party taking 51 mandates at elections in Estonia. That means we need coalition governments, which in turn means that corresponding agreements must be acceptable for all sides.
Lower labor taxes were our priority, and we got it done. We have been lowering the income tax rate for a very long time; it has come down from 26 percent to 20. We also promised a greater social tax cut; however, compromises meant we had to start with baby steps. It is unfortunate that the current government has turned it upside down and hiked labor taxes again.
You will support Kristen Michal as your party's mayoral candidate for Tallinn come October. Are you not afraid that should he become mayor, he will enter the 2019 Riigikogu elections with a more high-sounding title and be set up as Reform's prime ministerial candidate instead?
Mayor of Tallinn does not sound higher than Reform Party chairman.
But to answer your question: no, I'm not afraid. Kristen has promised to work towards putting the Reform Party back in power in Tallinn, and should we secure the mayor's office, I wish him the best. I believe he is prepared to serve Tallinn as its mayor for four years.
However, the election in Tallinn will not be won by Michal or Pevkur. It can only happen as a result of great teamwork between a lot of people.
The Center Party's hegemony in Tallinn could end. Whom is the Reform Party prepared to cooperate with here?
The Reform Party is willing to cooperate with all political forces. There is no political logic to support making these kinds of statements prior to elections.
The Reform Party has employed such logic in the past.
You count your chickens after the elections. As concerns the state level, I do not see ourselves working with the Center Party in the current coalition. That is to say we will not be a part of a government with a centrist prime minister.
Provided the Reform Party has the prime minister's position, I'm willing to weigh cooperation with all parties; and if Estonia needs us to return to the government, we are ready. We got the greatest mandate from the people of Estonia at the previous elections, and we have enough brilliant people in the Riigikogu to form two governments.
Do you believe the Reform Party will win the election in Tallinn?
I believe we are capable of coming to power in the capital. Whether we will win the election is a slightly trickier question. It largely depends on the Center Party. Whether they will fall apart or not. Whether we will see Edgar Savisaar's election list. Whether the party will come undone under Yana Toom or Mihhail Kõlvart in Tallinn. Provided there will be a great rift and row in the Center Party, I would not rule out a victory by the Reform Party.