Latvian, Estonian defmins commemorate pre-WWII Latvian flagship
4. September 2013, 3:39 PM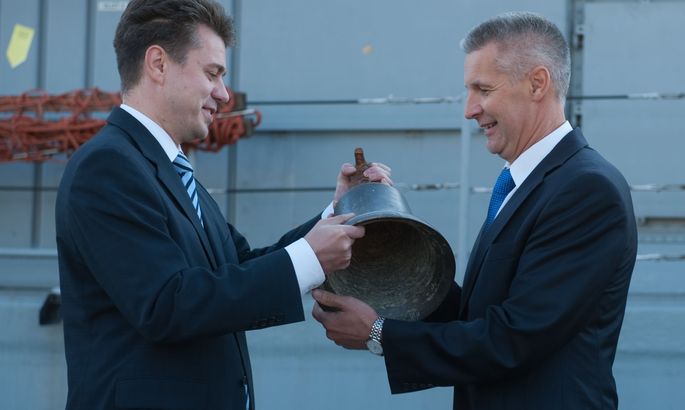 The defense ministers of Estonia and Latvia on Wednesday commemorated the Latvian Navy's prewar flagship Virsaitis that perished after hitting a mine in the Estonian economic zone in the Gulf of Finland in 1941.
The Estonian minister, Urmas Reinsalu, handed to his Latvian colleague Artis Pabriks the bell of the Virsaitis recovered from the wreck by Finnish divers.
The commemoration ceremony at the naval base in Tallinn was attended besides the two ministers by Latvia's defense chief Lt. Gen. Raimonds Graube and Estonia's defense chief Maj. Gen. Riho Terras, spokespeople for the Estonian Ministry of Defense said.
Latvian Defense Minister Artis Pabriks said he was pleased that a part of the Latvian Navy's former warship was finally returning home. «We are very grateful to Finns and Estonians who found the ship's bell and are returning it to us. The bell will become part of the exhibit of the Latvian War Museum where it will help tell the story of the flagship Virsaitis to the younger generation,» Pabriks said according to remarks published in Estonian.
Describing ship's bell as being like the soul of the ship, Lt. Gen. Graube said the recovery and return of the bell were of great symbolic value for the Latvian defense forces.
Jarmo Kuusinen, representative of the Finnish divers group Divers of the Dark that brought up the bell from the wreck, said they came upon the Virsaitis by accident. «We were shooting a documentary about the evacuation of the Hanko port when we came upon a wreck not known to us. We decided to bring up the ship's bell to check the vessel's name. Our surprise was big when we read the name Virsaitis on the bell, because according to Finnish archive documents the vessel was supposed to be in front of Porkkala,» said Kuusinen.
Following the ceremony representatives of the Latvian Ministry of Defense and defense forces headed to the place in the Gulf of Finlkand where the Virsaitis lies on the sea bottom.
Built in Germany as a mine trawler in 1917 and named M-68, the Virsaitis was renamed Sarkana Latvia in January 1919 and Virsaitis in July the same year. Following the Soviet takeover in 1940 it was renamed T-297 and in 1941 it started to sail under the name Virsaitis again. The Virsaitis sank after hitting a German mine in 1941 while en route from Hanko to Kronstadt.
The wreck was located by a research vessel of the Estonian Maritime Museum at a depth of 70 in the Estonian economic zone in 2010.