Cooperation between Nordica and LOT threat to neighbors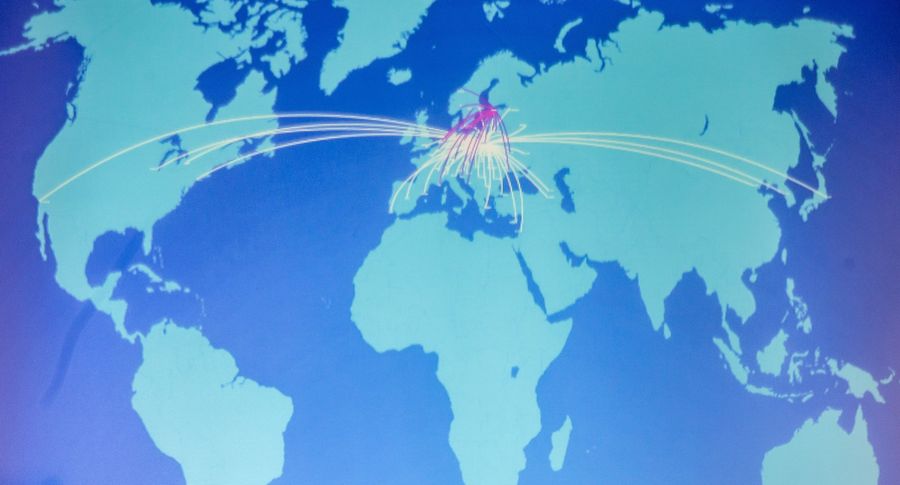 Airlines Nordica and LOT, that announced their cooperation last Friday, hope to reshape the Eastern and Central European flights network by making Warsaw the aviation hub of the region. The plan will hit Helsinki and Riga, as well as airlines that operate out of these airports.
"We understand – Estonia is not exactly a big country. In order to be viable, we need more planes and flights than what we can offer out of Tallinn," CEO of Nordica Jaan Tamm said on Friday.
The Polish airline, set to replace Nordica's recent main partner Adria Airways in the second half of November, makes no secret of the fact that their gain from the partnership is a busier Warsaw flight plan that will see Tallinn supply LOT's flights with passengers setting off in the Estonian capital.
"It is our goal to become the primary long distance airline for Eastern and Central European passengers," said executive manager of LOT Polish Airlines Rafal Milczarski. LOT, that is known for strong regional connections, has been working hard on flights going outside of Europe in the past few years.
"We launched flights to Tokyo and Seoul only this spring," Milczarski said. The Polish airline also flies to Beijing. "These flights have a very high passenger load factor," the executive manager said. LOT also operates flights to Toronto, Chicago, and New York.
Competition just across the road
"We plan to boost the number of long distance flights we offer considerably by launching flights to Los Angeles and Newark in New York's Tri-State area," Milczarski said. Passengers of Nordica will  be able to fly to these destinations without having to change airlines from November 19.
Flights outside Europe are not the only ones where cooperation between Nordica and LOT could change the structure of departures from Tallinn. LOT flights from Warsaw share a number of common European destinations with Finnair from Helsinki, airBaltic from Riga, and SAS out of Stockholm.
Looking at market share out of Tallinn, home of Finnair Helsinki Airport is on top, followed by Lufthansa's Frankfurt. "Ticket sales suggest both airports hold close to 15 percent of the market in Tallinn," said sales director of plane tickets and flight insurance at tourism firm Estravel, Mauri Saarend.
The transit traffic of Nordica and its partners is divided between more cities. "The more important among the latter are Stockholm – transit station for SAS – and Munich; to a lesser extent also Oslo, Amsterdam, and Brussels," Saarend said. In addition to direct flights from Riga, airBaltic also enjoys transit business through Amsterdam, Paris, and Vienna.
"In the long run, Warsaw could win over clients from Helsinki and Riga," Saarend suggested. Largely because of overlapping destinations and only minor difference in prices.
However, there is a difference in comfort. "Warsaw flights use jets, while flights to Helsinki and Riga are largely operated with slower propeller aircraft," Saarend said. Another advantage of Warsaw is the selection of goods in its shops. "They are perhaps a little more versatile and, considering the exchange rate of the zloty, also cheaper than in other neighboring airports," Saarend explained.
Cooperation with Nordica is not the first time the possibility of LOT making life difficult for regional service providers has surfaced. "LOT through Warsaw has been an issue before. The Warsaw Airport is a very good alternative to aforementioned competitors," she added.
The only obstacle today is lack of flights from Tallinn to Warsaw in the morning and back again in the evening. The situation should be remedied sooner rather than later, however, as the number of flights to the Polish capital is scheduled to grow from six to 14 by this summer and even more after that.
Nordica hopes to gain ground
The executive manager of LOT remained cautious when asked about who the airline sees as its main competition: "As you know, the area has a lot of airlines that are all our competitors. This strong competition is the beauty of it," Milczarski said. He emphasized that LOT tries to think more about clients and less about competitors when making decisions.
"I do not believe they should be worried about this cooperation; they have their own main airport, and they've built their business model on corresponding export of services," he said. Representatives of Nordica and its flight operations branch Regional Jet are far more direct when it comes to competitors.
"I can say that cooperation with LOT will make us stronger and improve our competition position," said recent head of business development at Nordica, executive manager of Regional Jet, Sven Kukemelk. "Of course it might not be the best news for airBaltic; however, Nordica has enough challenges of its own not to spend its time worrying about competitors as clients," CEO of Nordica, Jaan Tamm added.