Kangro takes a window seat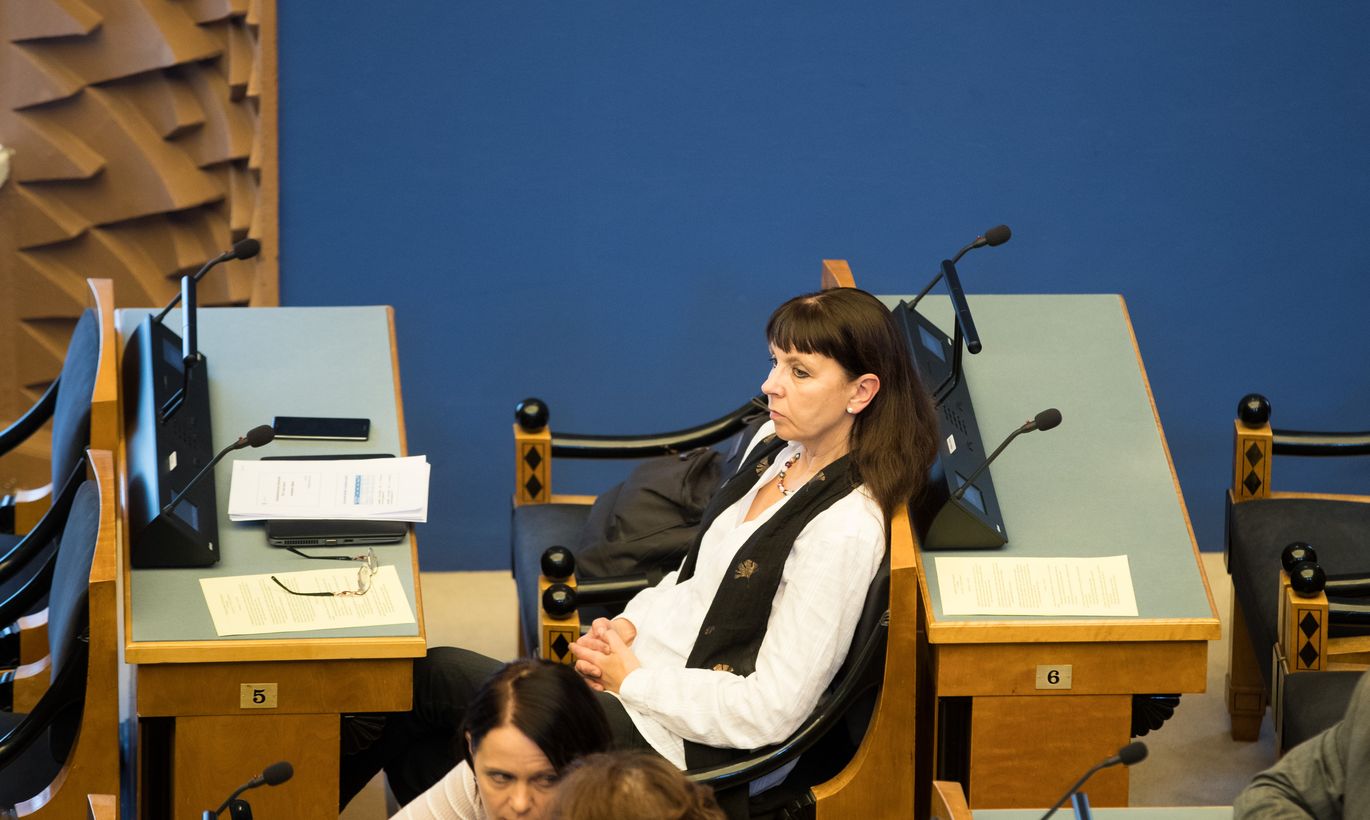 MP Tiina Kangro said yesterday that she will be leaving the parliamentary group of minority coalition partner Pro Patria and joining the Riigikogu independents sitting under the windows who now number seven. This leaves Prime Minister Jüri Ratas with 50 seats in the Riigikogu and what is effectively a minority government.
Kangro sees no reason to stay with a party that does not share her goals in the name of the coalition's health.
Why leave the Pro Patria faction now?
This was in no way unexpected. The people here (the Riigikogu – V. K.) knew about it for some time.
You have been voicing your irritation with legislative drafting regarding your main topic – rights of disabled persons – for some time. To what extent is this an act of revenge as your social media announcement makes it clear you understand this puts the coalition in a difficult position?
Revenge was not my primary motivation. I developed doubt some time ago over whether it makes sense for me to remain part of the faction in a situation where I am not a Pro Patria member and where my ultimate goal is not serving the party but doing what I was elected to do. I was elected by people who voted for representatives of disabled persons associations and caregivers – myself included – who took their agenda to the top political level. The cooperation we pursued in the faction at the time of the previous election did not prove fruitful.
How can you better pursue your agenda as an independent? How will this help?
I do not believe it will help as such, but it will not make things worse either. After serious efforts to find cooperation – for nearly two years – and a total lack of success in this regard, being forced to act alone most of the time, I really have nothing to lose.
What is your criticism of Pro Patria? What did they do wrong?
Rather, it is what they failed to do. We have not fallen out. My decision to leave the parliamentary group was made calmly over a longer period of time. We decided to partner up with the Pro Patria Res Publica Union (IRL) for the previous elections. I wrote a big part of the party's elections platform, the chapter on social policy. We had a deal with the party's leaders – which I presume members were made aware of – that if IRL helps form the government – finds itself in a position of actual power – they will hold up their end of the bargain. That did not happen.
Why haven't your proposals found their way into legislation and programs?
I came to the Riigikogu less than two years ago, but the coalition agreement was drawn up after elections and again when the coalition changed. The people involved with both of these coalition agreements failed to defend the ideas we had agreed on. Perhaps they forgot or perhaps they lacked the will or the conviction. When I joined the Riigikogu in late 2016, I was ready to spearhead potential action. It came to nothing. I was very patient and made efforts to convince members of the group to get on board. I was offered a very good position on Pro Patria's election list…
It was a decent offer and I gave it serious thought until I realized my priorities do not coincide with those of the party and the parliamentary group. It makes no sense for me to bring the party votes in a situation where nothing we had agreed on has been done.
You will still be paid an MP's salary as an independent. Why not leave the Riigikogu with your head held high if you believe it is not the right place for your agenda?
What makes you think it's not? That conclusion is just wrong. I will continue to do my work with the resources I have, just as I have these past two years. Why continue to sit on the bandwagon of a party that does not share my goals?
How will you vote as an independent?
As my conscience guides me.
What are your long-term political plans?
I have no long-term plan for the moment. I plan to serve in the Riigikogu until the elections in spring. I have not decided whether I will be running in the next elections or in whose ranks.
It seems you're disappointed with Pro Patria and IRL. How would you sum up emotions working with the party left you with?
I have none. I came to the Riigikogu knowing full well how the world works, how politics works. I have many skills I can use for the benefit of the state and its people and will keep using them for as long as I have the chance. Being in politics is not an end, it is a means.