The women are not here to try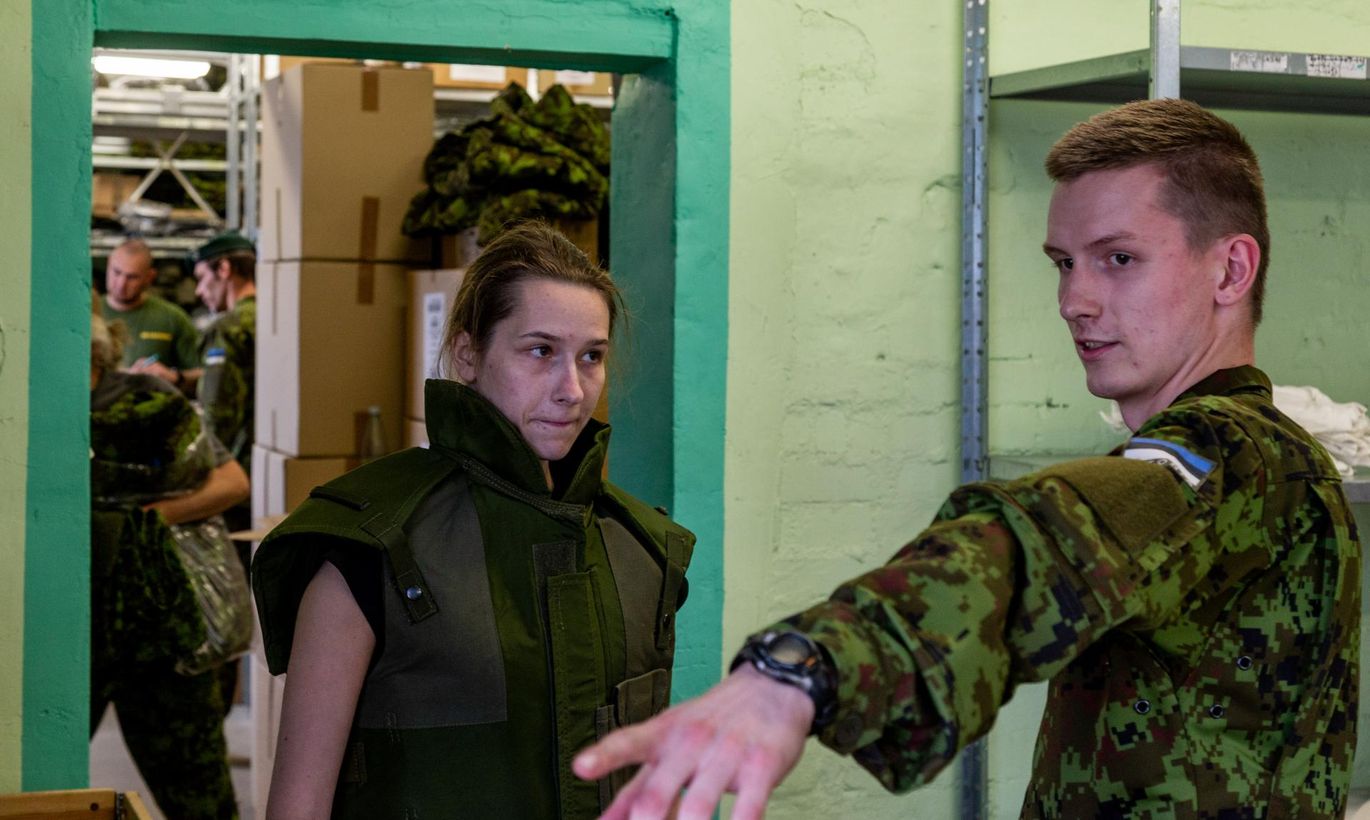 The Headquarters Support and Signal Battalion saw two female conscripts start alongside boys last week. Slender Mirjam Petti (27) was hard to spot among roughly one hundred young men who had assembled in the parking lot of the Defense Resources Board on Thursday.
The roughly 160 new conscripts could be categorized into two groups after a brief visual observation: those who can't wait to board the bus and those whose countenances hardly betrays excitement. Officials even have to ask several red-eyed young men whether they are okay. 
However, Mirjam Petti's determined gaze leaves no doubt: she knows why she's there. 
«My mother did not like the idea. She believes compulsory military service is for men, but my father and grandparents were very supportive,» Petti says. 
Only one tenth or 3,400 of roughly 36,000 persons liable to national defense obligation became conscripts last year. The rest did not make the cut for various reasons, while 244 men simply didn't show up on the day. 
«That was one reason I am here in this parking lot today – but not the only one,» Petti says minutes before boarding the bus. 
The journalists are not permitted on the bus as the board's PR chief, Anne Osvet, says the ride gives conscripts time to think. 
Upon arrival, conscripts are welcomed by a Defense Forces member whose tone of voice comes as a shock to the young civilians. 
«The yelling started as soon as I stepped off the bus. It got me weak at the knees for a second,» says the battalion's first female conscript Petti. 
The men later explain to her that it is not yelling but simply talking in a loud voice. 
The young people are told to line up before a building as their bags are checked for prohibited articles. The conscripts are shown to their barracks next. The second female conscript to serve time at the Headquarters Support and Signal Battalion this year, Maria-Liisa Remets, arrives from Tartu at around this time. 
The girls do not have a separate room. They will spend the next 11 months in the same room as 20 young men. «A corner with some lockers for walls is good enough; a separate room would lead to a communication breakdown,» Petti says. 
Second Lieutenant at the Kuperjanov Infantry Battalion Sander Mändoja says that there have not been any serious conflicts between men and women in the Defense Forces to the best of his knowledge. «Conscripts have the right to turn directly to battalion commanders via chief inspectors. The atmosphere is comradely. I have not heard of any romantic engagements either,» Mändoja says. 
«My legs were shaking, and I was afraid at first, but I've already made some friends,» says Maria-Liisa Remets who arrived last. She adds that she was given plenty of surprised looks on the way to the battalion. «When I boarded the bus, some of the guys were like: «wow, a woman»,» Remets says. «My brother served here last year, and when he came home in his uniform the first time, I thought I want to do this.»
Remets joined the Defense Forces with a clear career plan. 
«I want to become physically stronger here to enroll at the Estonian Academy of Security Sciences later,» she says. 
Mirjam Petti says that while women are weaker than men, physically, her biggest fear is cold weather. 
2nd Lt. Mändoja says that hikes that last for five or six days are tough on both men and women. 
«However, women are more highly motivated on average. They come here voluntarily and with a clear goal. And they often fight harder than men on long hikes,» Mändoja says. 
Joining the military was a long-standing dream for Mirjam Petti, and even though women are allowed to change their minds after 90 days, Petti promises to see her training through. «I did not come here to try,» she says. 
Life in the armed forces seems simple: just do as you're told, and everything will be fine. Having put down their bags and visited the doctor, conscripts are left waiting for their gear. 
«The thing about waiting is that we'll become veritable experts at it in 11 month,» conscripts of the battalion's information center say. They believe the physical aspect of Defense Forces training might be the toughest part for girls. «They will be given the same 40-kg gear as boys, but I guess you get used to it,» the young men say. 
The headquarters and signal battalion is just the place for software developer Petti. 
«I like the possibilities that will be open to me after military service. Perhaps I want to tie my work to the defense sector in the future.» 
Women who volunteer for military service often see themselves pursuing a career with the armed forces. 
«A woman who joined the Kuperjanov battalion in July had medical education. She wants to be trained as a company medic,» 2nd Lt. Mändoja says. 
The conscripts spend the rest of the day walking the grounds quietly, obeying orders without hesitation and not talking to each other much; however, the girls, who find themselves at the center of attention, stick together. 
«They are all a little frightful at first – it is a new environment for them, but they will open up as the days pass,» says commander of the information center Eero Salmann.