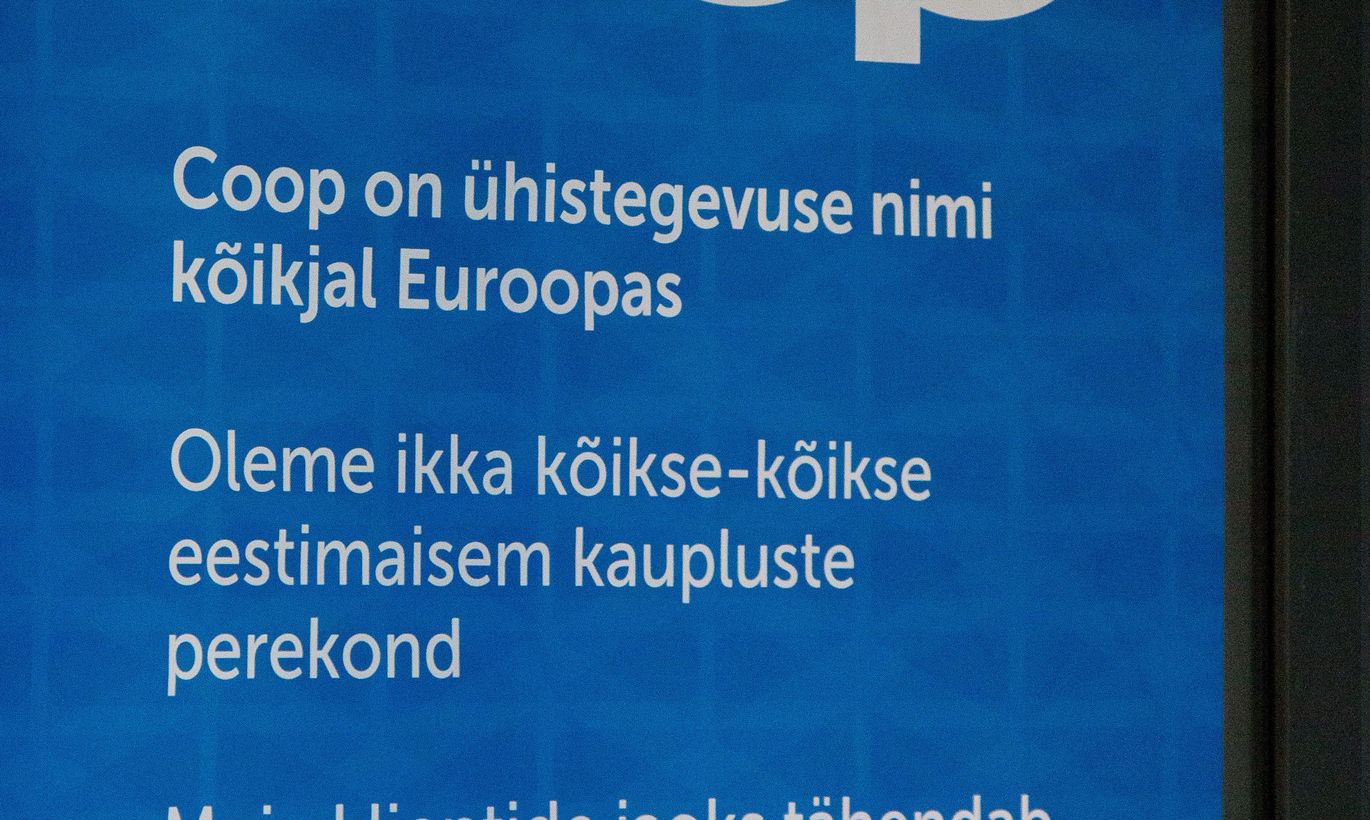 In a situation where major banks are closing offices in rural areas, retail group Coop Estonia will start offering banking services in shops come fall.
Coop Estonia announced yesterday that it will buy Bank of Moscow's shares of Eesti Krediidipank. A small holding will also be obtained by Inbank  that will contribute to the new bank's development as an adviser and financial investor. Krediidipank will disappear, while the newcomer will be called Coop Bank. The sides have not disclosed the volume of the transaction.
Head of Coop Jaanus Vihand said the new bank aims to offer banking services in areas major banks have largely left in recent years. This means that Coop's rural area shops will also serve as bank offices. Which shops will become offices and which will only serve as cash withdrawal points remains unclear at this time.
«That is what we will be working on in the next eight months,» Vihand said. The new bank will be managed by former head of retail banking at Swedbank Margus Rink. He said Coop Bank has a clearly different strategy compared to other universal banks.
«It would be insane to try to beat retail banks at their own game. It would be like swimming in a great bloody ocean, hurting each other,» Rink said, pointing to fierce competition in the sector.
The executive said the bank's strategy initially draws on the fact that Coop's database has 600,000 clients and 150,000 daily purchases, which serves as a brilliant foundation for a bank. Even though the bank's precise activity plan is still being put together, Rink said it will aim for private clients, with some services made available to small and medium businesses.
Clients of the new bank can open accounts, use debit and credit cards, mobile and online banking services, pursue transactions, and withdraw cash. The other part of the strategy concentrates on financial services like small loans, payment by installments, and home loans.
Both Rink and Vihand said the new bank hopes to find synergy between banking and commerce. «That is where we have the greatest opportunity, which is unique in Estonia. I believe we can offer our clients numerous significant advantages,» Vihand said, but added it is too soon to talk about it in more detail.
Because 98 percent of people already have an account with another bank, the greatest challenge is convincing people to join Coop Bank, Rink said.
«We need to streamline the process of opening accounts, make it simple and convenient, and use Coop's existing network of shops.»
Coop Bank hopes to get a foot in the door inside three years. While Krediidipank has 10,000 clients today, Coop wants to grow that number tenfold in those three years. The new company will employ around 220 people.
Eesti Krediidipank will continue under its current name until this fall. Preparation work on offering new services in existing Krediidipank offices, Coop stores, as well as online will be carried out in spring-summer.
The owners perceive potential for listing the bank after three or four years on the market.
Chairman of the supervisory board of Inbank, that holds a 25 percent stake in the new venture, Priit Põldoja said that Inbank will work with Coop for a few years on developing the new bank and making the most of its potential. After that, the company will pull out of the investment as universal banking in Estonia is not where the company sees itself.
«When we pull out in a few years' time, we clearly see potential for a bank of client owners. Clients put their money into a bank they own in exchange for advantages and the feeling they are helping to build something,» Põldoja said. He added this vision would be easiest to realize by listing the bank on the stock exchange.
Vihand also said the stock market is one future possibility for the bank. He added that Coop Bank would fit right in.
«Krediidipank has been run professionally and conservatively; however, if we manage to create synergy with our shops, listing the bank would be the logical next step,» head of the cooperative said.
«If we want to go to the stock exchange, we have to comply with regulations, and then everyone can participate.» That said, Coop has set nothing in stone regarding plans. «Over the next eight months, we will first and foremost be working on the bank's services, trademarks, and retail network.»