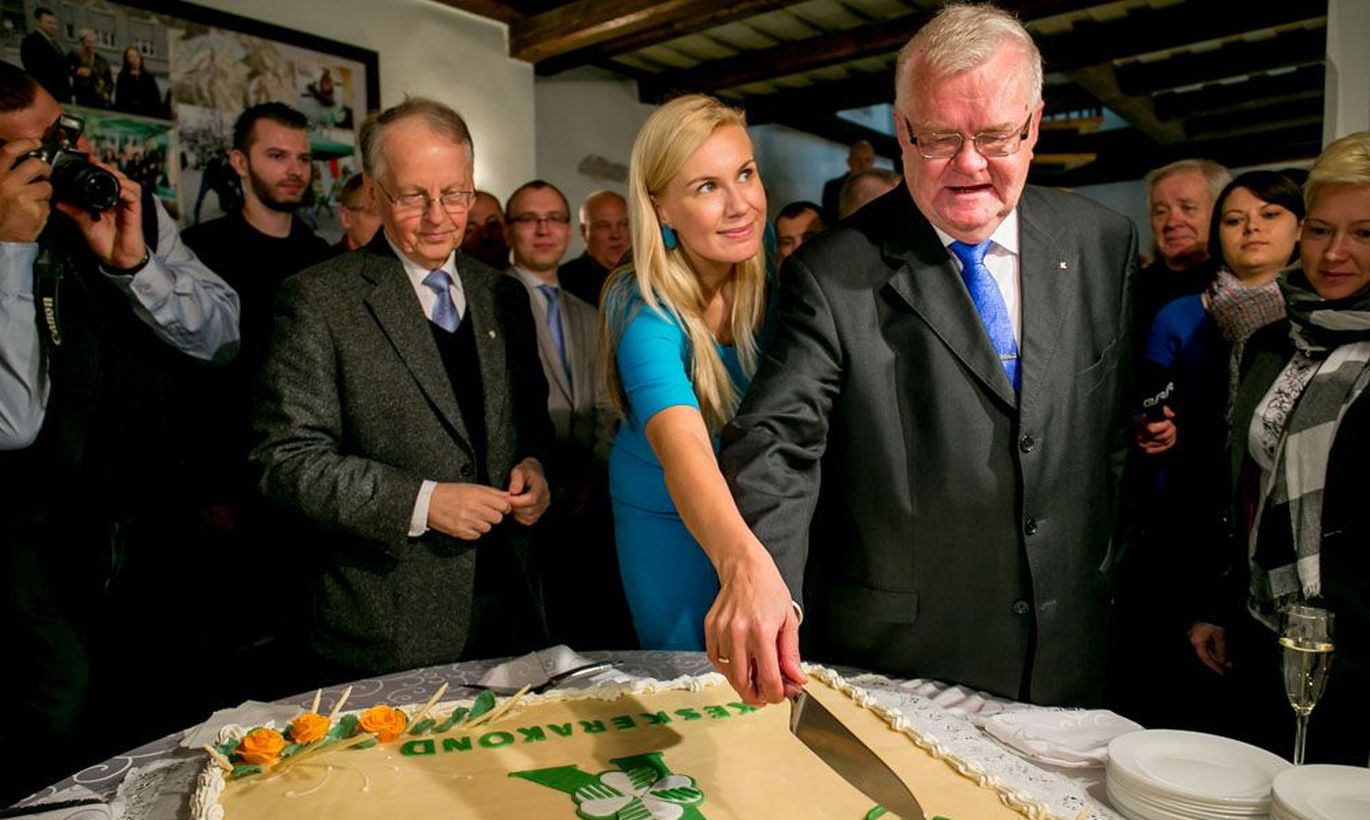 In its office at Toompea yesterday, Centre Party festively turned 23. For the same number of years, the centrists have driven towards elections with chairman at the wheel.
Also yesterday, Centre Party board held a meeting where it was decided not to set up deputy chairman Kadri Simson as prime ministerial candidate. Chairman Edgar Savisaar will be the one.
According to Ms Simson, the board so decided as Mr Savisaar said he still had the strength and the will in him to become prime minister. Therefore, it was decided: chairman is the candidate.  
Asked why Ms Simson was not as good as a PM candidate as the very Savisaar, the latter retorted thus: «Drop such interpretations. This isn't worthy of a journalist. This is kind of stupid to talk like that. Kadri Simson is an excellent candidate and I was the first to say so.»
Ms Simson thanked her supporters and said she intended to stay in Centre Party. «Surely there were many who supported me and I want to heartily thank them for the support. I will not disappear anywhere. I will continue as deputy chairman of the party and as chairman of the faction. This will surely not mean I would see opportunities someplace else,» she said.
Last week, it was proposed by Jüri Ratas, Centre Party board member, and Vice-President of the Riigikogu, that they set up Ms Simson as prime minister candidate – the latter being the party's best option at the moment. According to Mr Ratas, over these past ten days he had met numerous party cadres and other people all over the land.
«I am especially glad that it has been both by Estonian and Russian speaking people who sincerely saw that by Kadri Simson lifted as prime minister candidate Centre Party had the chance of getting excellent results at elections and, over eight years, in reality be executing its ideas,» he said.
According to Mr Ratas, Mr Savisaar told the board yesterday he had the strength, the energy, the will and the desire to lead the party to winning the elections with himself as No 1. «I hope and believe Mr Savisaar [indeed] has that strength, enthusiasm and glow,» said he.
Mr Ratas also noted his recent meetings have revealed he is being noticed in Centre Party. «During two elections, I have gotten a strong votes mandate in Nõmme and Mustamäe. This time I also definitely want to run in Nõmme and Mustamäe, asking for people to support me. If I get it or not will be evident by eve of March 1st,» he said.
Asked if he'd be running in Centre Party ranks, Mr Ratas repeated the support of party supporters and members is for him an important argument. Even so, he said this was a new situation for him right now as it was his wish and will for the board to have supported the candidacy of Ms Simson.
Earlier, it has been speculated that Mr Ratas may be leaving Centre Party. Commenting the option, he has been cautious, saying he is not a man to make such decisions easily.
Meanwhile, Mr Ratas has not excluded the exit. «First and foremost, my future in Centre Party depends on the party's further decisions and developments,» he said at the end of August, prior to proposing Ms Simson as prime minister candidate.
At the last general elections in 2011, Centre Party pocketed 26 seats in Riigikogu. At the moment, the parliament contains 20 Centre Party people.
In the spring of 2012, Kalle Laanet and Deniss Boroditš left Centre Party (by now, Reform Party members), Rainer Vakra and Inara Luigas turned soc dems, and Lembit Kaljuvee is still «non-party». This September, Aivar Riisalu quit as well – joining IRL.
Sõtnik: changes long in coming
According to Centre Party parliamentarian Olga Sõtnik, the party lost an opportunity to exit opposition after upcoming elections by appointing chairman Edgar Savisaar as candidate for prime minister.
Ms Sõtnik said she was personally very sorry it wasn't Kadri Simson, as the party has lost another opportunity to get into a coalition after elections.
According to Ms Sõtnik, she today desires to talk to both Jüri Ratas – as the one who proposed Ms Simpson – and Ms Simson personally, and have the faction meeting explain the process and give reasons for the decision. «And then we shall see about what's next,» said she.
«As I once said, while I believe changes and updates are possible in the party, I'll remain a member. But, of course, the decision today (yesterday – edit) shows the updates may be long in coming,» said Ms Sõtnik and said that before talking to those concerned she desired not to promise anything definite. «I want to hear what the arguments were for a decision like this.»