Russian rapist to become outlaw in Estonia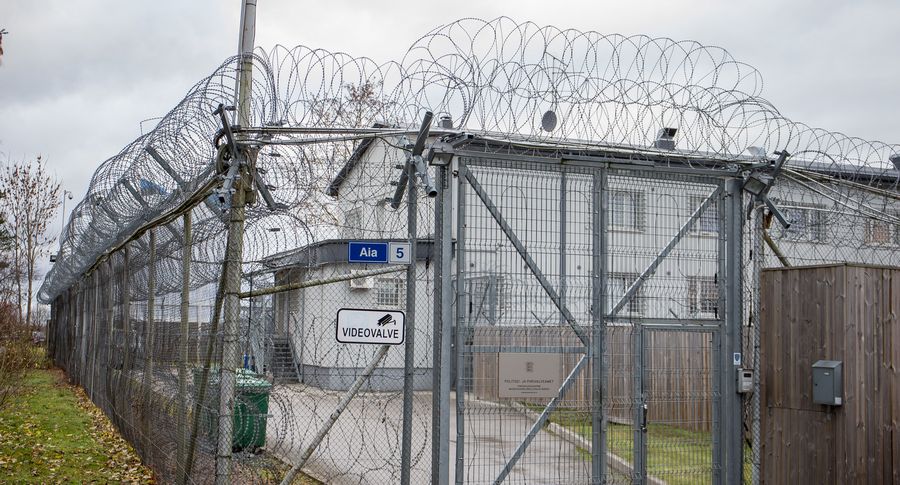 Alexei Vronchenko, who spent eight years in prison for raping his stepdaughter, has been suspended in limbo for more than a year – the police want to expel the Russian citizen, while Russia refuses to have him.
Vronchenko has spent the past 14 months in the Harku Detention Center. While Tallinn Administrative Court extended his detention until September 4 yesterday, Vronchenko will then have spent 18 months at the center after which there will be no more legal basis to hold him. At the same time he does not have the right to stay in Estonia.
Vronchenko will nevertheless walk out of the detention center in September. He is set to become an outlaw, similarly to what happened to four men from Africa last spring. It was impossible to return them to their country of origin because the Police and Border Guard Board (PPA) was unable to identify them.
The three men from Guinea and one from the Ivory Coast initially moved into the Tallinn Homeless Shelter. They spent their days walking the streets and eating at soup kitchens, and went back to the shelter in the evening. At first the Africans reported in at the PPA every day; however, they soon disappeared from the authorities' radar. The Guineans have all left Estonia by today.
Things are somewhat different in Vronchenko's case – his country of origin does not want him. "The PPA has sent a re-admission application to the Russian Federation the latter has refused on account of the person lacking an address registration," said chief officer of the foreigners service of the PPA Katrin Tammekun.
The countries have a re-admission agreement. "Lack of place of residence is not sufficient grounds for rejection," Tammekun pointed to the agreement.
The Ministry of Foreign Affairs sent Russia a diplomatic note on April 24. The country has 30 days to respond.
Postimees managed to contact Vronchenko over the phone yesterday. It was the first time the man learned he would have to stay at the center until September. Vronchenko hoped to be released yesterday.
"Forgive me, but the news you've given me has upset me. We were counting on me getting out of here today. My daughter and son are waiting. My daughter calls me every day to ask when I'm getting out," Vronchenko said.
He regards Estonia as his homeland. "I was born in Russia. I was brought here from an orphanage when I was four. My stepparents brought me to Estonia," he said. I've been living here my entire life, 37 years!"
Vronchenko regrets opting for Russian citizenship back in the day. "I did it because my wife's parents were living in Russia. Because they were elderly people we could go and help them out without me needing a visa on account of being a Russian citizen," he explained. The man definitely plans to stay in Estonia. "My family is here, my children. I live for them, not for myself. The kids come here to meet me, they call and write to me," he said.
Vronchenko was placed in the detention center immediately upon his release from prison in March of last year. He last had a residence permit in 2003-2008. "He filed for a new residence permit that the PPA refused. The board did not review his application in 2013 and  refused again in 2016," Tammekun said.
Harju County Court found Vronchenko guilty of physical abuse and rape of his stepdaughter in 2009. The court ruled that the man repeatedly had oral and vaginal sexual intercourse with his incompetent stepdaughter.
The circuit court upheld the first instance ruling, while the Supreme Court did not accept the case.
Vronchenko did file a complaint at the European Court of Human Rights that resulted in compensation of €5,200. The court found Vronchenko's trial had not been fair because his defender was not allowed to question the victim. Statements given by the victim were the only direct evidence in his case.
The Estonian court system found that the ECHR ruling is not sufficient grounds for a retrial as the courts had enough circumstantial evidence for a conviction.
Vronchenko claims he spent eight years and three months behind bars for something he didn't do. Even his stepdaughter, whom he was found guilty of raping on several occasions, now allegedly attests to this. "My daughter is doing everything she can for me, she supports me, also in being able to prove my innocence in the ECHR; however, she cannot hire a lawyer," Vronchenko said.
He added that he would not even want compensation for those years: "Let it be. It would be enough were they to apologize and say it's a shame how it all turned out. I know I cannot clear my name anymore. It would be enough to just hear a sincere apology."
Vronchenko claims he has written to all manner of institutions in Estonia and Russia for his case to be reviewed. Even to the Russian presidential administration.
The Russian Embassy in Tallinn briefly told Postimees that the country's interior ministry is aware of the note from the Estonian foreign ministry.