Venice Biennale – fumbling in the future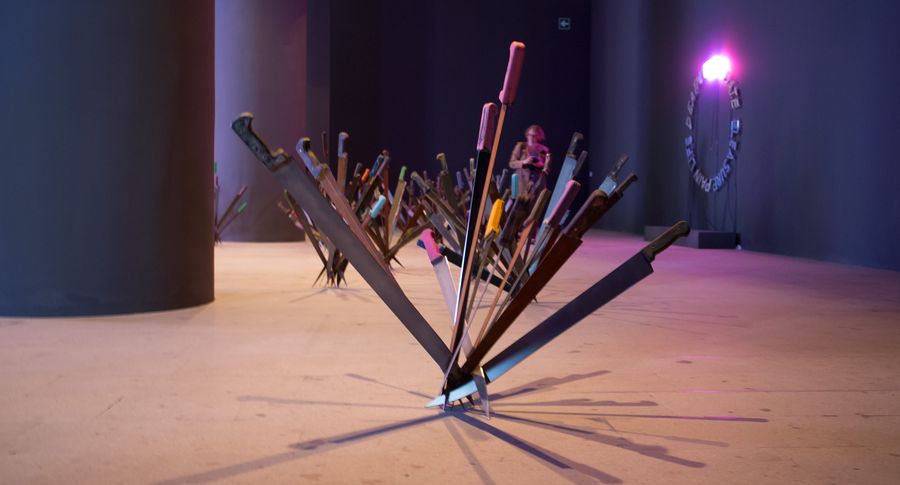 La Biennale di Venezia, the grand art world event, is in full steam and as a seething summertime tourist magnet is living proof that contemporary art is not as marginal as some love to claim. Every year it's beat-the-visitor-record year.
Yesterday, at Palazzo Malipiero, as representing Estonia, «NSFW. A Chairman's Tale» by Jaanus Samma was opened – telling the story of a veteran of war and successful state farm chairman among the first jailed for homosexuality in Soviet Estonia – a gripping and dramatic narrative.
Roaming the nigh-time Venice, already I have met the locals deeming the Estonian exposition a forceful one indeed. Thankfully, it's no empty praise – the work is thorough and well presented.
This year, it was Estonia's tenth time to participate – a jubilee of sorts. Hence the vodka, served at the opening.
A few words regarding the biennale as such.
At the moment, Venice is as overcrowded as can be – many are here for the exhibition. Not here yet with his 150 metre boat, but perhaps Roman Abramovich may still hopefully come around.
This is the way the biennale – held once every two years – works: the central exhibition is administrated by a curator who chooses artists as he wills; the other part is the national pavilions. In the hotness of the sun, one is tempted to draw a comparison with the solar system: curator is the Sun, around which rotate the planets/national pavilions. If he so chooses, the curator has powers to snatch works from national pavilions for his exhibition.
The curator show and some national pavilions are converged in one area, and part of national pavilions are scattered across town. The Estonians' nest, Palazzo Malipiero with its picturesque garden, is right at a nice canal with its green glittering poisonous water.
This year, the biennale theme reads «All the World Futures» and its curator is Okwui Enzewor from Nigeria. The guy was nearly run over by my colleague from Estonian Public Broadcasting – the ERR. Thankfully the incident was avoided. Regrettably, an unforgettable selfie was missed.
Mr Enzewor has managed to put together a rather elitarist exhibition, which I really like a lot. Like he said, he intended to create an environment rather noisy and disturbing, not allowing the art to languish in its traditional space. He wanted out of the system.
The biennale would provide for an overdose anyway. With his nervous yet accommodating exhibition, Mr Enzewor pours gasoline in the fire.
As a rule, the national pavilions are weaker than the main show. Unlike the curator/ sun king – with the whole world at his command – these will have to do with national restrictions. There are the exceptions, though. On its first stint at the exhibition this year, the tiny Pacific isle or Tuvalu – soon to drown in it – is represented by a Taiwanese.