Jerõgina: gymnast by the grace of God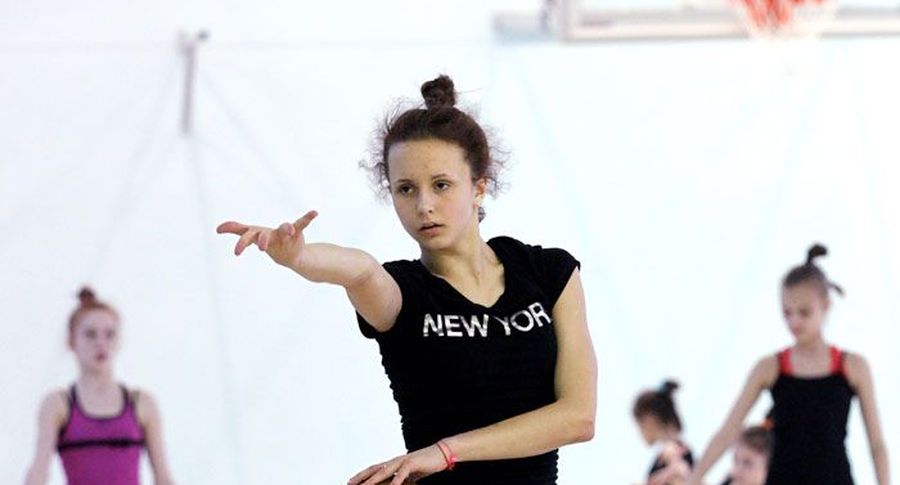 Never before has a rhythmic gymnast as talented as Karina Jerõgina (16) been seen around in Estonia, say the experts. As confirmed by 4th place at juniors' European Championships last year. «She's got all a rhythmic gymnast could dream of – the grace, the perfect body, flexibility, jumping power, coordination, the feel of the rhythm… Everything!» says Ms Jerõgina's coach, former Estonian champion Natalia Bestšastnaja. «And what's most important – an immense ability to work. This girl is a training fanatic!»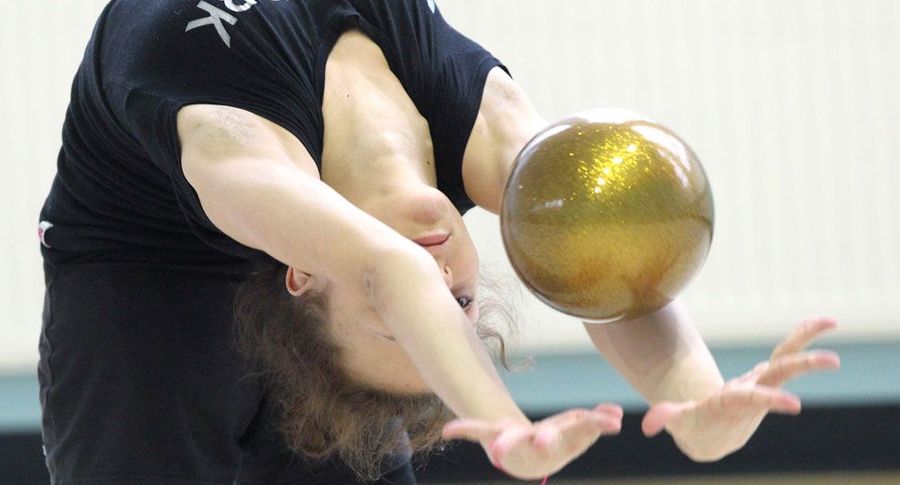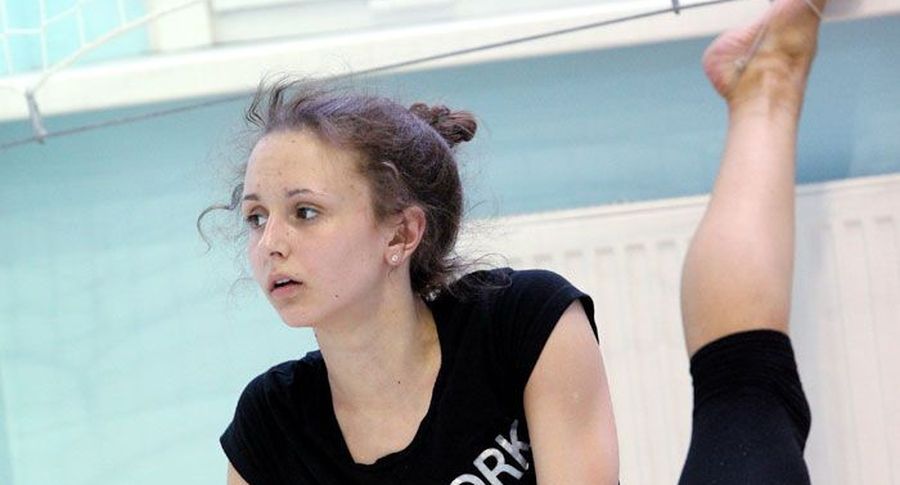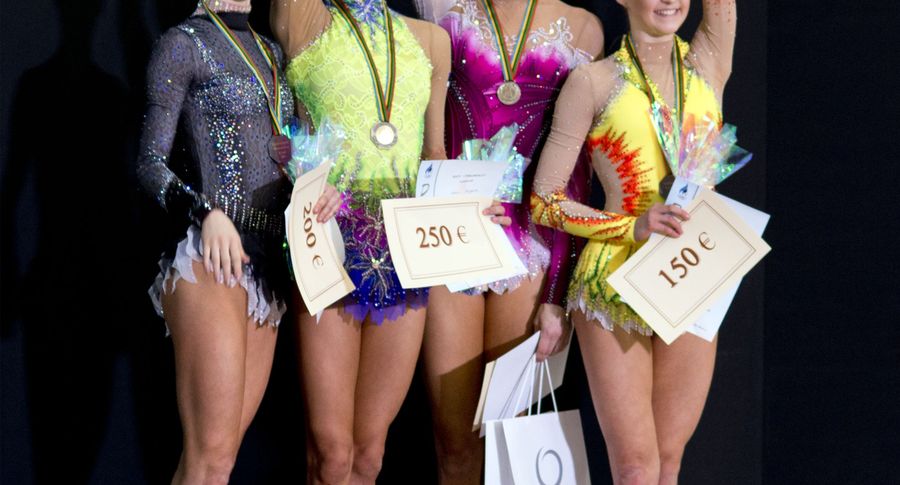 The coup came just recently: at first attempt to compete amongst grownups, Ms Jerõgina beat, at Estonian Championships, the former No 1 Viktoria Bogdanova. Easily.
Pristine beauty and grace
The slender damsel – which may be a misstatement as, according to specialists, Ms Jerõgina's proportions are ideal both gymnastically and humanly speaking – is practising the ball at a dull Kopi sports hall. With passion. Time and time again, she floats across the carpet, with eyes empty with highest concentration. Noticing no one around. It's just her… and her golden ball. In Ms Jerõgina, one spots the pristine female power and grace, combined. Impressive.
But hey, shouldn't a gymnast smile, doing her thing?
«Sure. And smile she does, only at the competitions,» explains the coach. «With the hard work, smiling is extra effort. For an onlooker, gymnastics seem easy; the reality, however… Speed, rhythm, tempo, precision coordination of movements, plasticity… And then, with all of that, try smiling.»
Right now, it is supposed to be an easy time for Ms Jerõgina, with one competition over and the other soon to start. Therefore, she only practises in the evenings. Preparing for the season, however, it's four hours in the morning, two and a half at night. Ms Bestšastnaja: «Oh, she'd train ten hours a day, if they'd let her. She's a training fanatic. Get's high on gymnastics.»
Tough training or not, Ms Jerõgina only gets «excellents» at school and is headed for a gold medal. «She won't tell me she has much to study, for the next day. I'd send her home early, but she keeps mum. And then, she's up half the night with the textbooks.»
Six and half hours a day, training. Plus schoolwork. With grownups, trade unions would intervene….
«It's normal, I'm not complaining,» announces Ms Jerõgina, not thinking too much of the load. Not talkative. The coach comments: the girl prefers action to talk.
Last year, Ms Jerõgina came home from European Championships for juniors, with 4th place. An achievement no other Estonian gymnast has ever reached. Global experts were amazed. «Did the competitors totally fail?» they came and asked, according to Ms Bestšastnaja. «No! She just got these high marks. On the one hand, we were happy – fourth place, that was unreal. On the other hand – we missed a medal.»
Beauty and will to work – quite a gift
What is the Ms Jerõgina phenomenon? Why so high above the level at home?
Says Irina Kikas, the only Estonian rhythmic gymnast at Olympics: «The other gymnasts of ours are also nice and good, work real hard. But they do not have what Jerõgina has been given… the beauty, the shine, the perfect proportions, coordination, flexibility, the jump, the high pain threshold, the tremendous will to work. Should health and spiritual strength last, she may reach far.»
On the surface, all may be nice and pretty, but then there are those, in the local circles, who are not too fond of Ms Jerõgina and her success. Envy. The girl and coach agree: «Let's line after the world, not Estonia. We want to do something big, make it to the Olympics. For that, we need to compete. A lot. Make a name for her, like they say, so the judges will get to know her. Whatever is happening here in Estonia, we're not disturbed by that.»
In reality, a year ago, Ms Jerõgina's sports career was almost over as she decided to leave her former coach. With a firm decision – it's either going to be Ms Bestšastnaja or it's finished, with gymnastics.
Ms Jerõgina does not want to talk about the change of coach. Ms Bestšastnaja, also, keeps quiet and calm: «She came to me herself. In sports, everybody needs her own trainer. A team, to be more precise. It would be hard without my right-hand-woman, the choreographer Irina Stadnik. Right now, the cooperation is going good, but I will not try to keep her. It's up to her to decide. But we need time. We've only been together a year and a half, that's little.»
The first moment of truth comes in the end of May, at European Championships for grownups. A first for Ms Jerõgina.
«I'm not going to predict anything,» Ms Bestšastnaja remains cautious. «I've had excellent girls, but with some, the health gave way. With others, it became too much, mentally. Some chose studies. Jerõgina is willing to work from dawn to dusk, in the name of bog goals, but that's the only way forward in gymnastics. All I can do is pray that she make it,»
Karina Jerõgina
•    Born January 7th 1997
•    10th grade student in Läänemere Upper Secondary School
•    Stature and weight: 173 cm, 51 kg
•    Club: Nord.
•    Coach: Natalja Bestšastnaja
•    Choreographer: Irina Stadnik
•    4th place, European Champs, juniors, in ball and ribbon (2012)
•    Estonian Championships: gold 2013