Noot's apology ends handshake scandal
September 19, 2017, 1:34 PM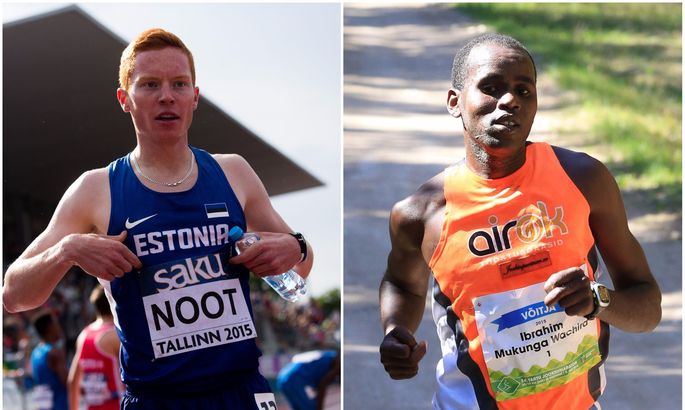 Saturday marked the 32nd Jõhvi people's marathon. The 9-kilometer main distance was won by Kenyan Ibrahim Mukunga Wachira who has competed and won a number of competitions in Estonia in recent years. Mukunga Wachira is the training partner of Estonian marathoner Tiidrek Nurme.
Mukunga's winning time was 27.20. Andi Noot came in second 49 seconds later, while Dmitri Aristov was quick enough for third, 2.03 minutes behind Mukunga. Aristov shook Mukunga's hand during the award ceremony, while Noot did not.
The incident was filmed by public broadcaster ERR's Virumaa correspondent Rene Kundla, and when the video was published on Sunday, a storm of indignation followed, including accusations of racism. Kundla told Postimees that it seemed to him Noot's failure to shake the Kenyan's hand was no accident. "I do not believe Noot did not see Mukunga's outstretched hand," Kundla said.
Noot did not deny not shaking the Kenyan's hand. "Things turned out poorly, and I would like to apologize to Mukunga for failing to shake his hand. I was hugely disappointed after the race: during it, I had suffered from a breathing cramp that has plagued me over the past few years. I had to work on my breathing for the final kilometers and after the finish, and it was still bothering me on the podium," Noot explained.
"I assure you from the bottom of my heart that my reaction was in no way tied to the color of Mukunga's skin, his person, or the fact I had lost to him in the race. I admit that in addition to my disappointment in my physical condition, I was bothered by a detail indirectly tied to the Kenyan; however, it is an in-house matter that I do not want treated publicly. To give weight to my claims, I will say I have often trained with black runners in training. Just as I have always believed whoever crosses the finish line first is the best and deserves recognition," Noot said. Noot won the gold medal in the 10,000 and 1,500-meter distances, and the silver medal in the 800-meter distance at this year's Estonian championships.
Mukunga told Postimees he does not hold a grudge against Noot. "I believe he was very tired because long-distance running is not customary for him (Noot is primarily a middle-distance runner – ed.), and he was holding a lot of objects. He is still my friend," the Kenyan said.
Nurme, who appeared on the Ringvaade program with Mukunga yesterday evening, added: "As a professional athlete, I see disappointment in coming second there. I know Andi. He is definitely not a racist; he was just disappointed. The pain of defeat is natural. Every athlete must learn to deal with negative emotions upon losing."
The Estonian Athletics Foundation plans to shape its position concerning the incident in the near future. Punishments for unsportsmanlike conduct have been lenient in the past.
Perhaps the most pronounced example is from the 2014 Estonian championships when Kaur Kivistik failed to show up for the award ceremony after winning second place in the 3,000 meters hurdles after which he was disqualified for unsportsmanlike conduct. Kivistik lost the silver medal. That took place at a foundation event, while the incident involving Noot happened at a commercial race.