Russian prisons hold eight Estonians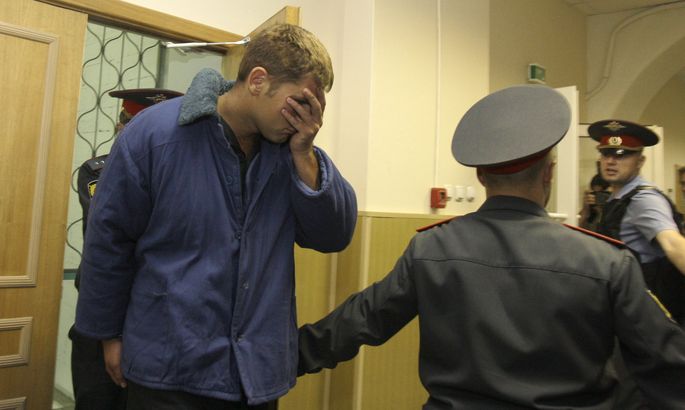 At the start of this summer, at least eight Estonian citizens convicted for crimes committed in Russia were jailed in Russian prisons. 
At enquiry by Postimees, Russia's punishments execution agency (as abbreviated: FSIN) announced 28,000 convicted foreigners were doing time in Russian prisons as at beginning of June, of whom eight were Estonian citizens. The figure does not include security police officer Eston Kohver as his sentence will be proclaimed tomorrow August 19th.  
The figures by Estonian foreign ministry differ from these of FSIN as they include individuals under preliminary investigation in Russia. The ministry counts 14 Estonian citizens in Russian preliminary investigation prisons and camps as at March, plus 11 residents of Estonia holding foreigner's passports. Even these statistics fail to count Mr Kohver as for Estonia this is not apprehension on Russian territory but kidnapping from Estonian soil.
As recently as 2006, FSIN press service counted 26 Estonian citizens as having imprisoned in Russia.
Estonian foreign ministry only learns of our inhabitants jailed in Russia if these desire to notify Estonian consul.  
FSIN did not know for what Estonian citizens were held in Russian jails at the moment, but judging by the news the main reason seems to be smuggling of drugs. According to press representative at Estonian foreign ministry, Estonian citizens are also jailed in Russia for murder, avoidance of customs duty, arms smuggling and theft.
To our knowledge, the longest term is currently the lot of a Tallinn businessman who in 2005 was sentenced for 15 years for transport of drugs. A large quantity of synthetic narcotics were found with the man trading in Russia with frozen fish. The businessman, known to have been located at a Rostov Oblast prison camp, is only to be set at liberty in 2020.
Of the more recent cases, it is known that this winter Leningrad Oblast regional court sentenced an Estonian citizen Deniss Poljakov for three years for attempting to take 17 rare books out of Russia, the oldest dating back to 15th century. Mr Poljakov was on his way to Estonia from St Petersburg with an ordinary bus line. The forbidden books were found by Russian customs officials while checking his luggage on the border.
Last fall, an inhabitant of Tartu (28) was sentenced to jail in Pskov who hit a policeman while drunk. The man had been beaten up himself while downtown. When policemen appeared on the scene and wanted to take him to the station, he resisted them and kicked one.
From time to time, Estonian citizens have also been jailed in Russia for causing tragic traffic accidents. This, Kaluga court near Moscow in the fall of 2011 sentenced Aivar O. (last name known to Postimees) for three years for hitting a motorcyclist with his Opel Astra in the summer. The biker died of injuries.
Some acts not considered transgression of law in Europe may be punishable in Russia. This February, a criminal case was launched in St Petersburg against a male teacher (59) from Tallinn under a recent clause of «non-traditional sexual propaganda amid minors» (fined by 5,000 roubles i.e. €75 max). Allegedly, the teacher had booked a hotel room downtown intending to lure into it a minor boy. The teacher was spared punishment, however, but placed on board of a train and sent out of Russia. But his Russian visa in invalid now, for a long time.
Rather often, regional courts in Leningrad and Pskov Oblasts jail drug mules from Estonia, who are Russian citizens or stateless. A latest case was six years sentenced to an inhabitant of Ida-Viru County at Kingisepp city court who had smuggled three kilograms of psychedelic substances from Estonia.
An Arctic Sea seajacker released
A best known Estonian citizen thus far imprisoned in Russia is Jevgeni Mironov, judged guilty of seajacking Arctic Sea. However, unofficial data says he was recently released.  
As told Postimees by Mr Mironov's lawyer in Russia Jelena Lebedeva-Romanova, unofficial data says Mr Mironov was prematurely released a week ago. «So he's supposed to be home in Estonia already,» said the lawyer who plans to make the official inquiry this week.
If Mr Mironov's release is true, the number of Estonian citizens imprisoned in Russia comes down to seven.
Ms Lebedeva-Romanova said the usual reason for premature release in Russia is good behaviour. It may also have been considered, she said, that Mr Mironov had no prior criminal record.
Mr Mironov was jailed for seven years, in 2011, for participation in seajacking of the cargo vessel Arctic Sea on the Baltic Sea. With Mr Mironov, the Arkhangelsk gave lengthy sentences to six other men, two of whom were Russian citizens dwelling in Estonia and three were stateless persons dwelling in Estonia. Of the entire bunch, Mr Mironov was the only one holding an Estonian passport. Earlier releases from among the Arctic Sea related inmates were Dmitri Savin and Sergei Demtšenko (from Latvia) and an inhabitant of Estonia Andrei Lunev.