Alcohol feast across Latvia's border speeding up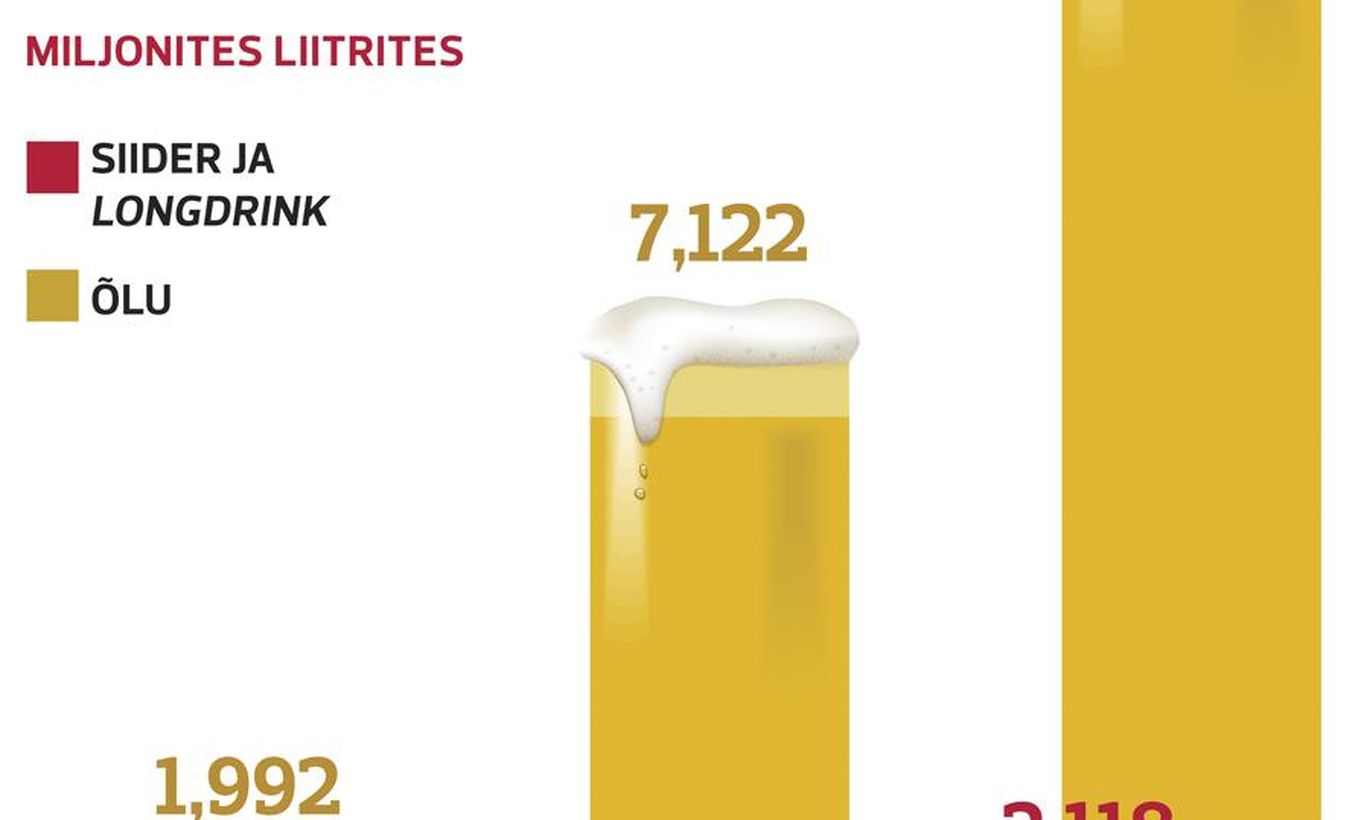 While some research firms predicted earlier this year the end of the cross-border alcohol trade, the brewers' latest data of show that the feast in the border shops is only speeding up: the sales of beer and cider keep growing in sunny weather.
The latest data of the Estonian Brewers' Association show that the sale of beer in the shops at Latvia's border increased 80 percent in the first half-year. The sale of mild alcoholic drinks, cider and long drinks, went up as much as 3.4 times.
Peeter Võrk, chairman of the Brewers' Association, said that although the growth is not as impressive as last year, it is nevertheless remarkable. «This means that an increasing share of beer consumed in Estonia is purchased in Latvia,» he summed it up.
Since Estonia's beer excise tax is almost three times higher than that of Latvia, it is hardly surprising that cross-border shoppers buy mainly beer. But how should we explain the surge of sales of mild alcoholic drinks? Võrk explains it with the steep excise increase on July 1, 2017; Latvia's excise tax had been higher than Estonia's before that.
«Thus, the cross-border trade of cider and long drinks only began in the second half of 2017,» Võrk said and added that the explosive growth took place this year.
Tarmo Noop, CEO of A. Le Coq, described the increase of cross-border trade as huge. He said that the plant has been breaking records in amounts of mild alcohol sold to the border shops. «July will probably see a new all times high,» he predicted.
Riho Maurer, owner of the Superalko chain and one of the leading figures of cross-border business, seconds the brewers. Moreover, we should consider that the share of Latvian and European beer bought in Latvia is in creasing as well. But our statistics does not reflect it.
Latvia increased its own beer excise tax in March. Although there were opinions that the neighbors' beer price will level with ours, it is not true, according to Maurer. «It has no effect since the difference in excises is still twofold.»
Besides, future excise rises would not affect cross-border trade, since inflation will compensate for it. «The Latvian government is definitely more rational,» Maurer said.
He added that going to Latvia has become a habit for many people. «While our customers were previously the residents of South and Central Estonia, the number of buyers from North Estonia and Scandinavia has significantly increased by now,» he said.
According to the Brewers' Association, more than one third of beer consumed in Estonia is presently sold across the Latvian border. Since no end of the buying frenzy is in sight, they predict that 32 million liters of beer will be sold across the border by the end of the year and 4.5 million liters of other mild alcoholic drinks.