Phantom stops forced by state on bus companies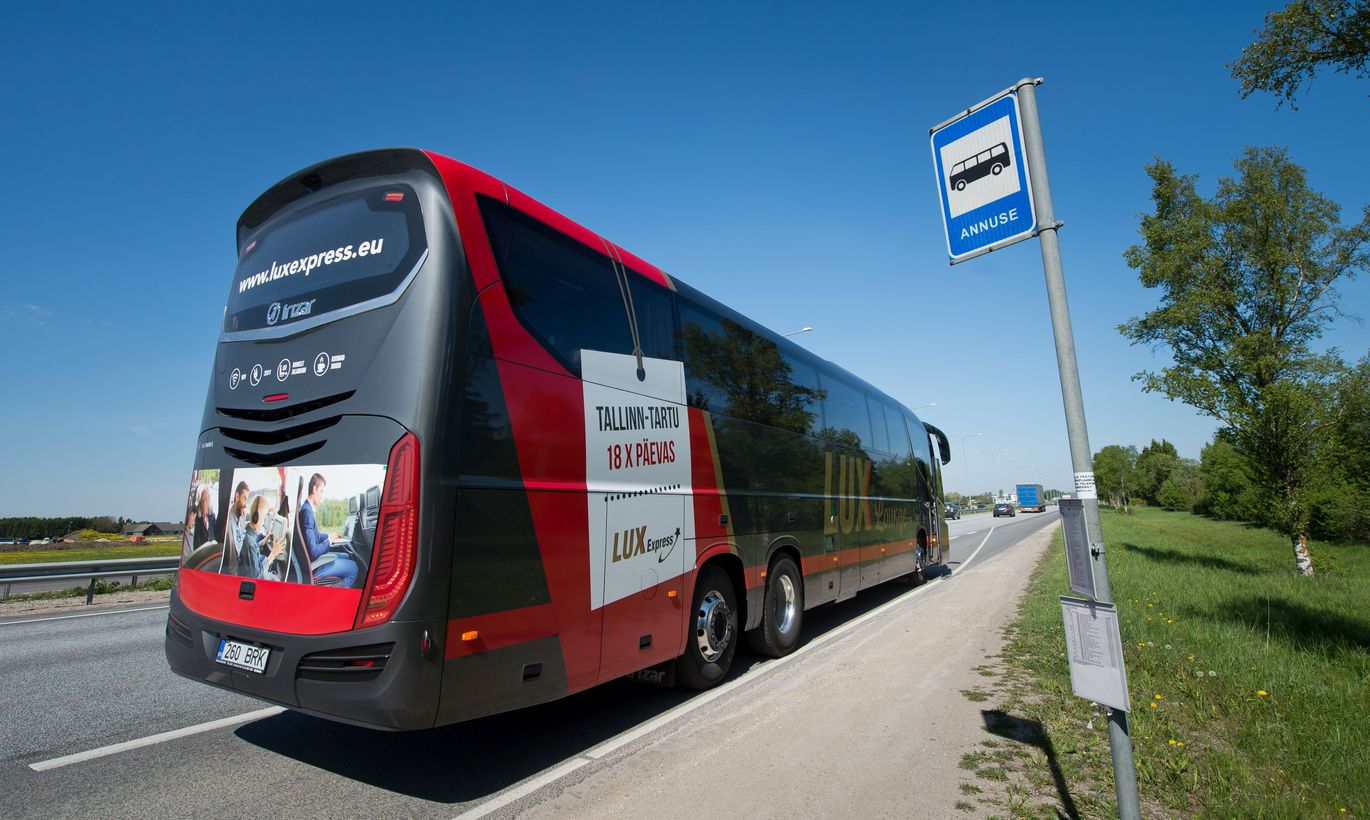 No longer do the new Lux Express buses speed straight from Tallinn to Tartu. Rather, they do stops in places where probability of picking someone up is next to nothing. The phantom stops have been enforced by the state. 
The mysterious Annuse bus stop goes unrecognised by major map apps. Six times a day, however, this is where the Lux Express buses are supposed to stop. It was only thanks to an acquaintance living in a nearby small town that we managed to spot the stop.
«Not much there, really. Just a path, but not a path really, but a track,» she said, showing the stop to me on Google map.
Upon my visit, local grannies are wide-eyed with amazement at hearing of the Tallinn-Tartu buses said to be stopping here. «Do they voluntarily halt, or does one wave one's hands?» asks one.
We will have to find out. As I raise my hand, a Lux Express bus does stop indeed. Being asked for €7 for the ticket, I'm naturally breathless. «Why do you wonder? Without free seats in the cabin, you'd have to sit in the lounge. That'd be €15 to Tallinn,» said the bus driver.
He says I am the fist human being who hopped aboard in Annuse.
Lux Express chief Hannes Saarpuu says the phantom stops are a forced option. «Initially, the idea was to stop in places where there'd be people, like Puhu intersection (near Põltsamaa – edit), but then it surfaced that another form's line coincided with ours,» he explained.
Namely, as Lux Express filed to extend the line permit, they were surprised to hear it would not be granted as – in the eyes of Road Administration – others offer better services.
«Like the Tallinn-Tartu line by Presto, travelling through Paide, have 16 stops. And then we had to invent this set of stops to qualify for a comparable line,» explained Mr Saarpuu.
The very amount of stops is what is decisive, with line permits. Matters not how old the buses are, and that Lux Express has driven that line for 15 years against three for Presto. Phantom stops had to be featured on Tartu and Pärnu lines alike, and others may be pending.
To choose the potential nonsense stops was not hard as Road Administration sent a list to be chosen from – 80 stops towards Tartu and 40 on the Pärnu direction.
«Well well, we got our permits extended for five years, but the trouble is that meanwhile Presto will have its line permit expire and then they will find out that as we have new buses but they do not, then they will do even more stops to get collect their points,» said Mr Saarpuu, bemoaning the absurdity. Should this continue, every few years the carriers will have to add stops.
The bus company tried to suggest to suggest stops on demand for those who purchased tickets in advance, but Road Administration rejected that. «They said this would not be comparable to a real stop where a granny gets the idea in the morning, on the farm, to take a bus ride, as she may not have Internet connection or telephone option,» said the bus company head.
The €7 ticket for seven kilometres is intentional, said Mr Saarpuu – makes no sense keep a very low price for the final kilometres. «I one wants to ride this bus, one must pay the seat from the beginning,» he said. As the state does not regulate ticket prices, the firm has free hands.
Thus far, travel time has not been stretched out due to the phantom stops as express lines had a cushion – with no jams in Tallinn, the buses were early in arriving. But there has been trouble with buses reaching the on-the-way stops too soon. Being forced to wait until due time to leave, standing at highway side like that has urged passengers to complain.
The stupid situation emerged as bus market was liberalised last fall. Until then, the rule was for express buses to have half an hour between departures, and they were compared among themselves. Now, ling-distance lines, fast lines and express lines are counted equal. Line permits goes to the company which offers the best service i.e. does the mist stops. Mr Saarpuu says he fails to comprehend the logic.
«For some reason, they did not want to fully liberalise the bus market. But they did want to open it up anyway, so they inserted this requirement to be better,» he noted.