Tallink rescues listed firms results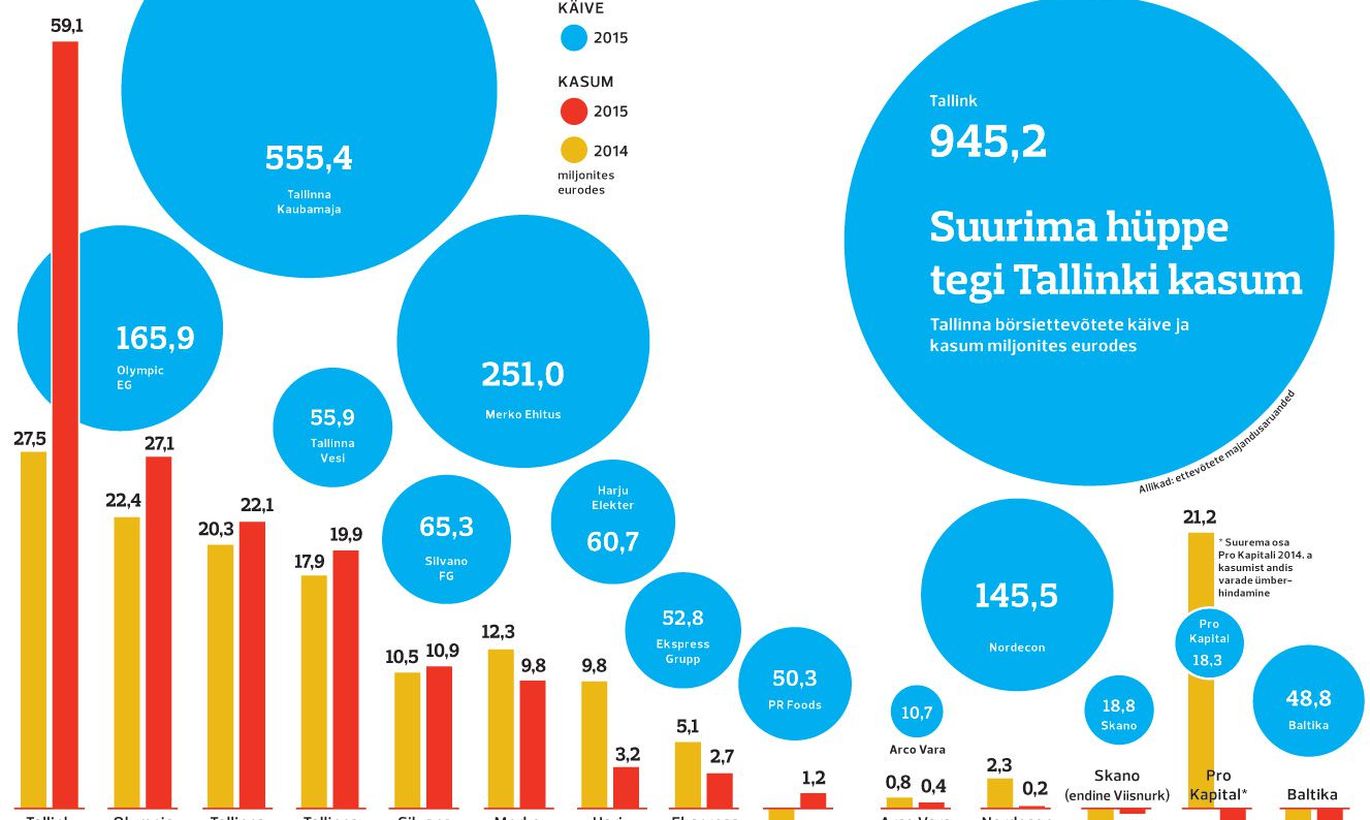 Of companies listed at Tallinn Stock Exchange with economic activity, a half i.e. seven improved results last year; eight managed to boost turnover. Three ended in red. 
Total turnover of listed companies rose by a percent to €2.4bn while aggregate profits improved by two percent to €147.8m.
Regrettably, the total profits only rose thanks to Tallink, last year. Without the Tallink profit, the total profits of the remaining 13 listed shrink by a quarter to €88.7m.
Tallink's turnover rose to a record of €945m. Probably, within years the shipping company will turn into a billion euro turnover firm.   
«In 2015, the group's financial results mainly improved thanks to increased number of passengers, increased on-board sales per passenger, increased profits from chartering ships, and lower operating costs. On mist lines we operate, numbers of passengers continued to increase and the group gained market share in the tough competition,» the company wrote yesterday in its annual report.
Though suffering a €1.3m loss in the fourth quarter, the year's profit more than doubled to €59m. The last times Tallink saw such hefty profits were in the boom years of 2006 and 2007. The loss in the final quarter was due to sales of the high speed craft Superstar resulting in €9.5m of loss (transaction costs included).
A factor in boosting the year's profit was the lowering of fuel prices. The smaller fuel consumption and falling prices cut €20m from Tallink's fuel costs, wrote the group.
Exciting results were posted by women's lingerie producer Silvano FG mainly operating in Russia and Belarus. While turnover fell by more than a third to €65m (in 2014,it stood at €101m), Silvano's profits remained basically the same year-on-year – actually growing by 4.6 percent to €10.9m. The company said they managed to cut costs and streamline staff.  
In its report, Silvano wrote how in Moscow rental prices have sunk towards normality, allowing keeping the stores at profit. In December last year, Silvano opened five stores in Moscow, adding another this January. Swedbank's economists predict they will open 15–20 new shops in Russia this year.
Even in Belarus, Silvano opened its store (not franchise) in February and has promised to open 15 more, half of these in Minsk, the capital.
LHV economist Arno Tara said that Silvano's balance sheet continues to be strong and the bank expects them to pay 11 cents per share of dividends this year. Last year, it was 10 cents by Silvano.  
As compared to 2014, building companies Merko Ehitus and Nordecon did worse. Merko had its turnover shrink by 0.5 percent to €251m while the profits fell by a fifth to €9.8m, of which €9m is planned as dividends.  
Nordecon's turnover dropped 10 percent to €145.5m; the profits plunging over 90 percent and landing at €0.18m. Profits took a substantial hit by €3m worth of Ukrainian assets written off.