Palts fights for Crimea dream resort
Estonian investor in court aganist Russian defence ministry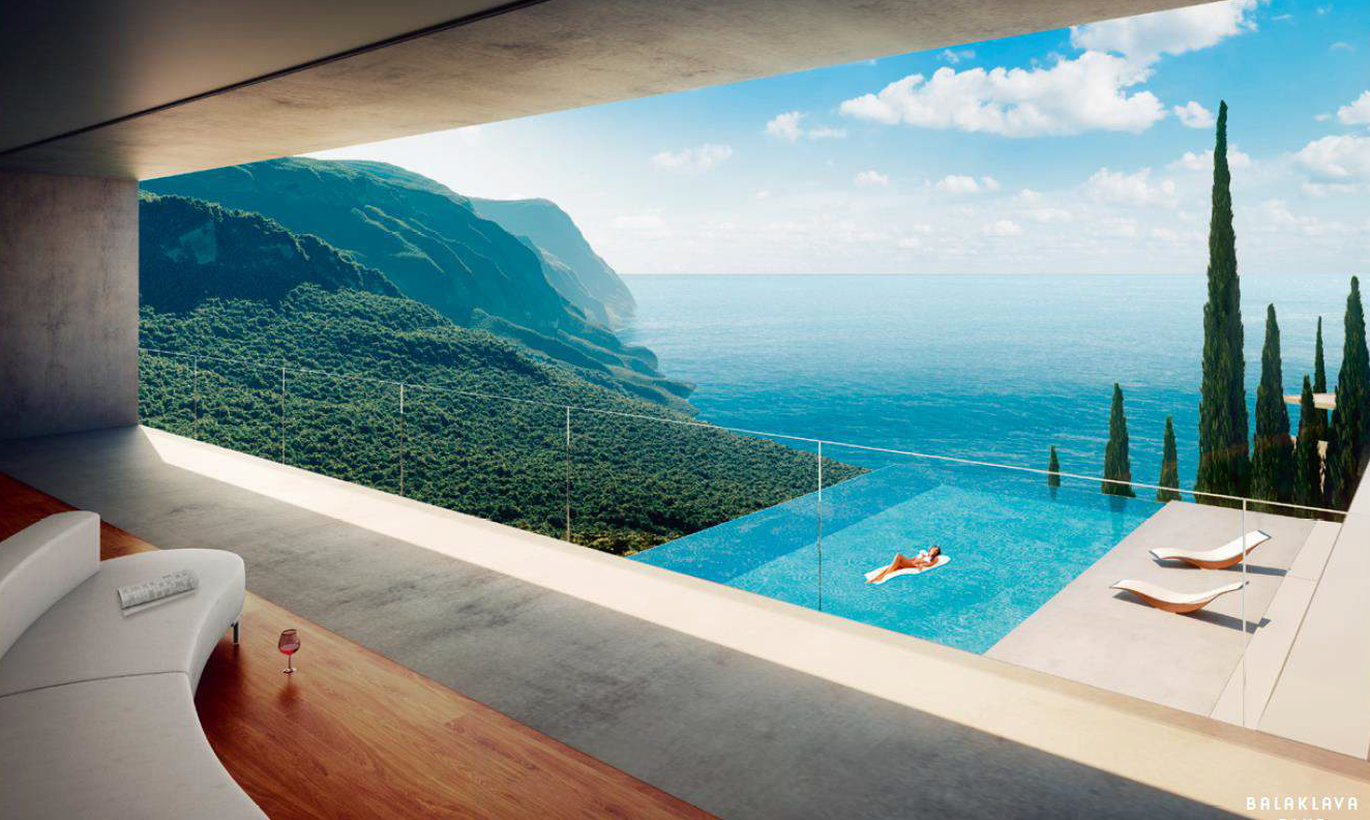 Former Mayor of Tallinn and Riigikogu member, Tõnis Palts (62) is among the few foreign investors to not abandon his business in Crimea after it was assumed by Russia. Furthermore: toughing it out, he is battling in court both with city of Sevastopol and Russian defence ministry to protect his lot worth dozens of millions of dollars.  
Mr Palts may be understood: owning nearly 20 hectares near the beautiful Black Sea beach, politics will go to back burner. «It's the best place in Crimea for a resort, with its purest nature,» said the businessman, adding the Yalta all people talk about is mediocre compared to what he has.
The plot of Palts sits at the legendary-for-Russians military port Sevastopol, in Balaklava. «We bought out 20 hectares of land, on a hill. It's a kilometre wide park between us and the sea, with a beautiful park where we rented a kilometre wide stretch to build proper beaches and restaurants,» describes Mr Palts – from a hotel, a cable car could take folks right to the sea shore called «golden» by locals.  
Of Sevastopol with its 419,000 inhabitants, Balaklava is as far as Viimsi from Tallinn. The untouched nature is explained by the area in Soviet times housing a military facility named B-42. That was an underground missile complex to protect the warships in Sevastopol. As the Soviet Union collapsed, the complex was left idle.
Mr Palts got busy buying up the land back in 2006 and spent about ten million dollars. Detailed plan was completed by 2010 and starting 2013 Mr Palts was actively seeking European and Asian investors willing to inject about $200m into his Balaklava Blue holiday resort to be.
In his presentation to investors, Mr Palts tells the potential investors he'd build the best wellness resort at Black Sea. «With the detailed plan, we currently assess our assets there at $17m, on the basis of which we are holding talks with investors,» he said.
All these pretty plans were made while Crimea was still Ukraine's. As Russia took the peninsula in 2014, Mr Palts developed a mountain of resistance: the plot is eyed by the mighty Russian defence ministry which wants to be returned all land once owned by the defence ministry of the USSR. Just a few orders from above, and Mr Palts discovered that the resort of his dreams on paper was owned by the Russian ministry.
Last fall, Mr Palts' company in Crimea Kaskad Investments sued Sevastopol city government to local arbitrage. The first session was in December, the second one last week, and the deliberation continues till spring.
«We sued not the defence ministry but the city, as we want the city to take us out of a certain list,» said the entrepreneur. What Mr Palts means that in spring last year the city of Sevastopol entered the former military facility B-42 in a list to be transferred from city ownership to state ownership i.e. to be administrated by Russian defence ministry. The latter has been involved by the court at Sevastopol as co-defendant. Mr Palts seeks to prove that the former military facility could in no way have been owned by the city of Sevastopol, and thus the city government could not transfer it to the defence ministry.
Already at the end of last year, I asked for Sevastopol city government to comment on the claim by the company of Mr Palts, but I have yet to get an answer. Comments also proved elusive from the local portal ForPost which has covered the topic. Russian defence ministry has not come public with any of its plans for the plot contended for by Mr Palts. ForPost data says Russian defence ministry wants to assume 275 former military facilities in Crimea.
Mr Palts is optimistic regarding the court battle. «There is some kind of a general list that has been compiled, on the basis of which the Russian defence ministry is trying to bring order into its assets, including a couple of hundred objects and plots which belonged to them before Ukraine got independent,» he claimed to know. «As they generally lack decent documents, the list encompasses everything. The surest way to get out of the list is through court. This is also used by others who have in the meantime legally acquired [former army] property.»
Mr Palts does not fear that as a businessman from an EU and NATO country covering Crimea with sanctions, he could not get justice in local court. «More than any revenge harboured against NATO, Crimea definitely is interested to keep and to attract additional European investors,» he claimed. «Over there, I am probably among the few remaining European investors as I still keep paying taxes there such as land tax.»
To our knowledge, the only larger European investor still doing business in Sevastopol is the Finnish drinks producer Hartwall which years ago used to own Saku brewery in Estonia. De facto,  from Ukrainian times Hartwall still owns Crimea's second largest winemaker Inkerman, near Sevastopol.
Regarding all of Crimea, however, Mr Palts is not the only Estonian investor. Just two weeks before Crimea was assumed by Russia, in the regional capital Simferopol the Ukrainian enterprise Arricano owned by Hillar Teder opened Crimea's largest shopping mall Yuzhnaya Galereya. The successful centre covers close to 33,000 square metres of trading area.  
After Crimea was assumed by Russia, owner of Kaskad Investments reregistered it from Ukrainian commercial register into the Russian one. The owner is Jubek Investments registered in Estonia, the other board member next to owner Mr Palts is Juliana Preobraženskaja (33) who manages his investments in Sevastopol. The lady has worked with Mr Palts ever since in mid-2000ies he was mayor of Tallinn.
Not going to Crimea currently
Mr Palts says he sees no reason why he should give up his grand project, despite that EU and other Western states do not recognise Crimea as part of Russia And have imposed broad sanctions regarding Crimea.
«Pursuant to Russia law, all Ukrainian holding documents are valid in Crimea,» he said. «And as I have happened to be there before the Russian law was imposed, I will continue to invest. Whatever the case, Crimea is a place with much perspective.»
Even so, Mr Palts has never been to Crimea after it's assumption by Russia. Rather, he goes to Moscow. As Western investors don't have too much daring to invest in Crimea, Mr Palts is having talks with Russian businessmen regarding investments into his project.
The Crimea military facility Mr Palts is going to court about consists of nearly 30 buildings. As the USSR fell apart, the object was handed to Russian defence ministry under special agreement but pursuant to the pact to divide Black Sea navy it was Ukrainian defence ministry who obtained the object.
Mr Palts' company Kaskad Investments purchased the rights to B-42 buildings in 2006 from Ukrainian defence ministry for ten million hryvnias (according to current rates €341,000, but back then €1.65m – edit). After a year, Ukrainian military prosecutor's office contested the sales of the facilities, but Sevastopol administrative court let the company of Mr Palts keep the lot. The land under the buildings and around them was purchased by the company of Mr Palts from the city of Sevastopol.
Maria Belovas, director-general at public relations department, Estonian foreign ministry
Pursuant to Ukrainian law, Ukrainian law still is in force in Crimea. According to information presented to us, pursuant to Ukrainian law the real estate still belongs to Tõnis Palts.
If illegal powers in Crimea are involved in illegal activity, it is understandable that an investor or owner will use all his options to protect his legal interests. At that, we hope it is done according to rules laid down by Ukrainian state.
Balaklava Blue detailed plan prescribes:
Overall construction area of 84,800 square metres
A luxury hotel with 200 rooms
A covered water park at the hotel, wellness-spa and conference centre
A separate boutique-hotel with 24 apartments
200 hectare park and gardens
Source: project presentation