Finns begin assembling Megastar
Keel laid for passenger ship burning LNG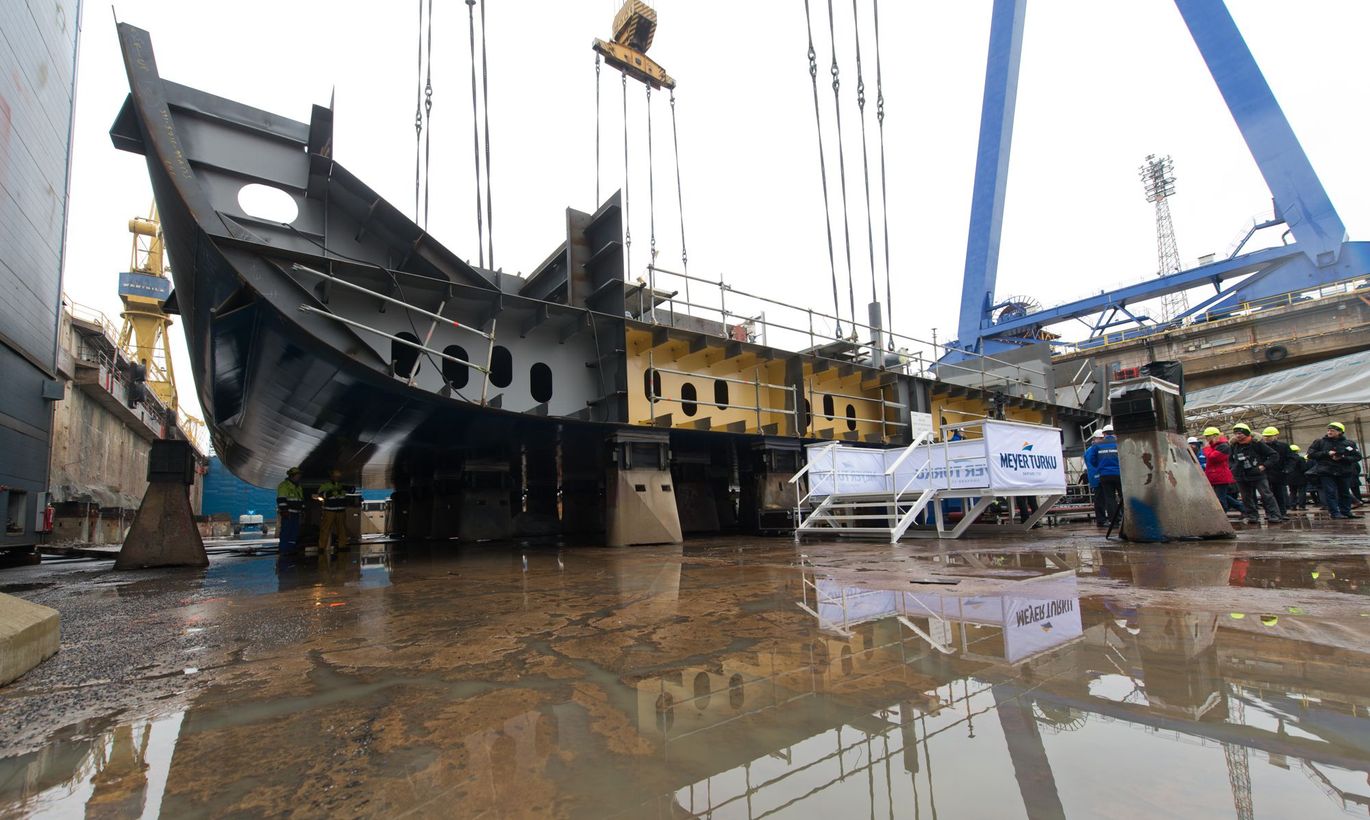 Yesterday, the traditional keel laying ceremony was held to trigger assembly of the hull of Megastar, Tallink's new passenger ferry, in Meyer Turku shipyard, Finland. 
For quite some time, hull details of Megastar to be launched in July have been produced at the plant in Turku; now, they are to be assembles in dry dock. Next to Megastar, keel of cruise ship Mein Schiff 6 ordered by TUI Cruises will be laid in a week, to also be assembled. At the same time, the shipyard is busy building Mein Schiff 5 – another cruise vessel ordered by TUI.
Meyer Turku CEO Jan Meyer says the plant employs 1,500 workers while the subcontractors may have six or seven times more. «Hard to say how many people are working on the Tallink vessel, as the processes vary and the input by everyone differs,» he said. «But I think that should all be counted who did at least something during its construction, it may be 10,000.»
The subcontractors include ABB Eesti which supplies the ship's generators.
This summer, the Turku shipyard will send some of its staff to forced leave and the building of the next cruise vessel Mein Schiff 7 is still at the level of drawings and Tallink is also yet to decide if it will order one ship more. Therefore, Finnish media was urging the Tallink chief Janek Stalmeister to tell them, yesterday, if the order was coming.
«We are talking about a several hundred million decision which is not easy to do,» said Mr Stalmeister. «We still have time for that,» he added, while declining to specify how long.
As for Megastar, it will sail on liquefied natural gas (LNG) while retaining the option to burn diesel. «The waste regulation is getting ever tougher. Actually, LNG was an easy decisions: one was able to score many a point at once,» said Mr Stalmeister.
As for switching the other Tallink vessels to LNG, Mr Stalmeister said they haven't decided anything yet. «We wait and see, keep an eye on the developments,» he said.
Completed by beginning of 2017