Rõivas returns from China to resolve conflict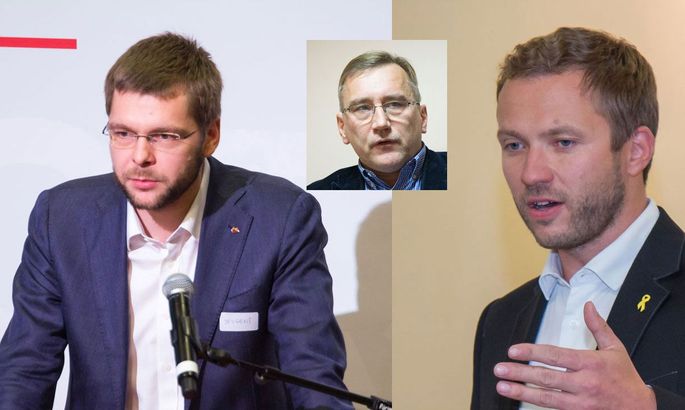 IRL vs Soc Dems clash plays trumps into Reform hands regarding desirable EU post.  
Yesterday morning, a fight broke out between the minor ones in coalition – IRL and Soc Dems – in which IRL called Soc Dems extortionists and Soc Dems said IRL are people not carrying European values. On the face of it, the feelings flared yesterday. In reality, they had been long in cooking.
Spawning this scandal was the Registered Partnership Act (RPA) implementation bill votes which passed the first reading by skin of teeth. The vote was preceded by an SMS from Soc Dems chairman Jevgeni Ossinovski to IRL counterpart Margus Tsahkna: «Partnership on knife's edge. If partnership fails today we aren't talking about Juhan.»
Obviously, Mr Ossinovski was flashing a clear warning that should IRL fail to accommodate them at RPA vote i.e. not voting for it or abstaining to vote against, Juhan Parts will not get the European Court of Auditors seat. Soc Dems knew this was a soft spot in IRL as the latter have been hoping Mr Parts gets the post ever since the coalition was created. In the name of the hope, for a long time Mr Parts was actually avoiding talking to the media so as to not mess the warm place up somehow. The topics abounded, see: Port of Tallinn, Estonian Air, Eesti Energia, Estonian Railways etc.
As steps to follow Mr Ossinovski's text message, influential Soc Dems Kalvi Kõva and Heljo Pikhof set forth to convert IRL deputies. Yesterday, Mr Tsahkna called this extortion, threatening and crisis of trust. Mr Ossinovski, however, focussed on assessments by the offended Priit Sibul regarding Maire Aunaste who was the only IRL deputy to vote for RPA.
Thereby, the decision also was made: no more talking about Mr Parts, and no more talking about RPA in the context or IRL yes votes. IRL leaders, obviously convinced till Wednesday night that Mr Parts would get the Auditing Job, were filled with holy anger which was expressed in statements by several in IRL but mainly by Mr Tsahkna.
Thought the flames went exceeding high, a governmental crisis was surprisingly no topic at all. Why? Because better options are simply nonexistent as all in the government parties are well aware.
Truth be told, the government has been fussing from the summer. The first ones to venture out were the Soc Dems who demanded changes to the coalition treaty of which the partners did not want to hear a thing. In the end they opted to accommodate Mr Ossinovski and certain changes were introduced. After that, IRL went for it and required in a press release issued the night before a governmental session that clauses concerning Tartu Peace Treaty need to remain in Estonia-Russia border treaty. For coalition partners this was a surprise as presented in a way as to show the others thought it not important. But they swallowed that.
When finally they arrived at election the Court of Auditors member, Reform and IRL agreed that Mr Parts is okay. Soc Dems leaders formed no opinion and said they'd desire to talk it over at their board. The Soc Dems board decided that for various problems Mr Parts would not be a good variant but as soc dems are for the partnership act by principle, they would go for a compromise. Here IRL could lose no more points and it all burst forth yesterday.
Who then gets the cosy job in Luxembourg? Obviously, it cannot be Mr Parts or any other from IRL, and neither can it be a soc dem. Thus, just two options remain. The first is go for some apolitical persona and names like Tarmo Olgo from National Audit Office have been tossed around a bit. If a political course is chosen, it can only be a Reform cadre and the best fit would be current education minister Jürgen Ligi.
The latter would please the Reform, onlooker to Soc Dem vs IRL tussle, for lots of reasons. Today, Prime Minister Taavi Rõivas comes back home from visiting China who has the wonderful opportunity to end the fight – as is actually expected from him by both coalition partners. And Reform, having patiently waited, will score.