International airport idea near Narva faces Russia fear headwinds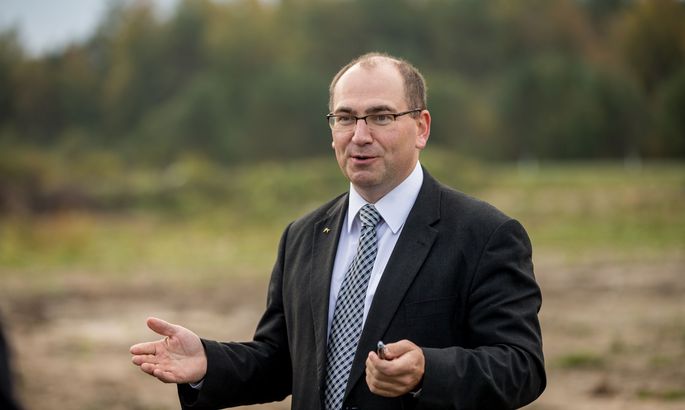 Citing security concerns, interior ministry hesitates to award border and customs control operations to the tiny Olgina Airfield near Narva which wishes to receive private planes flown by Russia's rich. 
A month ago, paint plant Emlak owned by Russia's aviation enthusiast Mihhail Polkovnikov, Narva City and Vaivara Parish filed application to interior ministry to open a border point at Olgina aerodrome.
«Opening an international airport at Olgina is possible with Shengen visa space rules and security requirements fulfilled,» said interior ministry communications department head Tex Vertmann. «The main concern for border guard policy department is security as Olgina airfield is located very near to Russia's border. The answer may come within a couple of weeks.»
While security experts differ on risks related to nearness of Russia, the fear in recent years before aggressiveness in Eastern neighbour is an issue with future of Olgina.
The hesitation at ministry is magnified by imaginations how a small airport with international traffic rights may spell illegal border crossings and prove a beachhead for Russian warplanes.
«Beholding the Olgina airfield through eyes of officer and national defence committee member, I see an area of danger with landing operations of enemy aircraft with armoured vehicle on board,» said Riigikogu's national defence committee member Madis Milling (Reform). «Two small aircraft landing every week would not add anything to the local economy, would create no jobs, wherefore I see no benefit whatsoever in the idea for an international airfield, but I do [see] security threat.»
Taking the opposite stand, a veteran border guard officer Uno Kaskpeit (EKRE), vice chairman for legal affairs committee at Riigikogu in charge of internal security detects no danger.  
«The arrival of a small aircraft needs to be notified 24 hours in advance; in Olgina these may only land in daylight and will be received by armed border guard patrol – what would be the security threat?» wondered Mr Kaskpeit. «Interior ministry may perhaps be annoyed by extra work for Police Board. But lately in Narva they have again begun to send border guards into police patrols which serves to show that border guards have sufficient resources to receive some small planes a couple of times a week.»
Regarding the hobby-airfield in Olgina, the need for internationality was created by the state when it established a real estate organisation IVIA to develop industrial parks in Ida-Virumaa, the main direction for which became offering favourable conditions to Russia's entrepreneurs.
While a year ago it felt like the sanctions-war triggered to the Ukrainian backdrop would take the new Ida-Viru industrial areas into decline, the opposite is currently true. Of the 34 lots at Narva industrial park, only three are yet to be sold – during the past year, the rest have found an owner or are booked.
«For our Russian clients, it would be a major advantage if they could land near Narva with private planes or helicopters,» said Narva industrial park head Vadim Orlov. «In addition to businessmen visiting their enterprises located in Narva, the Olgina airfield would also be used by other private pilots from Russia for whom it would be a comfortable place through which to enter the EU airspace.»
In Olgina, wealthy Russians would be pleased to find a place to repair their aircraft. «My private pilot friends in Russia have for a long time dreamed of entering European airspace particularly via Narva, and in the future we might be talking about building a repairs base for small aircraft and helicopters,» admitted Juri Gudin, business partner for Mr Polkovnikov in Estonia.
Lots of spare parts related to aviation are in strategic goods list wherefore their exports into Russia is a pain in the neck. With repairs hangar near Narva, once a part is screwed to a helicopter, the tedious customs procedures might be avoided.
By internationalisation of Olgina Airfield, Vaivara Parish hopes to match the success of Lappeenranta, Finland, which makes hefty profits by servicing private planes of Russians.  
«Russia's rich keep and maintain their planes in Lappeenranta where these services are cheaper than in Russia,» explained Vaivara parish elder Veikko Luhalaid. «This would be no major business, but rather a niche activity bringing in people in a shared network. Our partners in Russia offered there might be two small plane or helicopter trips into Olgina weekly, but when filing the application to interior ministry we wrote a smaller number.»
In eyes of Mr Luhalaid, the main hindrance for turning Olgina airfield international is the lack of money. As initial investment, detailed plan should be financed, and then warm-room for customs operation must be purchased, as well as erecting fences. After fire at local schoolhouse, however, all the parish's investments are needed for education.
For investments into Olgina, Narva city government hopes to find money in EU funds. «This would be near-border infrastructure development which would also entail own financing,» said Mayor of Narva Eduard East. «Narva would need the airport as this would boost our value in the eyes of businessmen in Russia and EU alike.»
-----------------------------
Olgina – an aviation pearl waiting to be picked
As noticed by any traveller with eyes open, small planes are parked near the Tallinn-Narva Highway at Olgina, just a few kilometres before Narva. The aircraft take off from a grassy area 50 times 1,000 metres. The field is managed by Narva Aviation Centre (Lennukeskus) led by local enthusiasts while lots of hobby clubs come around to do their thing. The managers of the aviation centre are easily located on Internet, and they talk of their doings in a manner friendly and open. However, they wish not their names to be published in media.
The timidity is probably due to a complex combination of relations to be considered when operating an airfield. Also, competition is an issue as grapevine says enthusiasts are eager to resurrect an airfield in Jõhvi, similar to that in Olgina.
Olgina airfield operates on state owned transport land and by linking lots the airstrip could be extended from 1,000 metres to 2,500. Then, the largest Boeings and Airbuses would be welcome. The folks do realise, however, that the London City airport is popular at mere 1,700 metres.
To receive small planes of Russia's rich, it would initially suffice to further security-restrict the airstrip, and fetch a warm-room equipped with electricity and Internet.  
They do not have much faith in repairing choppers from Russia, however, thinking that Tallinn Airport would be much better at that.