Ilves bumps into old friend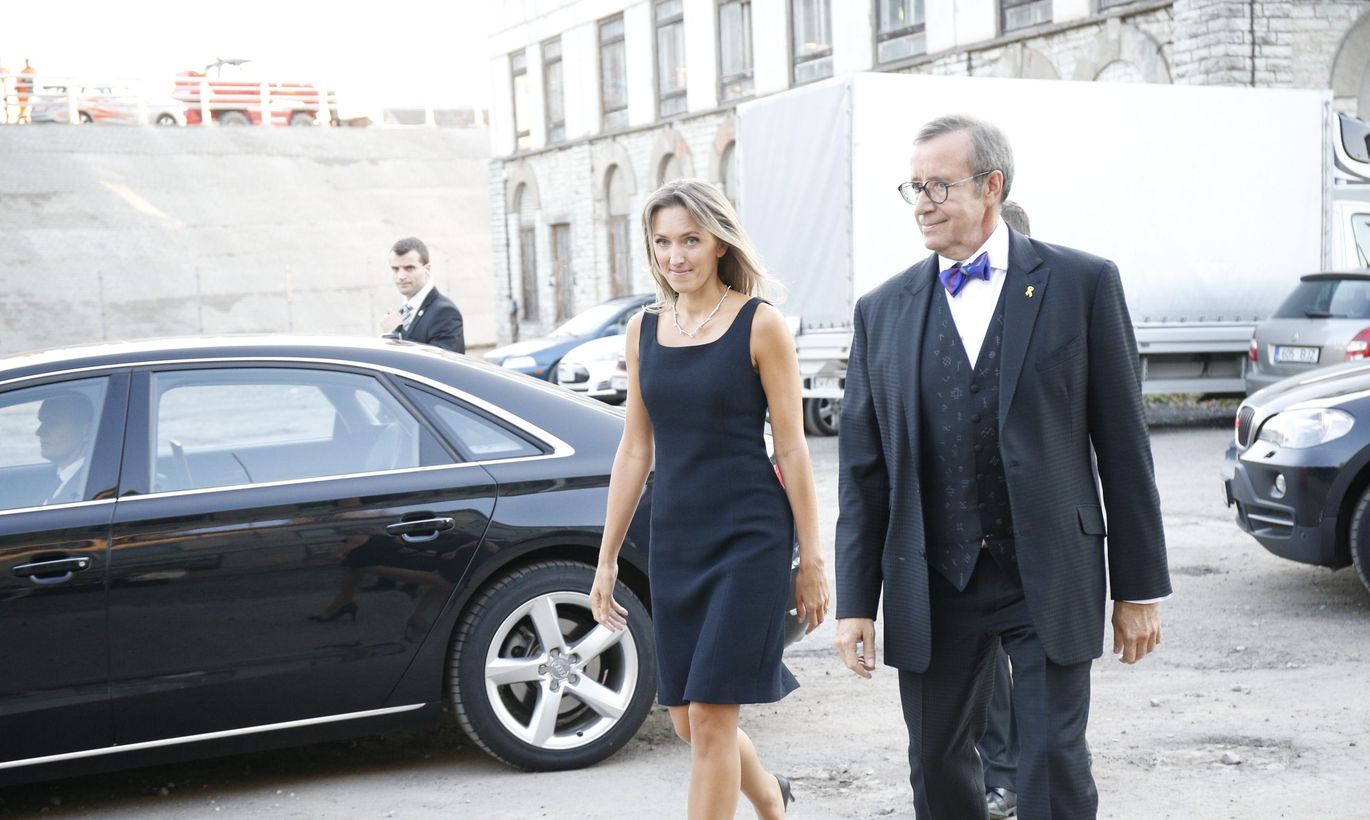 Last Friday, some fifteen minutes before a concert to celebrate jubilee of Arvo Pärt was to start, a lovely lady in black emerged from presidential vehicle to be followed by  Toomas Hendrik Ilves in person. Escorted by security and keeping a bit apart, the two walked towards the venue. 
At the concert, the pair got seated in from row next to the maestro. Present at the same event, the Presidents former wife Evelin Ilves with another woman found a place near the back. At the closed reception that followed, the President held a brief speech and was soon off with his female companion missing the tank-you address by Mr Pärt.
When at the beginning of August the Latvian news portal kasjauns.lv published a picture of Toomas Hendrik Ilves and an unknown lady dining in a Riga restaurant, the yellow media was in the dark as to the person of the companion.
The portal's content was diligently referred to in Estonia. It was discovered that to Latvia Mr Ilves arrived from Germany and, happening to have a day off, he spent several hours in the Latvian capital. As observed by visitors at the restaurant, the couple communicated in English while the lady ordered in Latvian.
Back then, the presidential PR chief Toomas Sildam assured the Latvian portal that Mr Ilves never fails to enjoy the Latvian kitchen whenever he happens to be there. It was days before the journal Kroonika of Estonia identified the dame as Ieva Kupce, a high ranking official at Latvian defence ministry as in turn then quoted by Latvian media.  
Talking to Postimees, several sources said the close communication between Mr Ilves and Ms Kupce has been detected for a minimum of two years since Ms Kupce acted as adviser to then Latvian defence minister turned MEP Artis Pabriks. Namely, the lady was accompanying the minister at Lennart Meri Conference in Tallinn.
«Mr Ilves entered the hall to warmly greet not Mr Pabriks, who stepped behind the back of his adviser as if he (Mr Pabriks – edit) were her escort, but the very adviser who was the dame in question,» a source said. Those present were under the impression this wasn't the first time the two met. The source said Mr Ilves and Ms Kupce have met at other work-related events (such as a conference in Riga in the fall of the selfsame year where the woman met Mr Ilves at the airport, at a meeting between Mr Ilves and the US Senator John McCain etc – edit), and that the delicate and deep something between them remained not hidden.  
«She is very very keen in all things security,» says a politician present at said meetings, awed at the professionalism in Ms Kupce.
As noted by another source, not too many years ago Mr Ilves took this slight sneer at foreign policy trends in the other Baltics. Rather suddenly, however, it was noticed the Estonian President begun to rather intensively visit the southern neighbours though then colleague Andris Bērziņš is the absolute opposite of Mr Ilves by nature.
Latvian media says Mr Ilves and Ms Kupce know one another ever since they worked at European parliament.
According to the Latvian portal skaties.lv Ms Kupce is an active follower of Mr Ilves' dealings in social media. Unmarried, Ms Kupce has a son fathered by Latvian Ambassador in Greece Ivars Pundurs.
The President's communication head Toomas Sildam was curt: «President Toomas Hendrik Ilves' guest at Arvo Pärt's 80th birthday concert at Noblessner Foundry was Latvian defence ministry's cyber defence policy unit head Ieva Kupce. Ieva Kupce, the one to prepare NATO 2006 summit in Riga and now a leading cyber security official is a long-time friend of President Ilves'.»
Toomas Hendrik Ilves (61) and Evelin Ilves (47) divorced their marriage of 11 years in April this year. Lately, Evelin Ilves has been seen in the public in the company of a young musician Siim Rikker (32).
-Cyber security coordination section head at Latvian defence ministry.
-Launched diplomatic career at Latvian foreign ministry in 1997.
-Involved in preparations of 2006 NATO summit in Riga, formerly employed by Latvian representation at NATO and as EU special representative in Baku.
-Involved with Latvian cyber defence since 2012.
-Honoured by multiple decorations by Latvian state.
Source: ec.europa.eu/digital-agenda