Power outage brought chaos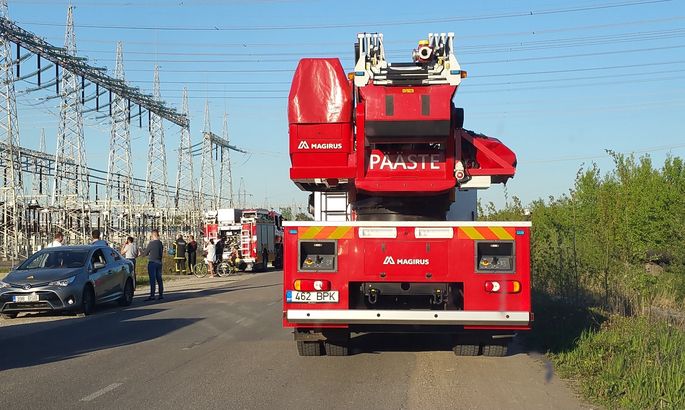 A power outage this Saturday at an Elering substation in East Viru County was so extensive it resulted in chaos despite only lasting for an hour and a half. Transmission network operator Elering admitted the incident was difficult to understand and extraordinary.
The outage left residents of Narva, Narva-Jõesuu and Sillamäe without power, with people getting stuck in elevators. The Rescue Board said it had to let people out of elevators that had gotten stuck on five separate occasions that night. Modern dependence on power was reflected in the fact that households were left without water as a result of the outage. Luckily, water supply was restored relatively quickly after utility Narva Vesi switched to a backup generator.
The fire that caused the extensive power outage also brought to a halt a production unit of energy company Eesti Energia. It caused an emergency shutdown of a single energy block and the Enefit 280 oil mill belonging to the national power company. "Why these facilities went offline will be determined in the course of an investigation, but the fact is we missed production as a result," said Eesti Energia board member in charge of production Raine Pajo. He said that the incident was serious. Eesti Energia could have suffered damages of up to €100,000 in missed power and oil shale oil production.
The incident is being analyzed by the Estonian Competition Board that has initiated supervision proceedings at Elering over the May 18 outage. The board communicated that it intends to ascertain the causes of the disruption and whether the incident could constitute a violation of the electricity market act.
"Because this was a serious outage, the board must draw conclusions and provide recommendations on how such things could be avoided in the future," the watchdog's director Märt Ots said via a press release.
The outage was caused by a broken power transformer and a fire likely caused by a short at an Elering substation.
"The incident is extraordinary. The 330 kV transformers of the substation should not have been switched off as a result of the power transformer malfunction. Substations and power systems in general are designed not to cause outages as a result of one device breaking," CEO of Elering Taavi Veskimägi said.
He explained that should something happen to one device, the system should automatically switch to a backup transformer. "No event such as this one at the Baltic substation that left consumers blind has happened before in the ten years I've been in charge of Elering," Veskimägi said. He emphasized that the malfunction did not pose a threat to the functioning of the country's power system.
"Elering does not understand why Eesti Energia's production capacity was impacted, and we plan to ask the energy producer for additional information. The devices Eesti Energia reports went offline are not linked to the Baltic substation but instead the Viru substation that was unaffected by the Saturday breakdown," Veskimägi said. He added that the energy block at Eesti Energia's power plant went down once the Baltic substation had been brought back up.
"Regulation states that all power plants in Estonia must be able to withstand such a breakdown. Power production capacity that is connected to fully functional substations breaking down causes new problems for the transmission network operator and raises the question of whether these devices meet requirements," Veskimägi added.