Estonian carrier Nordica to close three regular routes from Tallinn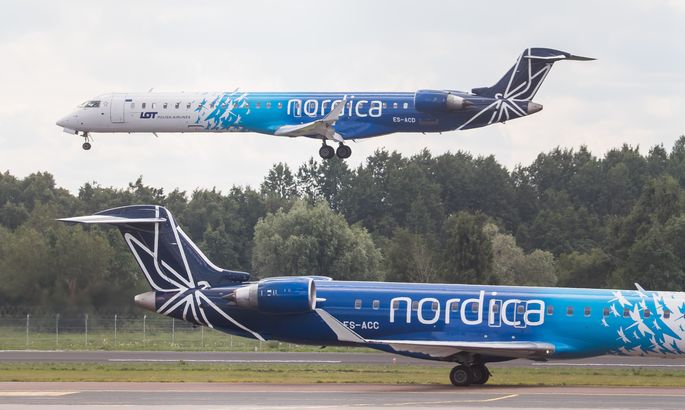 Nordic Aviation Group AS, the national airline of Estonia operating under the Nordica brand, decided on Thursday to close three regular routes departing from Tallinn and is planning to lay off nine of its commercial unit staff.
From mid-January onward, Nordica will no longer be flying to St. Petersburg, Oslo and Amsterdam. The latter two destinations have been among Nordica's regular routes since the beginning. In addition, departures will be cut significantly from January on two main routes to Stockholm and Munich.
Hannes Saarpuu, who was appointed CEO of the company in July, said after making the closing decision that even though it was not made lightly, there is no reason to panic. He added that the decision to close three routes is due to economic reasons. "When the number of seats becomes greater than actual demand, it is not commercially advantageous," Saarpuu told the newspaper.
He gave as an example the route to Stockholm, where altogether four carriers fly during the winter season.  "There is no sense for us to compete there at all costs, it is not reasonable, and this is why we are decreasing volume," he said. Saarpuu was unable to say by how much the number of departing flights will be reduced, exactly, but confirmed that more flights to Munich will be cut than to Stockholm.
While last year, Nordica's fleet nearly tripled from six aircraft to 18, no growth can be expected this year or next. The airline is planning to focus on quality instead.
In the press release published on Friday morning, Saarpuu said the reason for abandoning the St. Petersburg and Amsterdam routes is low demand, while the reason for closing the Oslo route is sharp competition. "We would rather direct our resources to profitable projects which will strengthen our financial results. Like every other company, we must foremost be profitable, and future changes in the route network serve that very purpose. Nordica's ability to be flexible and respond promptly to market change is a significant factor in ensuring long-term success," he said.
Passengers affected by the changes to be made in January will be offered alternative solutions. Information regarding the process and rights of passengers is highlighted on the website of Nordica. Saarpuu said that there is no reason for anyone to worry about their tickets. "Airlines are very well trained to respond quickly to taking passengers who have previously bought a ticket to their destination. For various reasons, this happens quite often in the aviation business," he said.
Saarpuu said that the redirection of aircraft to other routes will not affect the number of flying personnel, but nine job positions in the company's office will be cut in relation to the changes to be made in January.
Starting from January 14, Nordica will service eight direct routes during the winter period, flying from Tallinn to Stockholm, Vilnius, Copenhagen, Brussels, Kiev, Warsaw, Vienna and Munich.