Codeine addict: I can always get more in a pharmacy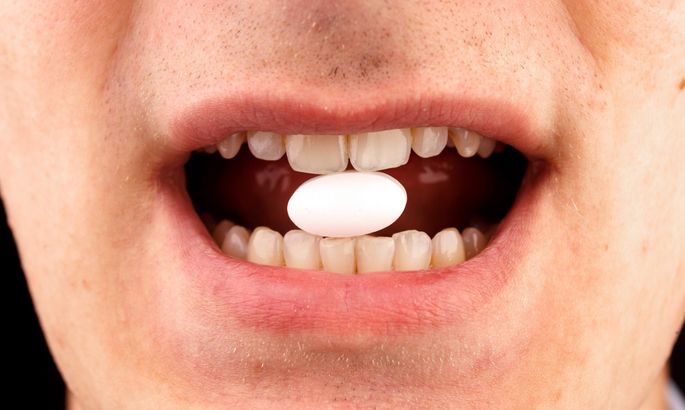 By now he had been a codeine addict for three years. "It feels like someone hugging me all the time," says Taavi, 24 (name changed) about his codeine dependence.
Curiously enough, this narcotic substance is legally available in Estonia as it is sold in pharmacies over the counter. For codeine addicts the pharmacy is like a narcotics lab or a candy shop where the basic medicine is later processed into addictive codeine.
"You go to a pharmacy and buy the primary product, which cost three euros. Three hours later you are high," Taavi says. He knows that this is a secret problem and he has several acquaintances who regularly go to pharmacies to top up. Margo, 28 (name changed), a resident of Tallinn, used codeine for five years. He has been free of addiction for four months and finds that life is much better this way.
Primary substance is easily available
"Only a few codeine addicts have approached us; I have mainly heard from clients how serious the problem is," says Kaja Heinsalu, head of the TSF clinic in Tallinn, which treats addicts. Those approaching the clinic even include educated specialists between 25 and 35 years of age. Taavi, too, is intelligent and educated. According to Heinsalu, there are more female clients than male. Codeine addiction can be easily hidden and carry on working so that the colleagues have no idea of one being  constantly under the influence. Heinsalu adds that this is probably why very few people come to their clinic with codeine problems.
Codeine is a narcotic substance classified as opioid; the same group includes heroin and fentanyl. Once the effect of the substance is receding, the addict experiences serious withdrawal symptoms: increased irritability, aggressiveness, sleeplessness, sweating, gout, diarrhea and need for a new dose,
Codeine addiction is made easy by the availability of the primary substance. Addiction can be caused by one-time use.  "Codeine addiction has often happened from accidental use when people administer a larger dose than recommended because of pain," Heinsalu said.
Besides visiting pharmacies, addicts request prescription drugs containing codeine. "If the physician ceases issuing prescriptions, they send their acquaintances or turn to the black market. I have heard about some private clinics that they issue any prescriptions over the phone for 25 euros," Heinsalu said. Taavi agrees; he keeps bombing five physicians with requests under different names. If this does not work, he goes to the pharmacy and synthesizes his drugs. Do-it-yourself practice favors anonymity. "It takes ninth-year pupil's knowledge of chemistry. No traces," Heinsalu says.
The Agency of Medicines is aware of the problem. "We have been approached before. Out of two over-the-counter drugs sold in Estonia, one is being abused," says Maia Uusküla, head of the Agency of Medicines  bureau of pharmacovigilance.
She said that drugs containing codeine and paracetamol are relatively harmless when properly used. "If access to them is limited, people may begin using painkillers with greater hazard of side effects. Drugs containing codeine have not become prominent recently according to the Poisoning Information Center and the Causes of Death Registry," she said.
The National Institute for Health Development (TAI) is observing the trends of use of different substances through the damage control centers. Combined consumption of narcotics, including that of codeine with other drugs, has become more prevalent. "The centers' staff noticed it early this year. Codeine is usually taken to increase the effect of some other narcotic substance. Combined with other painkillers, codeine has a greater sedative effect than when used alone," TAI expert Kristel Kivimets explained.
Since these are over-the-counter products, the police cannot solve the problem. According to Ilmar Kahro, spokesman of the Police and Border Guard Board, the service has no contacts with codeine addicts. However, the work of the police may have indirect effect on codeine users. "Combined use of different narcotics may have been related to successful police operations (the reduction of fentanyl availability) or "supply problems" of some other substances," Kivimets speculated.
Eda Amuri, PR specialist of Pärnu Hospital, said that they haven't treated any cases of codeine overdose.
What would be toe solution?
According to Heinsalu, the apparent invisibility of codeine abuse and the marginal nature of the problem are the reasons why it has not attracted the interest of hospitals and law enforcement. "I am dealing with addictions every day but eve I had never heard of the problem before last summer," she said.
What would be toe solution? "A solution would be very simple of course: ban the use of the medicine or make it a prescription drug," Taavi said. According to Heinsalu, the sale of the drug is restricted in a number of countries, even over the counter. She agrees about the ban. "Medicines containing codeine are either forbidden in most EU countries or available as prescription drugs only.  Or maybe add something to the medicine to make synthesizing impossible," she offered.
TAI has begun to cooperate with pharmacies. "The idea is to inform pharmacists about narcotics and the related risks," said Kivimets.
Getting rid of the addiction often requires the efforts of a number of specialists. "It is very important that people know and dare ask for help. Unfortunately, addicts are often stigmatized in Estonia and they ask for help only when their life has become intolerable," Kivimets explained the need to change the public opinion.
As addict's experience
Margo, 28, is a well -off young man who agreed to tell Pärnu Postimees about his codeine experience. He has been clean for four months now.
How did you begin using codeine?
By accident, trying out some new stuff: foreign media had its effect and this drug has been popular in the USA for years.
What do you feel while under the influence and what are the withdrawal symptoms like?
Codeine increases self-confidence, interest in matters and causes euphoria. Withdrawal symptoms resemble a serious cold and take two to six days.
When did you understand that you are addicted and how did it influence your life?
Codeine did not affect my life for a very long time. It went on as usual and there were no signs of the dependence worsening. Addiction has the greatest effect on relations with the next of kin: lying and seeking for excuses. It has an effect on health after longer use, since it caused headache. Also, it results in apathy towards everything at some moment.
Hoe long did you use codeine?
How hard was it to hide the addiction?
Addiction to medicines is usually easy to hide. In case of codeine it is very difficult to notice that someone has used it. There are no outward signs of having taken it.
How did you kick the habit?
Overcoming the addiction has been a long and quite complicated process. Withdrawal from codeine itself does not take long if you take some radical steps changing you whole life, change the environment and find new friends if necessary. I sought help at the TSF clinic and still attend treatment. I have found new hobbies. When addicted, it takes most of the day and you have to find some other activity to fill the time.
What is your life like now?
I have been clean of codeine for some four months. My life quality is noticeably better, there have been quite great changes: new friends, a different environment.