Estonian defense forces searching for battle missile launched accidentally by fighter jet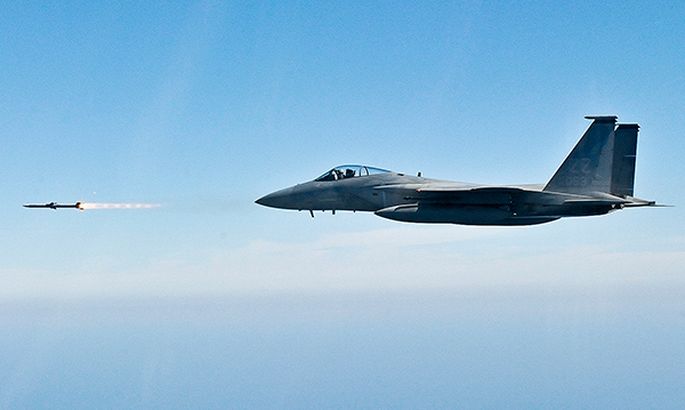 A Spanish Eurofighter jet accidentally fired an air-to-air type AMRAAM missile in the Estonian airspace on Tuesday afternoon, the flight path, location and status of the missile are currently under investigation and the Estonian defense forces has started searching for it.
A Spanish Eurofighter at an altitude of six kilometers accidentally fired an air-to-air missile in a north-northwesterly direction at 3:44 p.m. in the air practice area above Pangodi near Otepaa in southern Estonia, spokespeople at the headquarters of the defense forces told BNS. The flight path, location and status of the missile are currently under investigation.
The missile has a built-in self-destruction mode, but it is not ruled out that it has landed on the ground. The AMRAAM type missile's firing range is 100 kilometers, it is 3.7 meters long, 18 centimeters in diameter and carries a warhead. The last supposed location of the rocket is about 40 kilometers north of the city of Tartu.
The Estonian Air Force launched a missile search operation with the aid of helicopters.
Commander of the Estonian Air Force, Col. Riivo Valge, told journalists that this is a special missile containing 5-10 kilograms of explosive but as it is an air-to-air missile, its destructive power compared to bombs is not high.
According to Valge, this is the first such incident in the history of Baltic air policing, while incidents like these do not occur often elsewhere in the world either. Valge said that the Estonian Air Force, the Civil Aviation Administration, the Spanish Air Force and NATO have started investigating the incident. "I will not speculate about the circumstances of the incident," Valge said.
The defense forces ask people who notice something that resembles a missile on the ground, to move away from it, and inform the Air Force immediately on the telephone number +3727171900 or 112. The defense forces also ask anyone not to search for the missile on their own.
The Spanish Eurofighter Typhoon 2000 that participated in the incident landed at its base in Siauliai, Lithuania. Securing the Baltic air sovereignty with the Baltic air policing mission from the Amari air base in Estonia and Siauliai in Lithuania is ongoing. An investigation has been launched regarding the incident.