Insurance company could collect €1.2 million from drunk driver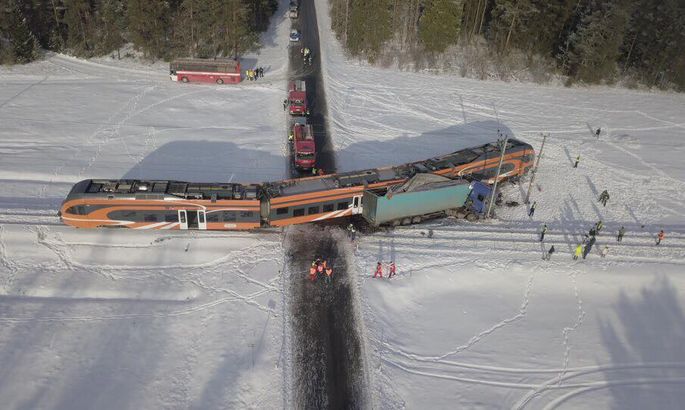 Ergo Insurance puts the estimated damage of a collision between a truck and a passenger train near Keila in late February at €1.2 million and could collect the damage from the truck driver who was drunk at the time.
The accident at Kulna crossing caused the greatest single insurance damage Ergo has handled. "If the party that caused the accident was under the influence of alcohol at the time, the firm will collect damages from them," said head of Ergo's legal department Vaho Vahkal. "It is another matter how much of it they will be able to pay," he added.
The insurance company can file for damages after it has received an application for damages from passenger train operator Elron and once the police have confirmed the driver was drunk at the time of the accident.
The driver can be held liable for damages if they were drunk, didn't have a valid license, left the scene, caused the accident deliberately, were not legally in possession of the vehicle, exceeded the speed limit by more than 41 km/h, ignored a stop signal by the police, or failed to provide the insurer with an explanation. The owner or authorized user of the vehicle can be held liable for damages if the vehicle was uninsured or in case of missed insurance payments. Damages can be collected from the driver's employer if the former violated working and rest time regulations.
Ergo collected damages from 471 persons at fault. "Nearly 6 percent of all registered cases," Vahkal said.
The Kulna accident happened on the morning of February 20 at around 8.30 a.m. when the truck driver (49) failed to spot a train approaching the crossing and rammed into its side.
The impact caused the locomotive and first car to be derailed and passengers to sustain minor injuries. Eight people who were taken to the hospitals could go home the same day, while the truck driver remained hospitalized for longer.
Another accident involving a train happened in Saku on February 26. Damage is estimated at around €50,000.
Damages sums grew in all registered insurance cases compared to February a year ago. Damages grew the most in corporate insurance cases. Ergo Insurance sees poor weather and two train accidents as the main reasons. Damages of travel insurance cases increased due to winter school holidays.
Two biggest property damage cases concerned water damage to a ship's cargo (estimated damage around €100,000) and a building completely destroyed by fire in Saaremaa (over €50,000).