Plane that made emergency landing in Tallinn landed with stopped engines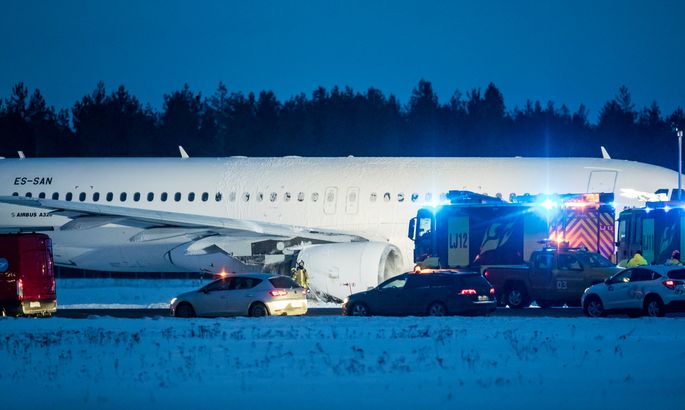 The Airbus A320-214 aircraft of the airline Smartlynx Airlines, which made an emergency landing at Tallinn Airport at the end of February, narrowly escaped a catastrophe because by the time of the landing both of the plane's engines had stopped.
The Estonian Safety Investigation Bureau (OJK) has by inspected all the flight recordings of the plane that made an emergency landing on Feb. 28 and is focusing its investigation on the navigation system.
Based on the collected information, OJK said that the aircraft departed from the Tallinn Airport at 12:02 p.m. to carry out training flights. There was a captain-instructor on board as well as a second pilot, four students and an inspector of the Civil Aviation Administration. During the training flight, approaching the runway as well as landing were practiced.
After a successful approach to the runway at 5:04 p.m., the aircraft was unable to gain altitude. The aircraft did not react to all instructions, lost altitude and collided with the runway. During the collision the aircraft's engines touched the runway and the covering flaps of the aircraft's main landing gear fell to pieces, the bureau said.
After the collision, the aircraft gained altitude again and the pilots were able to stabilize the aircraft and turn back to land on the runway. Both engines of the aircraft stopped after the turn.
The pilot asked to be allowed to make an emergency landing and was granted a permission. The aircraft landed at 5:11 p.m. about 150 meters from the runway and finally halted 15 meters south of the runway.
All tires broke in the course of landing. The instructor and one of the students sustained mild injuries in the accident.