Carriers say officials have "privatized" border point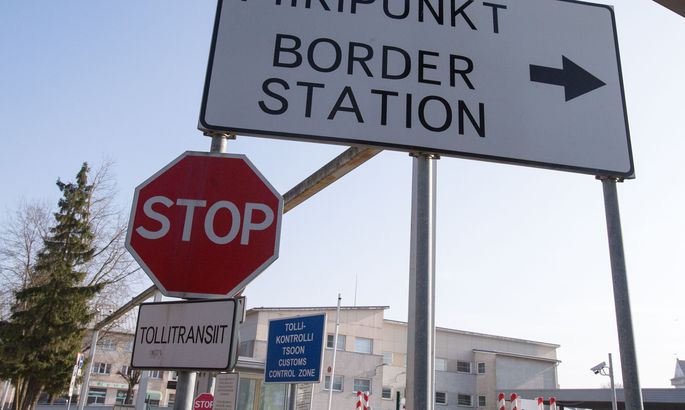 Estonian transport companies are disgruntled with a situation where laden trucks must often wait days to cross the border to Russia while empty trucks of a select few are allowed to cross in almost no time at all. The border crossing point has been privatized to a certain company, they suspect.
Secretary General of the Association of Estonian International Road Carriers (ERAA) Toivo Kuldkepp has written an emotional letter of complaint to Prime Minister Jüri Ratas after turning to several ministries.
Kuldkepp is convinced that what is happening at the border is "arbitrary action by middle officials" and illegal favoring of one group at the expense of others.
Russia started limiting the number of Estonian trucks it allows to cross its border since the Bronze Night events in 2007. Kuldkepp claims that the quota is around 55 trucks a day right now. Carriers say that four times as many trucks would cross the border every day if unhindered. This means that carriers need to content with tough competition.
The association claims that for about half the year employees of the Narva border point prefer certain carriers that move empty trucks to Russia. The latter fill the entire quota as they are easier and faster to inspect.
According to Kuldkepp, this creates an unfair situation where one group is allowed to cross the border in five minutes while laden trucks have to queue for days. However, the latter are the ones exporting goods to Russia and boosting the Estonian economy, Kuldkepp pointed out.
"Estonia-Russia border crossing has basically been privatized to companies who are profiting unchecked at the expense of other crossers," Kuldkepp is certain. He believes the situation has been orchestrated by "middle officials" who mislead ministers and serve the interests of select companies for personal gain. Kuldkepp refused to name companies the interests of which are allegedly being served but said they are sending empty trucks to Russia that return carrying gas, metal, and wood waste. "Preferential treatment is bestowed on empty trucks that are not engaging in export. What the hell is this? Why do others have to spend days queuing because of them?" Kuldkepp asked. "It is as if the Estonian border has been privatized. The queue has been privatized. A certain group gets preferential treatment. It is unheard-of!"
President of ERAA, transport businessman Einar Vallbaum acknowledged the problem and said that unfair treatment needs to stop. He said that an agreement used to exist that saw five laden and five empty trucks take turns crossing the border that ensured equal opportunity, but that things have fallen apart now.
Vallbaum added that trucks crossing the border from Estonia empty and returning with loads of gas, metal, and timber can go back and forth five times while an export truck is still waiting to cross. "This kind of trade simply doesn't have a point anymore," he said. The ERAA president said that complaints are not only coming from Estonian carriers, but that other European transport companies have started asking questions about the onerous Russian border crossing process.
Kuldkepp and Vallbaum sum up their address: the current situation is helping a group live as parasites on account of the state's ineptitude. If the tax board cannot remedy the situation, the carriers will turn to the European Commission and take Estonia to the European Court of Justice next.
Deputy head of the Tax and Customs Board's customs department Ants Kutti said they have not created a special queue for anyone.
On the contrary, the board has created a separate queue for empty trucks so they wouldn't slow down the crossing of laden vehicles inspection of which inevitably takes more time, Kutti added. "Separate lanes for empty vehicles is a widespread practice at borders. Estonia's specialty is that the queue is virtual."
Kutti refuted the carriers' claim that Russia only allows 55 trucks to cross every day. Tax board statistics suggests an average of 68 trucks crossed from Estonia to Russia using the Narva border point last year. Half the days in the year saw 80 trucks cross.