Government to remove alcohol from view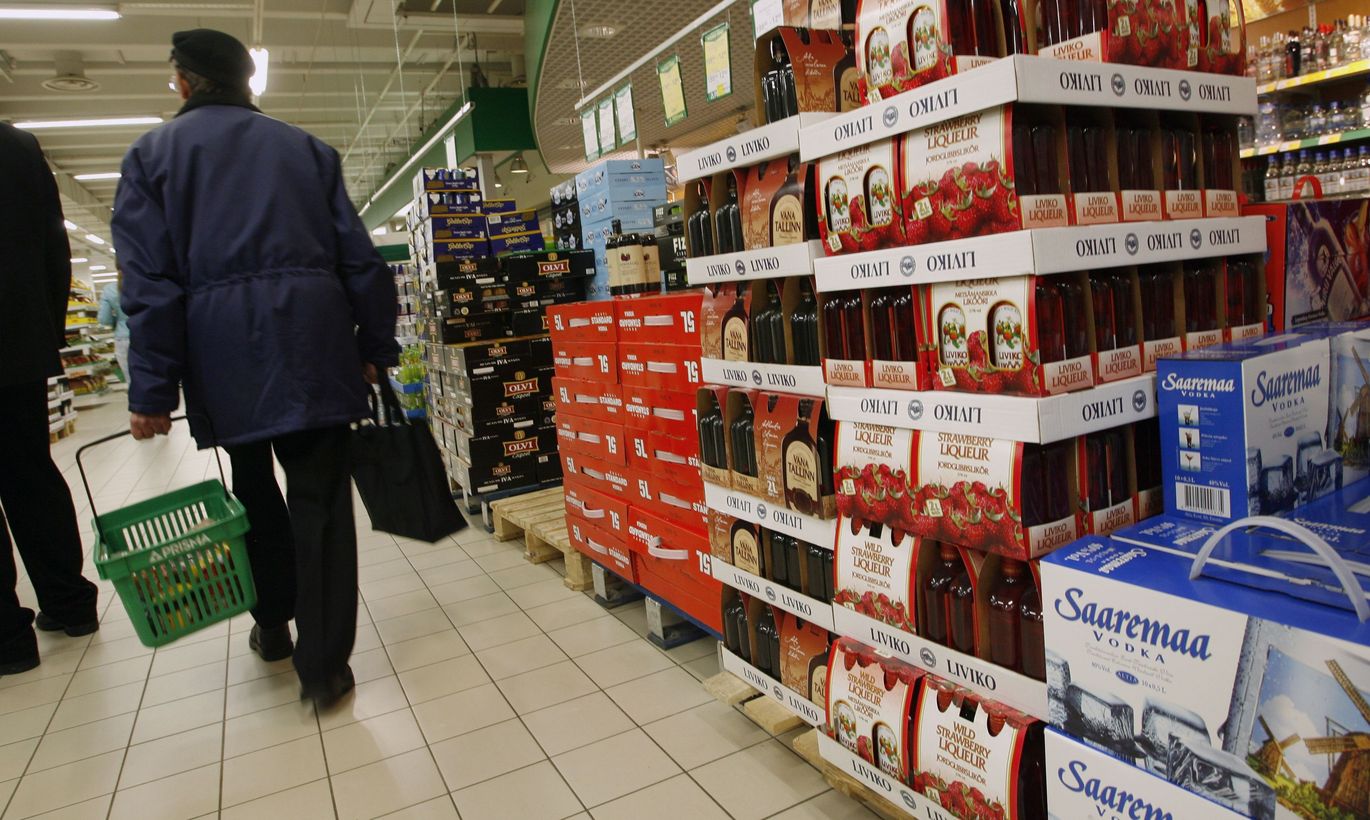 Even though alcohol sale and advertising restrictions were softened in the Riigikogu, they still constitute a headache for brewers and traders. In a situation where people are buying alcohol from Latvia as it is, the government is busy hiding every last beer can from sight, they say.
Many concerned parties held their breath when Minister of Healthcare and Labor Jevgeni Ossinovski (SDE) proposed his alcohol act amendments package two years ago. Alcohol was to be separated from other goods by opaque dividers in shops, while its sale in gas stations would be banned as would almost all manner of advertising.
The Riigikogu passed amendments to the alcohol and advertising acts yesterday that included watered down versions of the same restrictions. Instead of dividers, shops simply need to display alcohol separately from other goods. The law states that alcohol must not be "noticeably visible" for the client from the second half of 2019.
Chairman of the Riigikogu Economic Affairs Committee Sven Sester (IRL) explained that vodka and beer shelves need to be placed in a corner facing away from clients so to speak. People's trajectory needs to make it possible for them not to encounter alcohol.
Exceptions will be made for smaller shops, especially in rural areas, where removing alcohol from sight or constructing extra rooms is not possible. Sester said that small shops will also have to separate alcohol from other goods. What this means in practice is that alcoholic cider and soft drinks cannot be placed in the same refrigerator for example.
Work of the Riigikogu needs to be revisited
The Estonian Traders Association and major retail chains describe the concept of "noticeably visible" as vague and declaratory. Press representative of the Rimi chain of supermarkets Katrin Bats said the company is greatly confused as to what the amendment specifically requires. "Noticeably visible is a vague expression, and what it will mean in reality is something that still needs to be cleared up," said head of the Selver chain Kristi Lomp.
Head of the Estonian Traders Association Nele Peil said the Riigikogu simply shifted the workload onto the shoulders of social ministry officials and traders as it will fall to the latter to give the phrase "noticeably visible" meaning. It could mean that some shops will construct dividers while others simply move their shelves.
Peil said that either way it will result in reorganization that could cost up to a few dozen thousand euros per shop. Those investments will come from the pockets of clients.
The result could be a few cents added to the price of alcohol and other goods. "We must keep in mind that we are not only competing domestically, but increasingly also with neighbors," Peil said, pointing to deepening border trade with Latvia.
The aim of the display restriction is to limit the visibility of alcohol in the public space and make it possible for minors and addicts to purchase other goods without encountering alcohol.
Social democrat Heljo Pikhof said that their main goal is to protect kids and youngsters from obtrusive alcohol advertising and notably reduce health and economic damages from alcohol abuse.
Shops are still bothered by the fact there are few studies to confirm the effectiveness of "moving alcohol out of sight".
Peil said it does nothing to protect children or alcoholics. The latter will still know where to buy alcohol.
Kristi Lomp also said that there is no proof to suggest limiting the visibility of alcohol translates into public health gains. On the contrary, she believes that bans and restrictions will boost interest in alcohol instead. A case in point is activity on the Latvian border and the quantities people bring to Estonia. "We cannot ignore the fact that a lot of alcohol that reaches minors comes from the home," she said.
"It comes off somewhat ironic to make efforts to hide the last can of beer in a situation where the government has effectively managed to take alcohol sales out of Estonia," Lomp found.
Ossinovski has cause for celebration
Sester said that he does not understand criticism from retailers as the current flexible system was their initiative. The MP added that traders will get to decide whether their shop is big enough to have to limit visibility of alcohol. "Traders can turn to the consumer protection watchdog to check whether they meet the requirements," he said.
Alcohol advertising will be addressed in June of next year. Ads will no longer be allowed to portray living beings, urge people to buy or consume alcohol, picture alcohol being served, and associate alcohol consumption with red-letter days.
The Riigikogu did introduce a cosmetic amendment that allows ads to display served products. This means that while it is permitted to show beer in a glass, ads cannot include the act of pouring.
Head of the Association of Estonian Broadcasters Toomas Vara was glad the act was softened as the first version "Ossinovski came up with would have constituted an all-out ban". The initial version of the bill read that online and television ads could only show monochrome still images.
Vara agreed that advertising does not have to promote alcohol as something that improves one's quality of life. He described the current situation as a mediocre compromise.
Head of Saku Brewery Jaan Härms thought that such strict restrictions will kill alcohol advertising. "The list of restrictions is so long that ads will be rendered so boring and technical as to be unreasonable," he said. However, he did not rule out copywriters coming up with creative ways of operating under the circumstances. "That said, we have already counted on the volume and importance of alcohol advertising falling considerably."
Härms said in summary that the package of alcohol sale and advertising amendments has created its fair share of confusion. Even though Ossinovski's amendment was watered down by the parliament, the minister has plenty to celebrate, Härms found. "He has managed to do a lot of damage to the sector."