Historical moment: fentanyl business halted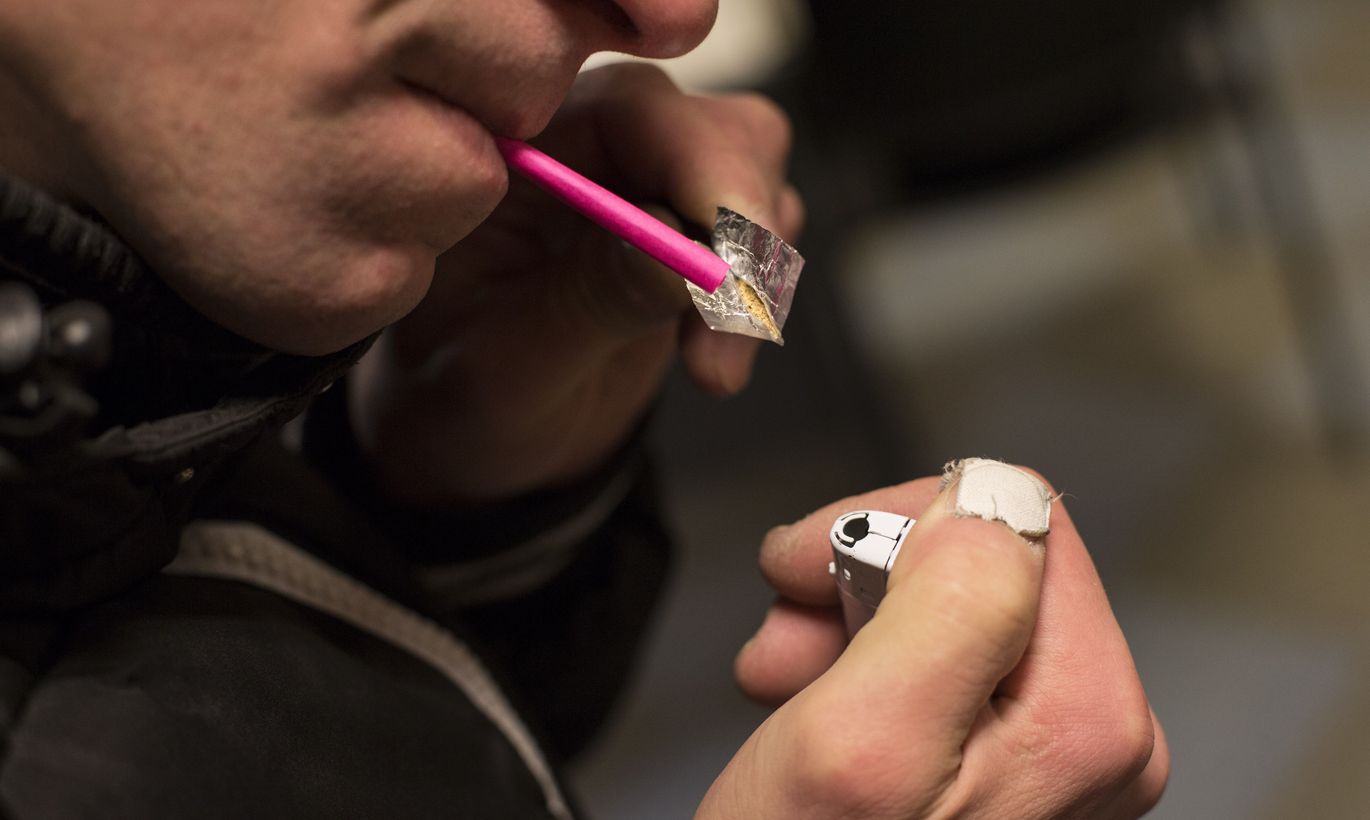 The Central Criminal Police believe they have made a breakthrough in the fentanyl epidemic that has been poisoning Estonia for the past 15 years. The drug has disappeared from the market, around ten fentanyl barons are in jail or awaiting trial. The best moment to help approximately 6,000 slaves to the needle has come.
"It is fentanyl Christmas peace," says Vahur Verte, public prosecutor with eight years of narcotics experience. It is the first time something like this has happened in his career.
"We received initial signals that fentanyl concentration and quantities had begun to drop sometime in late August. By today, the market is empty."
Verte is not just boasting. The central criminal police's fentanyl task force has been working its way to the criminal elite of the market for the past five years – people in charge of production, import, and cashes; who only speak face-to-face or using encryption, deal in bitcoins, and prefer longer sentences to testifying.
Several pairs of handcuffs clicked shut in late July and early August. Among the arrested were brothers Paul and Dmitri Kärberg whom the prosecution accuses of handling three kilograms of fentanyl.
Even more important than the Kärbergs is the discovery of the first stationary fentanyl lab in Estonia the organization in charge of which was headed by Harju county IT businessman Aleksander A. The man was found to be in possession of 2.5 kilograms of fentanyl, while it is believed he might be responsible for the circulation of no fewer than 54 kilograms of the drug.
It is doubtful the central criminal police knew at the time these were the last major players in the fentanyl trade. Four months later, that is just what it looks like.
"It is the first time something like this has happened since fentanyl came to Estonia," says Maj. Ago Leis of the central criminal police.
Minor fluctuations in the supply of fentanyl have occurred in the past, while never has the draught lasted for four months and ended in the drug disappearing from the streets altogether. How did it happen?
Leis says in hindsight that the first major dealer of fentanyl was taken down in 2012. It was Vladimir Fidkevich, also known as fentanyl baron Vova from Lasnamäe.
"Fidkevich's arrest did not remove the supply of fentanyl. It later turned out he was a kilo-dealer. However, he was the first of the major dealers we caught up to, who stood closer to the top. He had access to people manufacturing or selling the drug in major quantities," Leis says.
The central criminal police quickly realized the work would have to proceed based on effect: efforts would have to begin anew as supply recovered after a major arrest – someone else is out there. And so it went for years, until January of 2016.
That is when Aleksey Krutikov drove to the Narva border crossing point and was found to be in possession of a suspicious cloudy liquid hidden in a medicine bottle. The police had suspected for
years that fentanyl was being brought in from Russia in liquid form to be turned into white powder in Estonia. The arrest of Krutikov, who worked for Suleiman Dungurov, was another important step – this time the fentanyl draught lasted for six weeks.
What the criminal police discovered next is remarkable. After a string of arrests and convictions, it finally turns out that the illegal fentanyl network in Estonia was operated by around a dozen middle-aged men with Russian names. People the substance introduced by whom has taken hundreds of lives and probably ruined tens of thousands.
The market had been divided between the barons a long time ago, probably in 2005-2006. Prices and areas of activity were subject to agreements. Everyone followed the same modus operandi: monolithic circles that do not use the phone, rely on a system of cashes, and communicate by meeting in secluded locations.
The entire sales chain has 8-10 links. The street dealer handles a single gram of the substance and is usually a drug addict. Above him are dealers who handle 2-3, 5-10 or 20 grams. Every link's representative at best knows their direct supplier, no more.
If 25-gram dealers can at best afford a new jumpsuit and a second-hand BMW, those dealing in 100-gram quantities make hundreds of thousands of euros. This requires keeping a low profile so as not to get caught.
"For the past five or more years, they've been growing gray hairs, worrying every second they might get caught when someone close to them is apprehended," Verte describes.
Kilogram dealers had apartments overlooking the sea in Pirita. Assets were registered in the name of relatives. The dirty work was handled by henchmen – neither the people hiding the fentanyl in cashes nor the ones picking it up usually knew who they were working for. Tallinn was the center, from there the drug was moved to Harju county or East Viru county.
There were several ways to get one's hands on the substance. The parent substance could be brought in from Russia and the fentanyl mixed in Estonia. Necessary materials could be ordered from China and shipped to another European country where they could be picked up. The most complicated and risky way was to set up one's own lab and find a "chemist".
Why did Estonia become fentanyl land? "One possibility is that it was made possible by the elite's good Russian contacts," Leis says.
Trust is the most valuable commodity. St. Petersburg is rich in fentanyl, while people who lack connections simply have no access to it. These connections were made in the early 2000s.
That is one of the reasons the criminal police and prosecution believe supply of fentanyl will not return in recent volumes. In addition to the kingpins, authorities have arrested intermediate dealers. People with ambitions of restoring the fentanyl trade would have to rebuild the network from scratch. That would stand out, and a rookie criminal wouldn't even last a month.
"The entire Estonian narcotics force is eager to see who's next. Should a new substance appear, discovery of its distributor will be a matter of weeks if not days," Verte believes.
Leis remains more cautious. "There are no guarantees here. We realize that market logic still stands: where there is demand, supply will follow. We cannot predict what will happen," he says.
Both believe now is the time to concentrate on fentanyl addicts. Addicts are known to turn to amphetamine when there is a shortage of fentanyl.
"If the Estonian Institute for Health Development (TAI) and methadone centers would jump in and start offering rehabilitation and treatment right away, demand would eventually disappear," Verte says. The fentanyl shortage offers a good opportunity to treat the majority of drug addicts who have so far lacked the motivation to seek help.
"The police have done their work for now – supply has been eliminated for a time. It would help the narcotics police were treatment opportunities to keep up," the public prosecutor says.