Ratas and Ossinovski support Palo
1. November 2017, 4:54 PM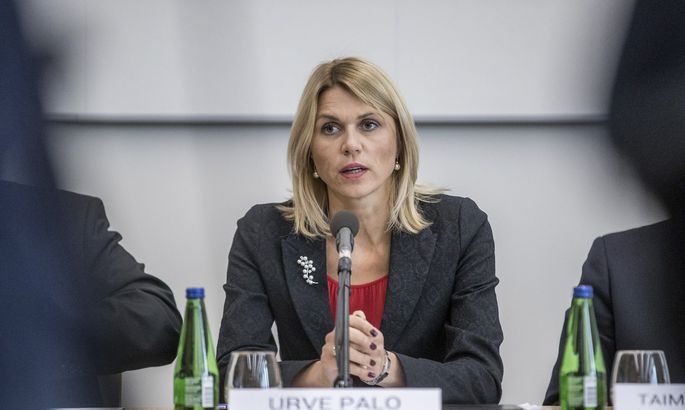 Chairman of the Social Democrat Party, Minister of Healthcare and Labor Jevgeni Ossinovski believes sticking to the old plan of taking high-speed broadband to rural areas would have been simpler for Minister of Enterprise and Information Technology Urve Palo (SDE).
Prime Minister Jüri Ratas (Center Party) and Ossinovski support Palo's decision to leave local governments without €20 million pledged in broadband infrastructure support. Palo will instead hold a competition to find a company to lay fiber optic cable, even though rural municipalities have spent a few hundred thousand euros on projects.
Jevgeni Ossinovski said that Palo has tried to find ways of benefiting the most rural area residents. "If at first, it seemed right to achieve this through county-level cooperation of local governments, a way was found to spare local governments from having to make additional expenses and achieve a better result through a state-level investment," Ossinovski said.
He said that revising the plan was the sensible option. "It would have been easier for the minister to continue with the old plan, following the logic of "we have spent too much to quit now". However, in matters like these, Urve Palo will always choose the correct path for the state and its people, even if it is the harder one," Ossinovski said. The minister admitted, however, that local governments could have been notified of the change of direction sooner.
PM Ratas said Urve Palo has the government's support despite her last-minute change of heart concerning last mile solutions.
"I want to support Urve Palo," Ratas told Vikerraadio. "I believe Urve Palo does not only have my support, but that of the entire cabinet," he added. "Naturally we support high-speed internet reaching people faster. If we have additional information, additional interested parties that can get it to rural households faster, it is worth considering. I gather you mean to ask me whether the prime minister will call for Palo's resignation. No, he will not – on the contrary. I support her in developing high-speed broadband all over Estonia as quickly as possible.
Ratas said that funding will not disappear as the state budget allocates €10 million for next year and another €10 million for 2019. "Of course, it will not take care of last mile solutions by itself, but it is an important step."
Ratas said that Palo briefed him on the choices a few weeks ago, and that the government must decide in the comings weeks. "Changing financing schemes is something that requires government approval. Urve Palo said as much at a press conference last Thursday.
Postimees wrote on Tuesday last that Minister of Enterprise and Information Technology Urve Palo has had a change of heart in that local governments will be left without €20 million in high-speed broadband support, and state-owned Elektrilevi and ISP Telia will possibly be put in charge of laying cable instead. Rural municipalities have vowed to demand compensation from the minister.