Port area alcohol stores losing business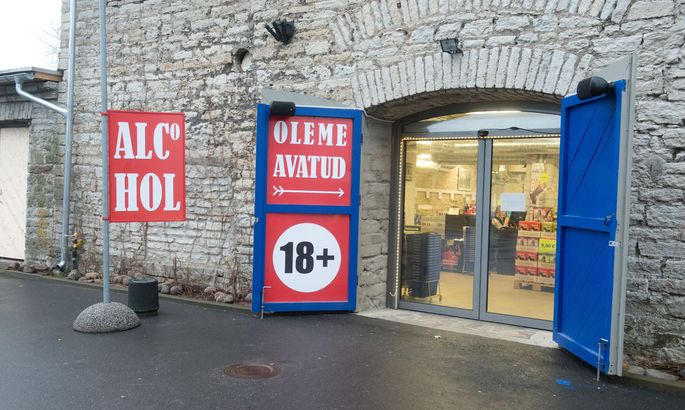 The lucrative business of selling alcohol in Tallinn's port area is ending as Estonian alcohol has become too expensive for Finns and Swedes.
Things are changing for the port area, known for a long time as the Baltic Sea vodka coast where Finns hauled entire shopping carts full of alcohol onto ferries bound for Helsinki. The Estonian government's decision for a sharp alcohol excise duty hike has leveled prices on both sides of the Gulf of Finland and done away with the competitive edge of the area's alcohol sellers.
One of the biggest casualties is the single Alcostock Cash & Carry shop on Lootsi street. Owner Madis Eensaar said that clients have been scarce lately. The previously profitable business has become an exercise in idling. "Some products cost the same in Finland."
The reason for this development is Estonia's excise duty hike. The shop's turnover has been falling by 30-40 percent a year, with the decline believed to be even greater this year. "Our prices used to be the best sales argument, while they are no longer competitive," Eensaar explained.
Companies the business of which relies less on port shops are better off. One such is Aldar Eesti OÜ that operates 35 SuperAlko, Cityalko, and Aldar Market shops all over Estonia. Four SuperAlko shops are located in the port.
The shops' manager Imre Poll said that number of clients and turnover of port shops has fallen. He agreed with Eensaar in that Finns and Swedes believe alcohol has become too expensive in Estonia. A large part of the shops' former clientele now shops at SuperAlko's stores in Latvia.
"The Finns now organize trips to buy alcohol from Latvia – it is a growing trend," Poll said. He added that only chains that also maintain shops outside the port area and are not solely dependent on tourists will survive.
Poll said he is convinced the number of Scandinavian shopping tourists will continue to fall as Estonia has acquired the reputation of a very expensive country.
Baltic sea shipping giant Tallink that maintains six shops in the port's D-terminal and nearby has also admitted turnover is dwindling, although not as much. "The reason for a slight slump in sales is the considerable hike of the excise duty on light alcoholic beverages in Estonia that has led to some products, like beer for example, becoming more expensive. However, a price difference with Finland and Sweden still exists," Aimar Pärna, head of Tallink Duty Free explained.
He said that cheap alcohol is not always the purpose of Finnish and Swedish passengers in Estonia.
Member of the board and sales director of one of Estonia's leading alcohol producers, Saku Õlletehas, Jaan Härms also believes alcohol sales will drop by a few dozen percent in Estonia next year. The brewery will make up for the decline with sales in Latvia, but will lose Finnish buyers, BNS reports.
"The Finns already buy considerably less from Estonia; some do their shopping on the Latvian border, while a part of the market will simply disappear," Härms said.
The excise duty on alcohol has been hiked twice this year: rates went up for all alcoholic beverages in February, while the duty on light alcoholic beverages went up again in July. The next hike is scheduled for February.
The Estonian Institute for Economic Research keeps track of foreigners' alcohol purchases in Estonia. The institute's calculations suggest foreign tourists bought 6.18 million liters of pure alcohol from Estonian shops last year and 6.1 million liters the year before. No data is available for this year yet.