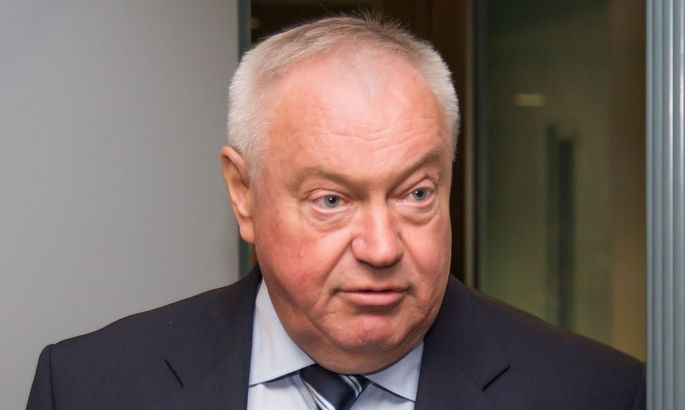 The trial of Edgar Savisaar and his alleged accomplices continued, after a summer break of close to two months, with the prosecutor's opening statement yesterday. State prosecutor Steven-Hristo Evestus said in summary that indiscriminately clinging to power finally led the Tallinn mayor to criminal patterns of behavior.
As suggested by Postimees last week, former land swap architect Villu Reiljan stood up after hearing the prosecutor's speech and was the only one to admit some of the accusations against him have merit, as well as that he is negotiating a deal with the prosecution. "No, I will not comment further, be reasonable," the former minister told journalists.
Even though Reiljan has been in talks with the prosecution during the summer months, no deal has been cut as of yet. It is probable a potential agreement depends on the quality of the politician's statements to be given in court today.
Savisaar listened to Evestus' speech intently. The prosecutor refrained from preaching at length and promptly listed everything held against the accused - city heads and businessmen. Next came a list and description of criminal episodes.
"Remaining in power or seizing it equaled bribery and dishonesty," the state prosecutor told the court.
The accused swore they were not guilty after hearing the opening statement. Savisaar was also afforded the chance to confirm he has understood the charges and pleads not guilty. "No, I'm as clean as a whistle," he said, repeating his famous utterance.
No repeat medical analysis
Savisaar's defender Oliver Nääs and Alexander Kofkin's lawyer Aivar Pilv tried to deliver their clients from the trial once more.
Nääs applied for another medical examination for Savisaar. The defender based his request on a brain aneurism Savisaar had suffered after the June session. Savisaar read a statement in which he said very sick people can run in elections, while the law has restrictions when it comes to judicial proceedings.
The court did not order a new medical examination.
The start of the session also revealed, much as had been suspected, that the Center Party had hired a new defender. Sworn lawyer Erki Kergandberg has represented Liviko in its cartel agreement case, which the latter lost. The board of the Center Party was represented by Kersti Sarapuu whose husband Arvo Sarapuu stands suspected of corruption in the city's waste business.
Evestus said that both the Center Party and several people who have worked for Savisaar have been convicted in past cases but maintained their behavioral patterns nonetheless.
Cash only
After the prosecution's summary of charges, defenders began to offer up versions of what really happened with the money.
Businessman Aivar Tuulberg's defender Indrek Leppik said there is no evidence, including the recording of a conversation between Savisaar and Tuulberg, to suggest his client gave Savisaar money. Leppik said Tuulberg lacked a motive as his company did not stand to receive support from Savisaar in the Culture Cauldron procurement.
Leppik said that while Tuulberg did withdraw €50,000 in cash prior to a meeting with Savisaar, the money was for meant for a man he was to go sailing with. It was said sailor Mati Sepp would come to court to give statements.
Commenting on the trip of Siret Kotka and Edgar Savisaar to Spain, Oliver Nääs said: "What happened was that two friends agreed to go on holiday." The sworn lawyer said it is true Kofkin paid for Savisaar's treatment in Spain but added that Savisaar later paid Kofkin back in cash.
Nääs said that the sum Savisaar borrowed from Kofkin covered sums the latter was to give to his ex-wife Vilja Toomast in their divorce.
Defenders also set about undermining the future statements of Reiljan and advertising businessman Paavo Pettai, who decided to spill the beans when questioned to escape criminal charges.
Nääs said the court could "address Villu Reiljan's statements and their credibility in the near future". Sworn lawyer Kristi Rande said "it is an open secret pressure has been put on Reiljan" for him to change his statement and escape with a pecuniary punishment.