Seeder to look for IRL voters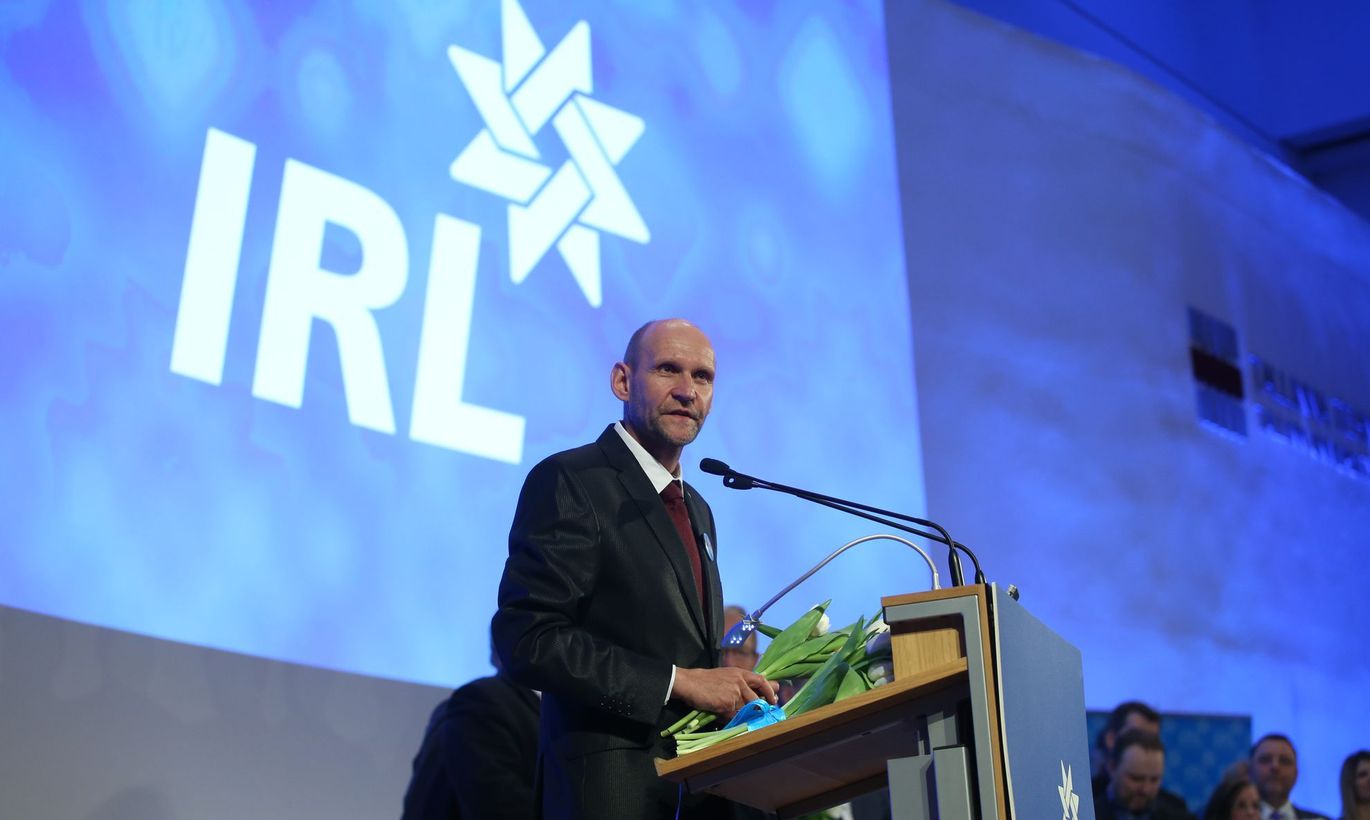 By the time Helir-Valdor Seeder was declared the new chairman of the Pro Patria Res Publica Union (IRL) after securing 322 votes at this Saturday's general assembly, the hall of the Tallinn University of Technology had largely emptied.
The start of the assembly was rather more grand. The university's main building was clad in blue balloons to welcome 642 members of the party. There was no occasion for cake, however.
"It was not a demonstration," Mihhail Lotman said, explaining his rather expeditious exit after casting his vote. Lotman has been openly critical of his party.
"I will stand by what I've said in that a coalition with the Center Party is a big mistake, while both chairman candidates unfortunately support it. That is why neither was my candidate," Lotman said. "However, I had to make a choice as otherwise I would not care about the party's fate, which I do."
Long-serving members present
Lotman does not believe Seeder, who took the win against opposing candidate Kaia Iva by a narrow 18 votes, will turn out to be a sensation. "However, there will be change as Seeder's visions are more specific. While consistency is a good thing in itself, a party without voters is not a good party," Lotman summarized.
While several top politicians of IRL missed the general assembly, participants included a lot of members with a long service.
"Voters have disappeared, there is hardly anyone left," said head of the Pro Patria Union in 1995-1998 Toivo Jürgenson. He was initially surprised when Postimees approached him for an interview. "Are you sure you don't have me mixed up with someone else?," the former economy and roads and infrastructure minister asked. Jürgenson clearly remembers how it was necessary to introduce budget cuts after Mart Siimann's government left.
"I remember how he started by cutting the budget by 10 percent in Mart Laar's second government (1999-2002). I saw just how horrible it was," Jürgenson recalled. "What is being done to the budget right now – it will be harder and harder to reverse as time goes on. Cutting the budget is very difficult in the conditions of democracy. Lax fiscal policy could cause us serious problems down the road."
Jürgenson said that while he hopes things will not go that far, it is possible the next government will have to solve major problems.
That is the reason, according to Jürgenson, recent voters feel IRL is no longer fighting for right conservative values. "The way IRL has commented on the government's fiscal policy is not acceptable in the eyes of a right-wing voter. The party should have admitted today's fiscal and tax changes are the price it has to pay for being included," the former minister said.
Several small mistakes
Lotman agreed. "At the same time, our hardworking members want to congratulate themselves too. Some steps have been taken in the wrong direction, and unfortunately I cannot perceive attempts to remedy the situation on the horizon," Lotman said. "Soiling the tax system, pushing the budget out of balance – these are all things that clash with our principles."
MEP Tunne Kelam highlighted Seeder's words uttered during his candidate's speech, according to which IRL has not made one big mistake, rather several small ones. "We have begun to take small steps down a vague path," Seeder said. The new chairman sees the emergence of the Free Party and the success of the Conservative People's Party as "failures" on IRL's part. "We neglected our core values and voters, hoping to involve more liberal target groups."
"These small mistakes have muddied our profile. For example, overlooking national defense at the previous Riigikogu elections, concentrating on finding new groups of supporters," Kelam counted.
Seeder has not revealed his plans for the party yet. "First we need to decide inside the party what it is we want to change, complement," he told Postimees. It also remains unclear whether Seeder, who last held the agriculture portfolio in 2014, has any ministerial ambitions. "The coming weeks will tell," he said.
"I cannot divine whether a leader will make it. There have always been chairmen who blossom unexpectedly. Andrus Ansip for example – many were skeptical when he replaced Siim Kallas. However, he became one of the most capable prime ministers Estonia has ever known," Jürgenson, who also voted for Seeder, said.
The party elected MPs Siim Kiisler, Andres Metsoja, and Viktoria Ladõnskaja as its deputy chairmen with 222, 138, and 262 votes respectively.