Hiding alcohol to cost millions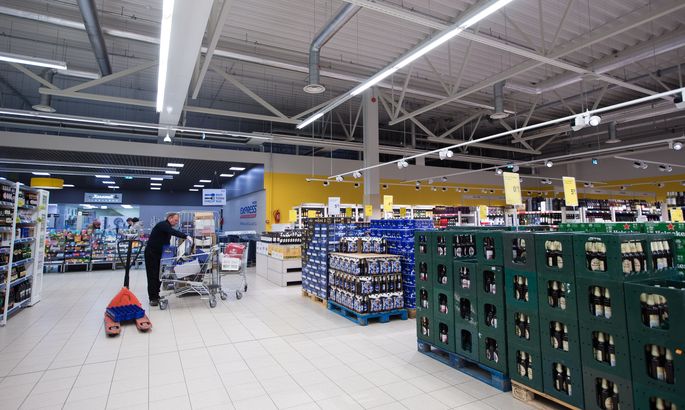 Larger shops will have to move alcohol out of sight in the coming years. Retail chains say compliance with the regulation requires them to build opaque partitions that requires short-term investments stretching into millions.
The obligation to move alcohol out of sight comes from Minister of Health Care and Labor Jevgeni Ossinovski's alcohol act amendment that was approved by the government last week and is on its way to the Riigikogu. The draft legislation allows stores with a floor area of 450 square meters to sell alcohol only if it cannot be seen from the rest of the sales area. This should reduce the visibility of alcohol in the public sphere and give minors and alcohol addicts the chance to purchase other goods without coming into contact with alcohol.
"There seems to be no other option. Putting up curtains or screens of some sort would hardly be a foolproof solution," said public relations chief at Maxima Katja Ljubobratets.
Maxima will soon have 75 shops in Estonia the floor area of all of which exceeds 450 square meters. Ljubobratets said that in order to hide alcoholic beverages from view, every store needs a custom solution that would not inconvenience clients, create more work for the staff, or raise questions in the eyes of watchdogs.
"Current calculations suggest installing partition walls would cost at least €3 million. This sum does not include running costs associated with installation and additional equipment," she said.
Ljubobratets said the sum is colossal seeing as the company's entire investments budget for 2017 is €10 million.
Because the law is set to enter into force next year, stores will have very little time. "Installation of partitions in shops where it is simple will take up to a year. It might take up to 18 months in stores with a more complex layout," Ljubobratets added.
The obligation of building partitions is also worrying other retail chains. Head of communication at Rimi, Katrin Bats, said that solutions that will be adopted to hide alcohol from view must be pleasing to the eye. "I believe no interior decorator would recommend we opt for curtains," she said.
Rimi is considering installing partitions that resemble the plastic glass walls of self-checkout units but are opaque.
Rimi has 89 stores all over Estonia only three of which would not be covered by the obligation. While the investment for the partitions would cost in the vicinity of half a million euros, Rimi doesn't know whether the manufacturer of the plastic walls can fill an order of that size in a short time. In addition to partitions, additional investments into security cameras, alarm systems, ventilation, sprinkler systems, and changing evacuation plans would be needed.
The obligation to build walls to hide alcohol concerns more than one hundred stores of Coop Eesti. "The cost is several million euros," CEO Jaanus Vihand said. "Irrespective of the cost, we still do not understand why something like that is needed in the first place. We have no effects analysis on what the wall would achieve."
Because the obligation to erect walls only concerns 25 percent of shops in Estonia, whereas smaller shops do not have to change anything, we have a situation where national alcohol policy is discriminating against larger shops, board member of Selver Kristi Lomp found.
"Clients will see alcoholic beverages in most stores, just not in large ones. This renders the measure virtually pointless and distorts competition between shops of different sizes as investments stretching into millions must inevitably reflect in price advance that will not hit smaller competitors," she said.