More first-graders this year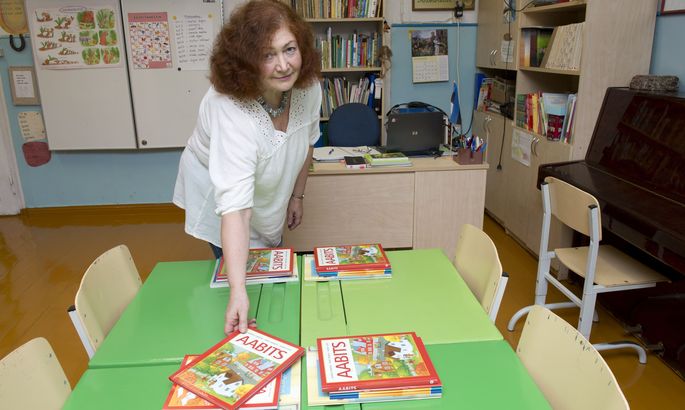 The number of children going to first grade from September 1 will grow this year, as it has for several consecutive years, which is why no schools will be closed this time around. This school year will see nearly 15,500 first-graders, over 700 more than last year.
The number of high school and university students will fall considerably however, as the age group simply has fewer people.
Minister of Education and Research Jürgen Ligi dares not promise that the trend of schools closing will come to an end. «We still have a lot more schools than students,» he said. «The network of schools took shape during a time when Estonia had twice the births it has today. We will no longer be handing out investments just like that; they will be aimed specifically at reworking the schools network.»
Ligi said, however, that basic schools must remain near to children's homes. «This nearness to home must be evaluated by the school's operator, that is to say the local government,» he added. The number of children has grown primarily in Harju County and on the basic school level, while the ranks of high school students continue to dwindle, Ligi said. «The number of first-graders is growing as a result of a modest demographic spike and repatriation,» the minister added. «A lot of young families have returned to Estonia as going to school here is far more sensible than doing it abroad where they probably cannot find the same level of education, nor children's mother tongue.»
Schoolchild's new rhythm
Ligi says that one of the indicators of the level of Estonian education is the PISA test. «We believe our results will be good,» he added. «The test measures application of knowledge, and Estonia has been at the top here and improving.»
As concerns falling number of students, Ligi said that the situation was really bad a few years ago when Estonia had nearly 70,000 students. «This is mass production, in which context we cannot always talk about quality,» the minister said. «Reorganization of higher education was absolutely necessary. Students reflect our demographic situation, while the bar has also been set higher – the bar cannot be set low in case of free higher education.»
Daughter of Klaarika Kaldjärv, Hebe Linn, will go to her first day of school at the Miina Härma High School in Tartu today. «It will change our routine quite thoroughly,» the girl's mother said. «We used to be able to take the kid to the kindergarten in the morning and not have to pick her up before six; now we'll have to take her to school and pick her up in the evening.»
Hebe Linn is among only a handful of Estonian children who will be attending first grade in the evening shift, meaning she will start school at one in the afternoon. «This currently suits us, as we are half-freelancers and stay at home,» Kaldjärv explained.
The girl got her mother's old mobile phone. «She wanted a smartphone, but we decided she doesn't need one right now,» she said. The family spent roughly one hundred euros on school supplies.
«I bought the most expensive pencil set at 15 euros, while I got a relatively cheap backpack for her, as I liked the 35 euro item.» The child also has a school uniform. Hebe Linn was very exited before her first day of school.
Big and little school
The four classes of the Unipiha School in Kambja parish (Tartu County) have 14 students between them. Four children will be attending first grade this fall. Head of the school Eha Jakobson said it came as a surprise that two kids moved away during the summer, which meant fewer students than the school hoped for.
The number of these kinds of tiny schools is falling every year. Jakobson said that the number of parents looking for small schools for their children is growing however. These children often have difficulties studying and/or behavior problems.
«This way it might happen that the number of problematic children grows very high in small schools, which will change their inner climate,» Jakobson admitted. She said that similar problems have surfaced in other rural area schools that would need additional support to handle children with learning difficulties. One the one hand our schools are getting bigger, while on the other the number of children who would benefit from going to a small school is also growing, Jakobson finds.
The Viimsi high school is one of the largest in the country with its 1,407 students. The first grade has five sets of students ranging from classes A to E for a total of 130 children. Principal Karmen Paul said that last year the school opened one fewer class in the first grade.
«We wanted to open four sets also this year; however, because we had so many applicants, we decided to open one more for the first time in several years.»
One class has up to 26 children. «Our biggest concern is shortage of space as the schoolhouse fits fewer children than we have attending,» Paul said. «This in turn leads to problems in study organization. We are also short on teachers – we didn't manage to find an additional science teacher we needed this year.»
All of this puts strain on the school's budget as the state is not offering compensation for additional expenses arising from the increased number of students.