Alcohol makers deny link to tipple shop in Latvia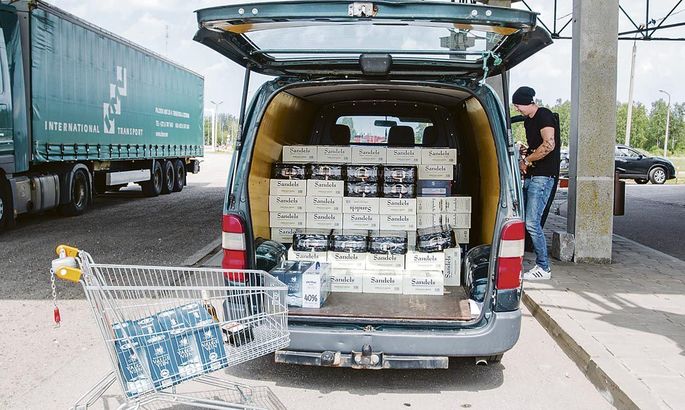 Both Liviko and Saku Brewery deny the shop near Ikla border point is fruit from their lobbying, to force government too lower excise.  Labour and health minister says he would never support that anyway. 
«What we have here is Estonian merchants selling Estonian alcohol to Estonian consumers, but they do that in Latvia with the single aim to avoid excises and boost their income – and are accusing the government in it!» exclaimed labour and health minister Jevgeni Ossinovski (Soc Dems).
According to him, excise revenue is secondary. A bigger problem by far, claims the minister, is how the cross border trade is undermining the aim of excise rise – improvement of public health.
Mr Ossinovski said the government has not discussed lowering the excises. But he said finance ministry is keeping a close eye on the situation.
«But the numbers used by alcohol producers in their PR-campaign are surely not correct,» he stressed, adding he would never support lowering the alcohol excise.
Alcohol producers and importers association says that at end of June 18 percent of strong alcohol consumed in Estonia was sold in Latvia; a month before that, the percentage was but 10. This year, each month their sales in Latvia have doubled.
«This year, due to the border trade effect Estonia will miss €15m–€20m of excise and VAT from alcohol taken to Latvia, sold, but brought back to Estonia,» announced the association.
Representing 70 percent of strong alcohol and wine sold in Estonia, the association says the 2016 excise rise must be reversed. «Excises should be raised according to wage rise, not treating this as a bottomless source of income free from side effects,» said their CEO Nele Peil.
Finance ministry data says half a year has brought in €128m in alcohol excise i.e. 52 percent of the €128m expected for the year. Thus, they see the picture not as dark and say the revenue has actually picked up over these past months with €14.5m collected in June.  
As for the 18 percent share of border trade of strong alcohol, the ministry thinks this is an exaggeration and claims six to seven percent.
Producers claim alcohol consumption is not shrinking in Estonia, as people are getting large quantities and storing up.
They say Latvian excise revenues are up by an average of 35 percent these past months while Latvia's beer market is down eight percent – a sure sign that people from Estonia are filling Latvian governmental coffers.