Old Town suffers severe «tourist jam»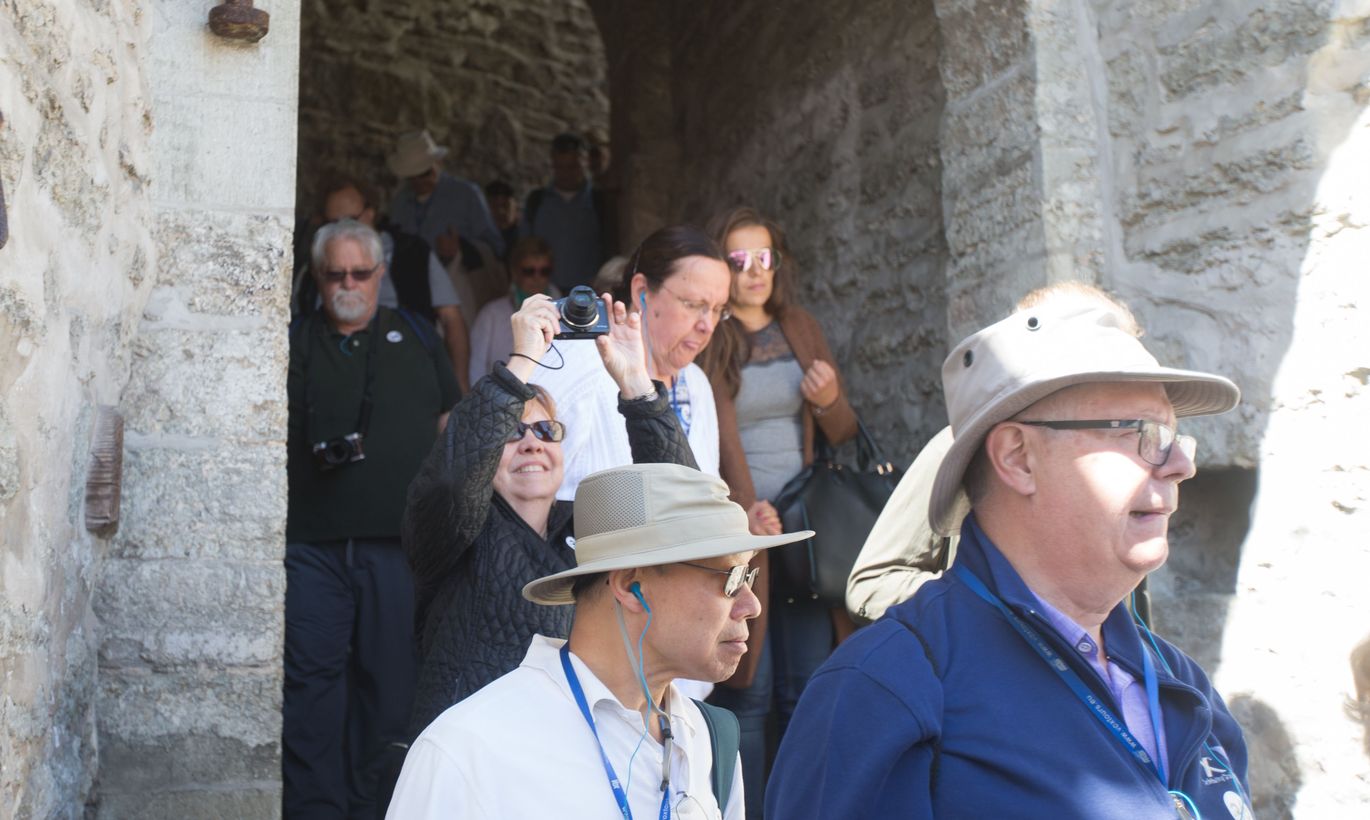 Yesterday morning, a whopping five cruise ships stood at Port of Tallinn, with a total of 8,500 plus tourists on board. Wondering whether the town would hold them all, Postimees took a look.
While business gets excited with wealthy folks coming around to splash cash, there are the many problems – where do they park the buses, how do the elderly tourists navigate the cobble stones, and where do they all go pee.
Of the tourists on cruise vessels, Port of Tallinn PR-person Sirle Arro says a half will want to tread the town on their own. The rest will be happy to hear the guides.
DMC Estonia tour operator Mariette Vilgo describes the process of putting the tourists in buses at the harbour and taking them to Old Town. «They start at Toompea, Castle Plaza and go see some churches,» says Ms Vilgo. At one of the sacred buildings, they might stop to listen to some medieval music or just have a look at the ancient houses and eat at a restaurant. By the way: seats at restaurants are booked half a year in advance.  
It takes over 100 buses to take the thousands from ship to city. With lots of construction work happening at the cruise berth and around, mighty is the traffic jam made up of buses and cars off all the vessels. Once out of that, bus drivers are faces with the next ordeal – where do we halt to let the people exit.  
As one, Sirle Arro and Mariette Vilgo tell us that the tourist buses on road to Old Town have nowhere to stop. Because foreign buses have filled everything up and will not give way. Thus, the tourist buses form quite a queue.
Nothing doing. Hear Tallinn city govt press rep Toomas Pirn: «At Mere Avenue (leading up from the port – edit) no tourist bus may park. While municipal police has upgraded surveillance at cruise ship peak days, EU directives allow us not to fine foreign bus drivers. Pursuant to rules they may only be warned. Transport Department has notified police of the problem.»
But what when they make it to the Old Town victorious? Well it's just more jams as, in addition to cruise ship people, all kinds of other people who arrived on all kinds of other vehicles are there too. According to a number of guides, the Old Town just can't take such masses any more – people simply do not fit between the houses and the streets under repair. A solution might be to coordinate and spread out the arrivals of the large cruise ships a bit.
Thankfully or regrettably, in 2017 it will not be 275 cruise ships and 460,000 like this year. Rather, it'll be over 300 vessels and half million travellers.  
With lion's share of tourists advanced in years, the guides are upset that the city is outright life-threatening with the conditions of some streets, and stars. To this, add the lady who got the wheels of her wheelchair caught in the cobble stone in-betweens, one gets beyond embarrassed and into sadness.
But there are steps being taken to consider the handicapped, and some of the streets and plazas are being evened out for wheelchairs and baby carriages.
Back to our tourists. Having overcome the above, it's inevitably potty time. Counting the toilets publicly available in Old Town, and assuming all the cruise tourists would like to go to one at the same time, well over 500 would be standing in a line.
Tour operator Ms Vilgo says the toilet problem is big and has been here for years. With no other options around, tourists will have to do with the facilities at restaurants and souvenir shops. This, sayeth the city, is exactly what they should do – according to their knowledge, public toilets are featured at all museums and eateries. Nevertheless, smelling the Old Town air, it felt fresh. Blessed be the kindness in private businesspeople...
Last but not least – some go to Kadriorg. In order to make it to the Art Museum and back to bus, the elderly walk a kilometre. The buses aren't allowed to the museum. So there was this grey headed American gentleman whom a bus let out in a «wrong» spot to save him the exhausting hike. You should have seen him hop out real fast – as if feeling guilty and trying to avoid a security camera.
Might we rhetorically ask, then – why do we treat them like enemies and not the friends that they are? As all they desire to do, out of own free will and initiative, is leave us here some money...?