Ride-sharing regularisation spawns two Toompea demonstrations today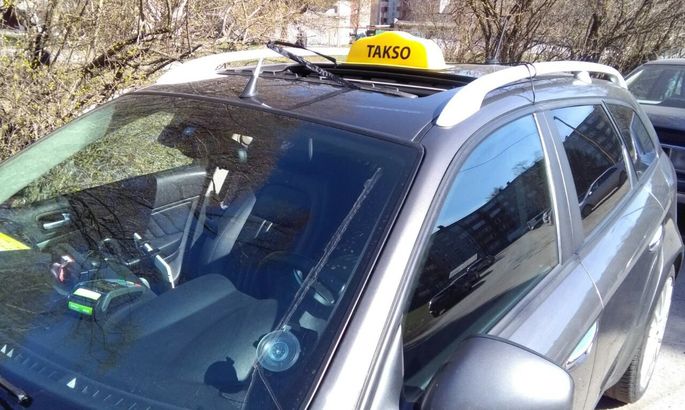 Arriving at main hall at Riigikogu today, the ride-sharing draft act creates a rare situation where pros and cons take turns to gather at the plaza in front of the parliament. 
Narrowly speaking, in and outside of the house they are discussing if rides may officially be offered by taxis – as part of public transportation – or any driver. Additionally, there have been fiery debates about whether equal requirements to cars and drivers ought to be imposed, with the service essentially and practically the same.
Broadly, the issue is on the principle of how to regulate the sharing economy. For Estonia, it is no longer the issue of whether to do it – we are past these pains – but the parliament is at first reading of a Public Transport Act bill as attempt to create a precedent.
At 9:30 am i.e. half hour before the session, ride sharers gathered to also establish a sharing economy society. These included GoWorkaBit, Bondora, Jobbatical, Shipitwise, Taxify, Toitla, Autolevi, Uber Estonia, Crowdestate and Wisemile.
Spokesperson for the society, Sander Gansen of Shipitwise, said that the state should be able to go in step with changes in the economy. «Our aim is not to oppose anyone, but to celebrate this day and to recognise Riigikogu members for showing the rest of Europe an example. Estonia is the first country in the European Union which has so explicitly decided to make sharing economy work for its own benefit,» said Mr Gansen.
In his estimation, brinish ride-sharing into Estonian legislation is just the beginning. «Our society involved enterprises from various fields of sharing economy. This is a growth sector of enormous potential, where Estonian enterprises are still largely leaders on the world.»  
At mid-day, however, Tallinn will turn into yet another European capital where taxi drivers gather for an anti-Uber rally.  
«For the first time in 30 years, taxi drivers are forced to go to Toompea to defend their rights and interests,» said taxi drivers association head Lembit Poolak.
The association is of the opinion that the amendment in pipeline will endanger the normal functioning of Estonian taxi economy, and the economic coping of the families of taxi drivers.
The public rally is to stand for their rights and demonstrate against «legalisation on pirate taxi biz in Estonia ».
According to Lemit Poolak, all of Europe has said «no!» to Uber. «I hope it will not come to strikes and burning of cars in Estonia. We are actually defending all of Europe – pirate taxis may not be put into legal standing with taxi service and awarded legitimacy.»
For several days now, lots of taxis have protested against the draft act by riding with black ribbons or covering the roof-light with a black bag.
At Riigikogu, however, all parties have arrived at the consensus that ride-sharing needs to be regularised in Estonia. At that, economic affairs committee do favour regularisation of agreed transport but this being the first draft act regarding sharing economy, they deemed it necessary to further consider the principles of the bill and to be open to amendment proposals. The committee has concluded that the law ought to differentiate between professional taxi drivers and providers of agreed transport, and differentiate their rights and obligations.
They have also considered creating some simpler form of enterprise for ride-sharers like being a micro-entrepreneur, or to complement the self employed person regulation in business code.
Meanwhile justice ministry has detected many a controversy in the draft act with constitution, as well as superficial clauses and one-track positive assessments.  
According to evaluation by justice minister Urmas Reinsalu to colleagues at the ministry, the draft act – while noble in attempting to regulate the contemporary sharing economy – is not quite okay putting it mildly.
They deem it not an issue of public transport at all, rather a road transport issue – covered by another Act.
Also, they say there are problems with the constitutional equal treatment prescription as taxi service and passenger transport service are by nature exactly the same while by law the former is burdened by several licences required.
«While the amendments would somewhat ease the requirements to taxi transport providers, equal treatment is not ensured. Differentiating by merely the electronic nature may spell unjustified competitive edge for agreed transport providers,» says the ministry, agreeing with most taxi companies.