Forecast forces government to tighten belt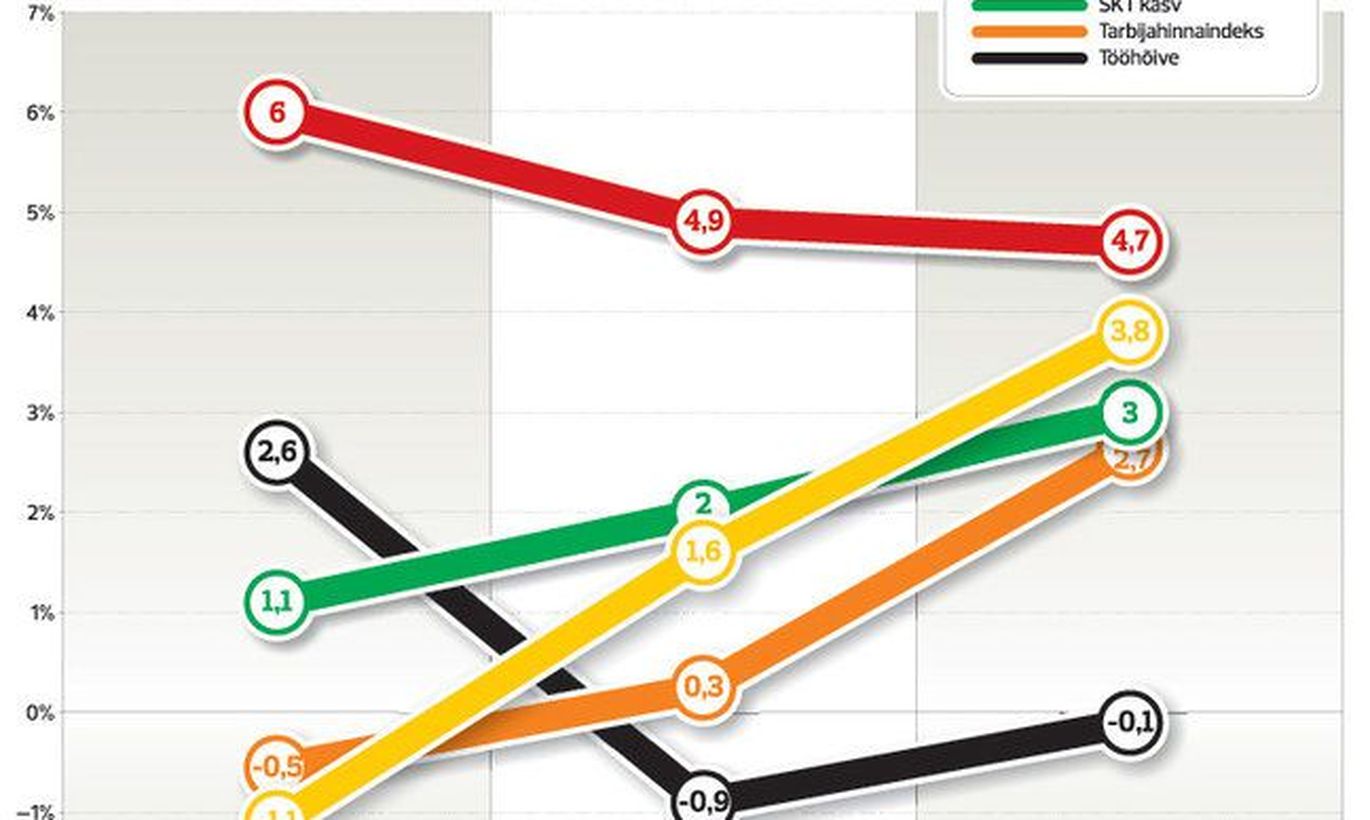 Economic forecast tweaked to be more pessimistic than in autumn means that new sources are needed to cover budget deficit for 2018. 
Compared to the fall, springtime economic forecast is darker. In September last year, they predicted 2.6 percent growth for 2016 and 3.4 of the same for 2017. Now, the figures are down by 0.6 and 0.4, respectively. Reasons? Because the outlook got worse in Finland and Russia.  
As the latest forecast provides basis for budget strategy to be completed by end of April, the government must take a look more critical. Indeed, there are other reasons for that, too. Recently, the government cut resource and pollution fees to support the distressed oil shale industry. Finance minister Sven Sester says it is important to also review ability to pay dividends by state enterprises. The state has 14 dividend-paying companies.
Regarding one – Eesti Energia – the government decided in November that instead of the planned €95m, the payment will only have to be €62m so as to ensure the group manages to show its planned financial figures.
«That will naturally narrow the options for satisfying various wishes,» said Mr Sester while noting that there has never been more of the money than of ideas what to do.
He said that next year's budget is being discussed while next four years budget strategy will be completed by end of April already.
As things currently stand with several spending issues domestically yet to be decided, 2018 will feature a structural budget deficit of 0.14 percent which could not be pursuant to a law passed few years ago. Herein, «structural» means one-off and temporary factors not considered.  
Mr Sester says this spells that ministries will have certain desires denied while various measures are being pondered to cover the gap.
As an option, he suggested electronic monitoring of fuels to help fight tax fraud. The plan is in preparation phase. Another item could be the e-cigarette issue and package excise. Thirdly, road use fee for which economy ministry has ordered an analysis.
«Negotiations are pending and analysis has shown that Estonia and Finland are the only European countries with no road use fee imposed,» said the finance minister.
Though more pessimistic, growth predicted for this year is still way above 2015 with its 1.1 percent. Also, growth factors ought to shift from private consumption to exports as brought about by Estonian enterprises' increased export to neighbouring nations. Lion's share of restoration of foreign demand will be by the slowing of the fall of Russia.
Wage rise will remain rapid next year too. This year it amounted to 4.9 percent max. Price rise is predicted to stay moderate, thus to spell real wage growth to almost the same figure. Which in turn supports private consumption.
Meanwhile, the above-productivity wage rise is eating away at Estonia's competitiveness. To stimulate the economy, Estonian economy is in nominal deficit this year, next year, and the year after that.