Toxic algal bloom makes salmon price jump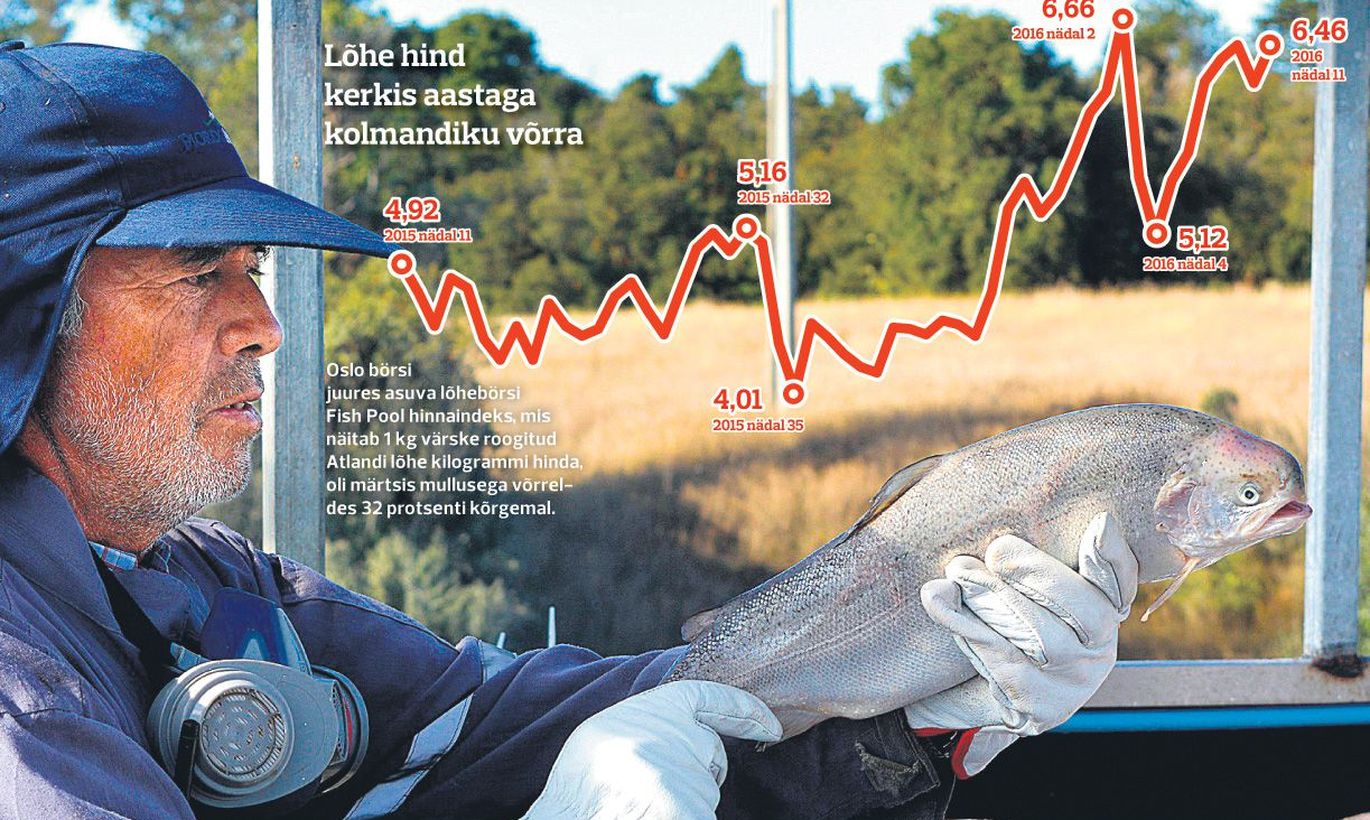 No happy prices this spring for salmon and trout in grocery stores of Estonia. Due to fish dying in farms in Chile as caused by toxic algal bloom, fresh salmon price on Oslo exchange is at its highest levels of past years so as to add about a third to what Estonian retail chains and fish processors pay to buy in fresh fish.
«At the moment, demand exceeds supply and the nations of the Americas are looking towards Norway as there is not too much fish coming from Chile,» said Meelis Vetevool, purchasing manager of major native fish processor M.V.Wool.
Due to combined effects of the tropical weather phenomenon El Niño and other factors, water temperature went into a brisk rise near open sea fish farms off the coast of Chile at the end of last year, which in turn caused an abundance of toxic algae. According to local fishing agency data in March, the algae affected 38 open sea fish farms to cause the death of 23.8 million fish.
«The abundance of the algae is still affecting the fish in the farms,» Financial Times was told last week by Javier Peró at Chilean salmon market watcher SalmonEx.
Last year Chile, world's second fish producer after Norway, supplied its main market USA and other markets on Western hemisphere with 590,000 tonnes of fresh fish. This year, an up to 20 percent shrinkage is predicted for Chilean export volume. The difference cannot be immediately covered even by the increased production in Norwegian farms, wherefore demand outgrew supply on global market.   
On global market, salmon purchase and sale prices depend on the FPI index at Oslo, Norway salmon exchange Fish Pool which hit its highest level of ten years in March. The fact that global salmon business deals in Norwegian kronor and that the currency has lost value in the oil price drop has somewhat softened the price shock for the eurozone. But not much: as compared to last spring, FPI in euros is up 32 percent.
Over the past few weeks, salmon price has fluctuated between six and seven euros a kilogram while the whole last year it stayed between four and five euros. «A large price gap emerged in December-January and in March it turned quite catastrophic,» said Meelis Vetevool.
«The global supply shock is yet to come,» a Nordea salmon market analyst Kolbjørn Giskeødegård wrote to warn the clients. As assessed by Mr Giskeødegård, the prices will stay high for several months to come.
«We predict that biological factors and insufficient financing in Chile will hinder growth both in both Norway and Chile at least for a couple of more years,» he wrote in a market analysis.
Consumption goes in step with price
M.V.Wool cleans and cuts fresh salmon purchased from Norway according to how its clients order it. With the current prices, there is not much ordering happening, and they do not just buy up fresh Norwegian salmon as it would have to be sold in a week the longest. «Not much buying going on right now: all are waiting for the price to go down again. Perhaps it will get better after Easter,» said Mr Vetevool.
In the neighbouring Finland, the dearer salmon is consumed almost as heartily. As told YLE the public broadcaster by local fish producers union CEO Anu-Maria Sandelin, they are not expecting a drop in consumption volume. Estonians, however, are much more price sensitive and the red fish very popular here may lose its market share to other fish and even to meat.
«During the past years, global price fluctuations for salmon have been big and this has significantly affected choices by consumers,» said Coop Eesti Keskühistu purchasing manager Taavi Kontson.
«As global price has fallen, we have attempted to have campaigns to bring larger amounts of salmon into our stores and generally the consumers have been happy to accept the offers,» said Mr Kontson. «When salmon global market price is up, the consumers as a rule prefer other price offers on meat products.»
The Finns are also warning that the Chile-caused salmon gap on global market will boost demand for the main produce of their farms – rainbow trout. «Up to now, the Finnish rainbow trout has been rather cheap,» said Ms Sandelin, adding that Finnish fish producers have earned half what Norwegian colleagues have made.
Indeed, Meelis Vetevool confirmed that while rainbow trout is currently cheaper than salmon, its price is also rising along with salmon.
Estonian fish producer sees no price rise
CEO of Estonia's largest trout farm Simuna Ivax, Hans Kruusamägi is not too optimistic. «Just a month ago I saw rainbow trout sold at stores, with taxes and everything, at €3.9 a kilogram,» he said. «If salmon price rises and rainbow trout with it, to then bring trout to a normal level, it  is well. But I know not if we will see it.»
Simuna Ivax sells its fish directly to partners at long-term contracts. «We have sought out buyers ourselves and signed contracts,» said Mr Kruusamägi. «We see no rise in demand. Nobody has come asking.»
Mr Kruusamägi says red fish price is also raised by the higher price of feedstuffs which now stands at 1.5–1.6 euros a kilogram. «Mainly, fish price is feedstuffs price,» he explained. «Considering the rising feedstuffs price, global salmon price must necessarily rise.»
Simuna Ivax will not disclose their last year's production volume as competitors keep a close eye on such figures, says Mr Kruusamägi. But they do intend to further increase it, this year. «No foolish ventures, no bank loans; we go by own money,» he stated.
Simuna Ivax sells all of its produce to Estonian market. Here, the competitors are not locals but the Norwegians and Finns. «Makes no sense for Estonian fish producers to compete, rather to stick together,» noted Mr Kruusamägi.
Salmon comes from Norway and Chile
Biggest global producers, yearly production in thousands of tonnes (2015):