Manhunt by minor scoundrels in central Tallinn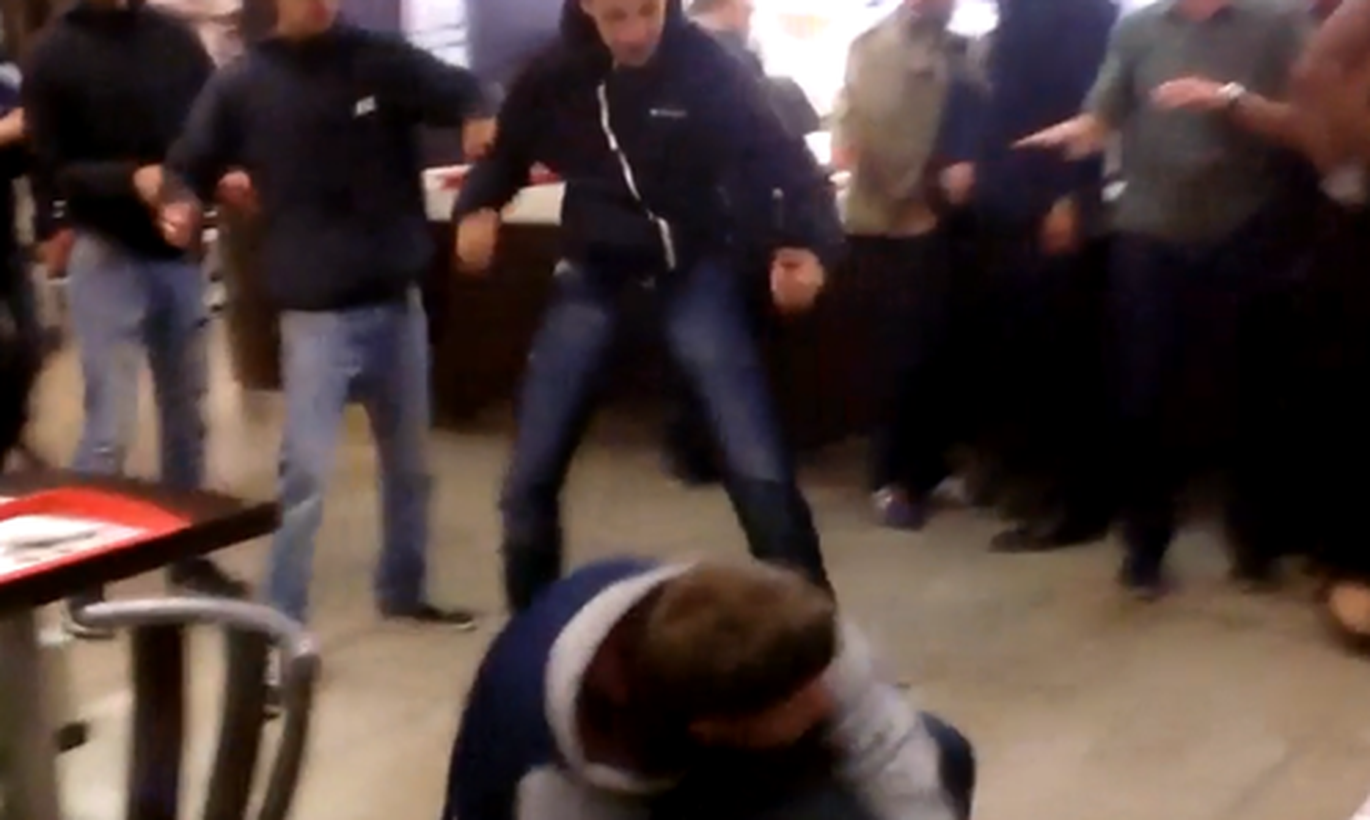 The very day the public was pondering the brutality of crooks who beat up a father of small child in Tartu, a most cynical gang of young scoundrels quietly got their verdict for beating up people in Tallinn basically just for the fun of it.  
In the morning of March 7th, a Harju County Court hall was filled with giggling by people in their puberty. The topic was sombre, though – the seven charged were read their penalties for robberies and beatings. Even so, there was no cause for deep fear. The sentences were measured out by expedited procedure i.e. a third was to be promptly cut from the punishment, time-wise. Therefore, the guys aged 16 to 17 had hopes to be set free there and then.
You guessed it: the very day that the public was emotionally dissecting the background to the central Tartu brutality, crooks manifold meaner were released in Tallinn. For four out of the seven before court, judge found the five to eight months spent under arrest during preliminary investigations were enough. They were set free in the courtroom.
According to earlier experience of investigators with the coterie, they will soon be at it again. «For us, they are a total pain constantly,» admits Rait Pikaro of Northern prefecture crimes department. Non-stop, his people have been dealing with the violent gang of robbers for these past few years and up to now the crooks have escaped jail just because of their youth.
From outwardly ordinary families, these are Russian speaking boys from Lasnamäe. All have grown with stepfathers and also share a patchy path of education usually over by seventh or eighth grade. Additionally, all are interested in fights and criminal world principles.
In Russian slang, they call it bratva i.e. a brotherhood, based on which the literally spent their lives daily picking fights in Tallinn. The sole goal was to fight and get to practice whatever they had just learned in martial arts class.
Not urged on by the financial gain but by the sheer fun, the gang was composed of a leader, the first and second hitter according to experience, and those trying to stir up the trouble. Downtown, they sought out a target then sending some rank-and-file from among them to strike a «conversation».  
Traditionally, this ended with a fight where those with stronger punches joined in if necessary. Enjoying the edge of the surprise, the baddies always won out.
Thereby, the gang developed a kind of an inner competition – praise belonged to the guy who took the victim down with the initial surprise blow. A couple of blows was good, too. If the fight dragged out to be lengthy, or went as far as to need extra help, it spelled ridicule by comrades later.
The public limelight was achieved at the end of summer as media published a private video of an impulsive fight which broke out in the Viru St, Tallinn McDonald's waiting line. While another initiated, it was all the gang needed and blows followed.
«Informer» undergoes treatment
Having followed the case constantly, only after the video confirmation the police finally arrested those involved. The first guy snatched was Aleksandr (17), among those most often involved in the fights and earlier arrested twice.
A transport worker at a store where his mother also works, the strong and heavy built Aleksandr justified the beatings by victims having insulted his mother. Which was a cooked up lie. Why would some Finns, for instance, have up and said anything against his Mom? The more so that Aleksandr understands no Finnish and would not have gotten the point.
As the rest of the gang begun to get arrested, they proceeded to punish Aleksandr who was first. To teach him a lesson for allegedly speaking too much, the «informant» was beaten in jailhouse and needed stitches.  
Actually, Aleksandr was punished for no reason. Or else any of them ought to have gotten his share.
«They all talked at interrogations, some more some less but they talked. Also, we had the video recordings, statements by witnesses and other evidence,» said Northern circuit prosecutor Marika Kreutzberg.
According to her colleague Marika Reintop who investigated other crimes by same gang – thefts of dozens of scooters and cars – the bunch had a half year pause in the in activities. The ringleader Raid (17) was then detained and the streets of Tallinn thus a lot safer.
They describe Raid as a self-made mafia boss whose manners and short fuse made him a feared figure at school. And at the gang. «But they are not stupid but the latest feedback from Viru prison school says they are totally intelligent and able to learn if they so choose,» said Ms Reintop.
Though outwardly tough, the gang comes with a measure of childishness still. «Oh the weeping and the wailing and the falling on their knees in repentance while under arrest here,» relates Ms Kreutzberg, the assistant prosecutor.
Mr Pikaro the criminal policeman says the gang never thought of consequences but went by having fun. «With the money robbed, they promptly headed to eat at McDonald's or swim at some spa,» he says. «Just splashed it like that.»
Mr Pikaro says the guys have thus far been spared lengthy prison terms by being minor. Time will soon wipe that off their defence list.
The policeman is confident they will be dealing with the guys again while recognizing at times «it turned out otherwise – some have wizened up after being punished.»
«In their previous criminal case there were four young men who have not been caught committing crimes,» adds deputy prosecutor Ms Kreutzberg.