Dead drug dealer caught alive in Russia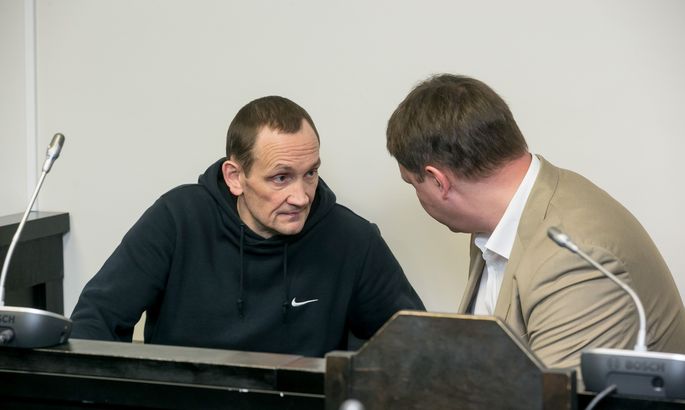 «How can you be here, if you are dead?» Harju county judge Märt Toming asked the accused drug dealer Sergei Grigorjev (44) in court on Friday morning. 
The question was not ironic but true to life: vital statistics office data says Sergei Grigorjev has been dead for six years. Monthly, the state pays his little daughter hundreds of euros of survivor's pension.
And yet, under police escort, the «dead» man was brought to Estonia by train from Russia last Thursday. On Friday, he was already before court giving testimony of his life in the other world. Thereby, the police was at long last relieved of their six years of tussle with the drug criminal and those closest to him. The latter were accusing the police in public persecution as they refused to believe Mr Grigorjev was dead and arranged an unusually forceful search at a family event to catch the man.  
«Back then, it was impossible for the police to share its information with the public. Now, with full confidence, we are able to confirm the police actions were necessary,» Northern prefecture head Taavi Pern told the court.
Bringing Mr Grigorjev to Estonia from St Petersburg where he lived was a miracle of sorts. For a while, Estonian police lost all hope to ever lay hands on him. At work meetings one a year, they never tired of reminding the Russian colleagues of the man's existence. They were promised a lot but actions never followed.
But on September 16th 2014, eleven days after security policeman Eston Kohver was kidnapped from Estonian eastern border, a bombshell came from Russia: Sergei Grigorjev, accused in drug crimes in Estonia, was held in Estonskaya Street – or Estonia Street – in St Petersburg.
After the years of waiting, the message was unexpected indeed. «Just to be sure, I read the SMS twice,» said Northern prefecture criminal bureau chief Urmet Tambre.
By then, Mr Grigorjev had turned into a main target for Estonian police. No longer daring to dream of him being arrested in Russia, they were thinking of ways to get him in some other European state where the police had information he may have travelled.
It all could have been avoided unless Mr Grigorjev, after his arrest on June 10th 2008, had not been unexpectedly released due to a legal technicality on December 29th 2009 by circuit court. His release was ominous from the start as he must have known he was in for a lengthy jail term if convicted.
Understandably, therefore, as the circuit court ruled to let Mr Grigorjev go free till the end of preliminary investigation, he promptly reacted by leaving Estonia. He sold his apartment in a new house in Rocca al Mare and calmly crossed the border to Russia with none able to hinder him.
In Estonia, he left his wife, a small daughter, and parents dwelling in Mustamäe, Tallinn. A year later, in January 2011, his wife handed Tallinn vital statistics office the man's death certificate which read that et Sergei Grigorjev, born in Estonia, was found dead on March 16th 2010 at Michurinskaya 19–33, St Petersburg. The cause of death was registered to have been cardiac failure.  
Vital statistics office declared Mr Grigorjev to be dead and, as applied for by the child's mother, she begun to draw the survivor's pension. Here might be a criminally decisive spot for Mr Grigorjev's wife.
«As we have hints that family members knew Mr Grigorjev was alive and the pension had no basis, criminal proceedings may be pursued against members of his family,» said Mr Pern, the lead prosecutor.
Five years ago, however, it was quite a mess. Trying to keep an eye on what Mr Grigorjev was doing, the police was convinced the man was not dead and this was but a spectacle. Meanwhile, the media was casting it as police persecution. On pages of Eesti Päevaleht, those closest to Mr Grigorjev were complaining that police refused to believe the death certificate and ruined a family event by a sudden search.
Back then, the police was unable to publicly reveal that according to data available to them Mr Grigorjev indeed was in Estonia at the time. This being a wanted criminal who had committed a murder, involvement of a special commando at the search of his parents' apartment was an elementary safety measure.
For a while, all signs were pointing towards the «dead» Mr Grigorjev alive and well in St Petersburg and busy like before in international drug business. According to police data, he was in frequent contact with several individuals of criminal background. They even knew a cafe in St Petersburg where the «dead» man liked to frequent. Of this, they told the Russian colleagues but the promised arrest failed to follow.
Knowing this, the investigators took not the death certificate too seriously. Even before, Mr Grigorjev had presented Estonian court doctor's certificates from Russia, according to which he would have been treated simultaneously in three Russian hospitals: in Moscow, in St Petersburg, and in Krasnodar Krai.
This served to confirm that Mr Grigorjev was able to get from Russia documents outwardly totally okay. Like also a death certificate, probably. And the investigators had a trump card up their sleeve: about four months after «death», Mr Grigorjev had been to Jõhvi traffic register office to extend his driving licence. True: the visit was not caught on security camera, but by experts his signatures on application filed were confirmed to be genuine. This was rock solid proof that Mr Grigorjev was alive.
Thought these past years he avoided visiting Estonia, Me Grigorjev was still interested in the region. Now, police data said he was more focussed on going to Latvia. How and by which documents, the police in Tallinn never knew.
Meanwhile, Northern police prefecture kept reminding their Russian colleagues of the «Grigorjev issue». In December 2013, all of the sudden, the message came from Russia: at long last, they will stop Mr Grigorjev in his tracks.  
Why and who in Russia found him a problem, hard to tell. Even so, it was nine long months from promise to execution – Mr Grigorjev finally snatched on Estonskaya St.
After that, Russia officially asked Estonia to confirm that Mr Grigorjev had no Estonian citizenship. Northern prefecture sent the confirmation but had no high hopes. Perhaps, the confirmation was needed for Russia to grant Mr Grigorjev citizenship. That, in its turn, would have excluded his extradition to Estonia.
As we heard in Harju County Court this Friday, this was exactly what was to be. While in prison in Russia, Mr Grigorjev became a Russian citizen but could enjoy that for only two months. Then, the decision was unexpectedly annulled. «I do not know why they took it from me,» the man claimed in court on Friday.
What happened with Mr Grigorjev while in prison in Russia, and who it took 1.5 years to hand him over, Estonia will never know. On March 1st, at long last, Russia sent word that Mr Grigorjev will be passed on to Estonia. On Thursday, March 10th, Mr Grigorjev with his grey Estonian passport was finally put on a train in St Petersburg and handed over to Estonian authorities in Narva border point.  
Back to Russia, if allowed
Outwardly at least, the six years of hiding in St Petersburg have taken a toll on Sergei Grigorjev. At 44, he looks some ten years older. And he walks with a crutch.
«Could we do without a photographer?» was the first sentence out of his mouth at court on Friday, at the sight of the Postimees cameraman.
He said he worked in Russian gray economy as car mechanic and now almost accidentally finds himself caught in all these events. How did he turn out officially dead?
«I had my documents stolen in St Petersburg,» he answered. «I don't know who died there under my name.»
According to Mr Grigorjev, he also has nothing in common – except for the common child – with the woman who took his death certificate into Estonian vital statistics office. «She is nobody for me,» declared the man. As the court inquired who the woman was dealing with the death certificate, the man stated: «I will not answer that.»
He said he totally officially travelled to Russia at the beginning of 2010, found work in a car repair shop and rented an apartment in St Petersburg. Asked by the court, where exactly, Mr Grigorjev said: «I do not remember.»
«I like it in Russia,» he said. When the court asked him why he came to Estonia to extend his driving licence if he so likes it in Russia, Mr Grigorjev said he had not done that.
He went on to say that though he has a bad memory, he knows he has committed no crimes; likewise, he has received no court summons nor communicated with his parents who live in Tallinn.
«If I get released now, of course I will go to my parents,» he said. «And if at all allowed, I will return to Russia.»
At court, Mr Grigorjev is defended by former Narva police prefect Artur Pärnoja who thinks the court might consider releasing the man from custody. «I think there is no basis to believe he would be avoiding court,» assessed Mr Pärnoja.
The court will decide that soon.
Record drug biz and brutal murder
Sergei Grigorjev is accused in leading a three member gang in methamphetamine in record amount for Estonia. According to the charges, at least 37 kilograms of the hard drug passed through their hands.
Ringleader for the troika, Mr Grigorjev is no novice in the criminal world. Before being arrested, he last was released from prison in 2006 where he was for eight years for a drugs related murder in 1997.
A man indebted to Mr Grigorjev was stabled to death, doused in gasoline in the woods and set aflame with a Ford Sierra. A remarkably brutal slaughter even for the bloody 1990ieas.
Again arrested in 2009, Mr Grigorjev must have known that 37 kilograms of  methamphetamine is no joke (running ahead of the events: his right hand man in the business ended up jailed for 14 years in prison) and that things were bad.