Police to scrutinize all students from Bangladesh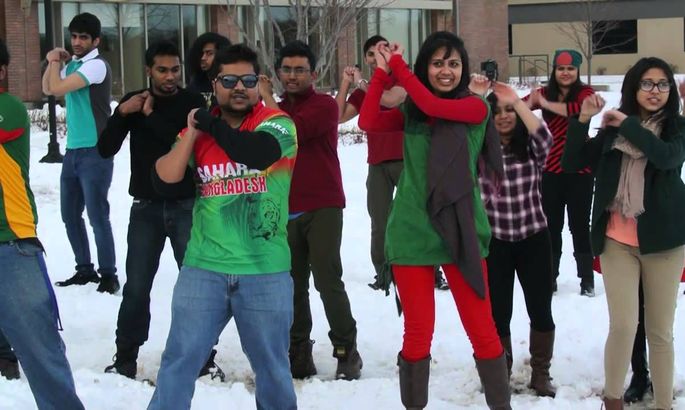 Police suspects a number of students from Bangladesh in misuse of Estonian residence permits issued for studies and is therefore going to check all residence permits and visas. 
While just three years ago only 15 Bangladeshi citizens desired to come study in Estonia and applied for residence permit for that, last year the applications numbered 79 and 56 were granted the permits. However, Police and Border Guard Board (PPA) has been hinted that many of the applicants are not interested in studies at all.
«One variant is that an individual will rather be working in Estonia; a worse case is people not showing up in Estonia at all or moving into other Schengen states,» said PPA migration department head Maige Lepp. A Bangladeshi citizen with Estonian residence permit and visa is not allowed to live elsewhere in the European Union, but once an individual has managed to enter a Schengen state, it is difficult to catch him with that.
The fraud suspicion surfaced thanks to Estonian consul in New Delhi, India to whom Bangladeshi citizens are coming to apply for Estonian visa or residence permit.  
«In January, a hint was given in January regarding a Bangladeshi student admitted into an Estonian university that he is up to something suspicious and is arranging invitations to other students into Estonia,» said Ms Lepp, unwilling to go into further details. The consul warned the police about the Bangladeshi potentially having consistently misused the system.
To foreign students, Estonia grants visas and residence permits on basis of invitations by universities, meaning that a school must have assessed the student as befitting them.
Police forwarded the signal to universities and within a short span of time received information about at least 20 Bangladeshi students with residence permits not having showed up.
«Therefore, we applied retrospective check to all residence permits issued to Bangladeshi citizens last year and this year,» said Ms Lepp. Additionally, they are scrutinizing all proceedings underway and visas issued.
Estonian Business School (EBS), for instance, sent the police a list with over ten students who they had invited for studies but who, having received the residence permit, had waived the studies. Overwhelmingly, these were Bangladeshi.
PPA confirmed that of these, nine had a Schengen visa and have possibly already managed to enter Schengen. By now, the visas have been declared null and void. It is only being checked where the people are located at the moment.
According to EBS PR-specialist Anni Metstak, since fall the school has annulled 16 study invitations issued to Bangladeshi citizens. All in all, 32 invitations have been issued during a year: a half of those invited have shown up to study.
At that, it was last year specifically that EBS detected a rising interest from the Bangladeshi.
«We are not advertising EBS in Bangladesh, but the high reputation of Estonian higher education, the diploma recognised in Europe, and the lower fees are a reason to apply for the very Estonian institutions of higher education,» substantiated Ms Metstak, adding that the students are friendly and willing while quite a few have problems with the academic load. Also, the different culture takes some getting used to.
PPA, however, would underline that misuse of academic migration is a high threat. «Academic migration is the highest risk type of migration in Europe. Over the years, rules of applying for residence permit have been simplified – the system has been made more flexible, so as to have more foreign students coming to Estonia,» explained Ms Lepp. «The conditions are few, it is difficult to check if they are fulfilled. If it is easy to meet the conditions, it is as easy to misuse them.»
As the application and proceeding of residence permit may take a long time, the student from a third country is issued a visa on the basis of which the individual will immediately be able to bring a spouse with him. The solution was invented so that if a candidate will learn he has been admitted at the beginning of summer, he could begin studies in the fall while his residence permit is still being proceeded.
The responsibility for whether the individual indeed begins his studies lies on the university, which is supposed to carefully check the background of a candidate. The schools are under obligation to notify PPA if people will not begin studies.
The first sign of danger should be if a student does not speak English yet desires to study according to English language based curriculum. According to PPA, schools at times actually favour students with low language skills to also be able to come to study. For that, for example, they are arranging preparatory language courses.    
«A school tells us that a foreigner speaks good English but a conversation with the one applying for residence permit reveals he does not understand even the questions,» said Ms Lepp and noted it was not up to the police to check such language skills – this should be in the interests of the schools.  
«We are greatly helped by consular officials who let us know of their suspicions. If a consul says an applicant does not speak English, we usually notify the university that they should check the language skills of the student.»
The schools parry that they are diligent enough. «In addition to the admission application, EBS asks the potential students for a letter of motivation and recommendations. As all foreign students, students from Bangladesh most prove his English language skills,» said Anni Metstak, adding that for the most part they are presented a certificate of an international language test. Also, documents are assessed at the assessment centre ENIC/NARIC. Thereafter, they do a Skype interview where EBS has two to three individuals participating, including a teacher of English.
Tallinn university of Technology (TTÜ) they have 29 students from Bangladesh at the moment. In academics year of 2015/2016, one Bangladeshi student has graduated from TTÜ and one has been exmatriculated.
TTÜ press rep Krõõt Nõges assured us that no student is admitted before ENIC/NARIC has approved the documents, the admission exams successfully passed, and a B2 level English language certificate presented. With paid studies, the fee will have to be paid in advance for a year.
«The students are obligated to register for the subjects at the beginning of each semester and to adhere to the academic load; on top of that, we check the progress. The students failing to meet the requirements are exmatriculated,» said Ms Nõges. Of exmatriculation, PPA is notified to then annul residence permit.
By checking the residence permits of Bangladeshi citizens, PPA is hoping to learn whether the problem is more acute in some specific universities. «It is difficult to tell, at the moment, as Bangladeshi students have been issued permits to study at almost all of our schools,» said Ms Lepp. The summaries should be completed by end of March.
Should it emerge that at some schools the percentage of students enrolled yet not showing up is higher, PPA may reckon that school as untrustworthy. «In that case, PPA may decline from issuing residence permits for students recruited by that school.»
PPA hopes it will not come to that. In near future, a roundtable is planned with universities to talk about the threats and risks.
Recently, Postimees wrote about West African students trying to enter our universities with false diplomas but getting caught. As an example of that, an individual from Nigeria was caught at Tallinn Airport last year with lots of false documents. Of these, one was meant to a compatriot of his currently studying in Estonia and applying for residence permit. The courier and the applicant were sent back to Nigeria.
Last year, the number of people granted residence permits for studies increased 28 percent, a total of 1,145 residence permits were issued. At that, there has been a steep rise of students from Nigeria and Bangladesh these past few years.
Kristjan Oad, chairman of the board at business university Mainor
We had our initial Bangladeshi students to enroll last fall. It was then that we first arranged admissions for the English language based and international joint curriculum «Creativity and Business Innovation», firstly intended for foreign students.
We have not done targeted marketing in Bangladesh. Our information is available in portals introducing study options in the English language, where the foreign youth usually find us. As do the Bangladeshi.
While there are definitely varying ambitions for people seeking to enroll in Estonian universities, the ones we have from Bangladesh do have the following common denominators. Firstly, there is a great deficit in Bangladesh for (quality) higher education. Secondly, it is prestigious to study in Europe. By study fee and cost of living, Estonia is substantially cheaper than the UK, for instance. Also, we have the reputation of a forerunner IT-state. If has also been underlined that in every way we are a free society. When it comes specifically to the choice of our students is the focus of our curriculum: creativity and business innovation. We have many an heir and developer of family business studying with us.
If the documents send by a student candidate are okay including sufficient results from former studies, we have a separate Skype interview with each of them. Thus, we will feel if the individual indeed grasps where and what he is coming to study. Or whether he is actually after education. Or how freely he can communicate in English.  
Up to now, all we have invited to study in Estonia (and who have been granted residence permit) have made it here for the studies. They do well in Estonia. Up to now, only one young man has had to go back home due to lack of progress.