Taxify alters app, cabbies get anxious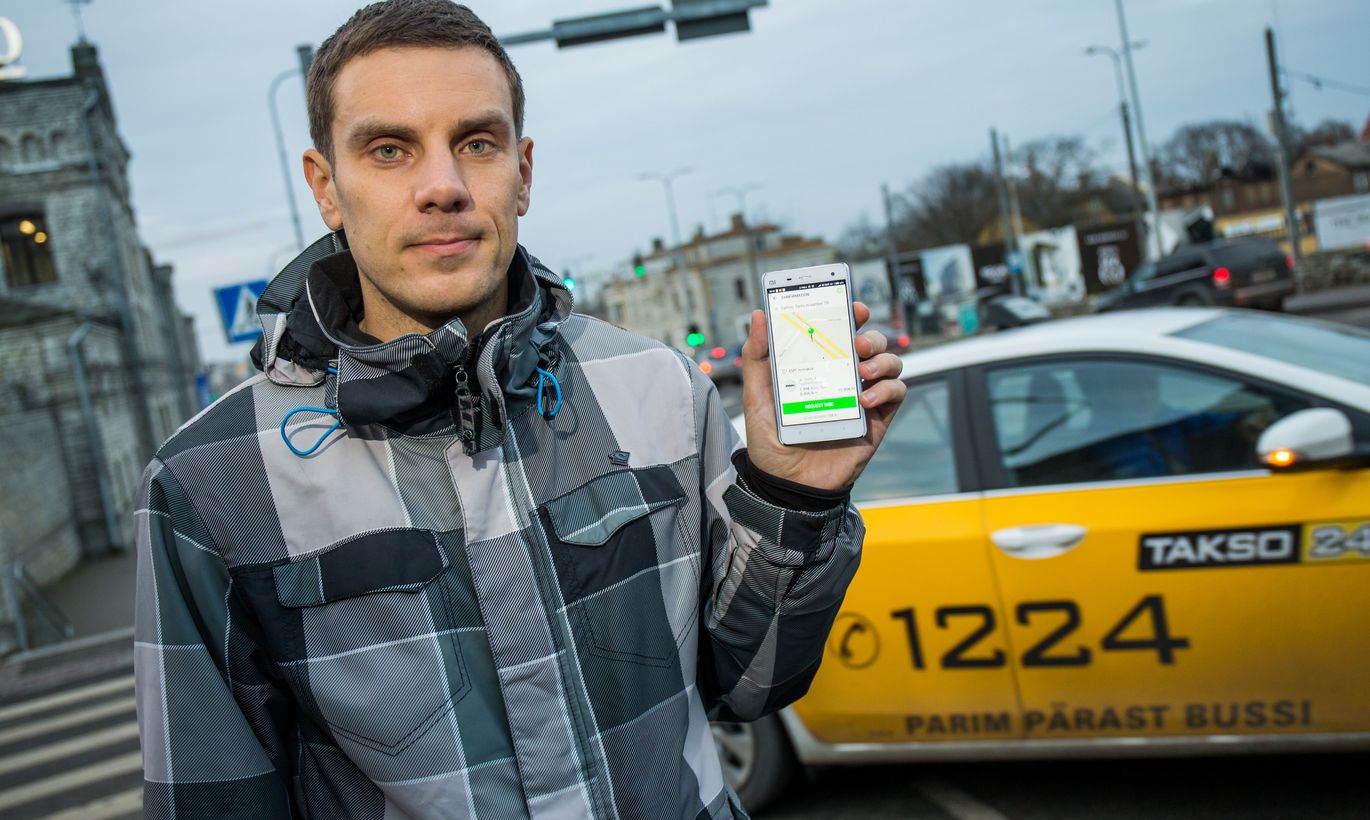 Last week the taxi service mediator Taxify freed its app from initial small carrier brands. In a few months, logos of all companies will go. Ordering a cab, people will thus be in the dark as to which firm comes around. Taxify says this is in the interests of clients and drivers alike. Some doubt the sincerity. 
«We had  lots of small taxi firms with a couple of vehicles whom the clients didn't know and were afraid to order. They favour the major brands,» explained a Taxify manager Martin Villig, underlining their aim is for all taxi drivers providing quality service and have work.
Mr Villig went on to say they'd be creating four-five categories marked by different colours. Into the categories, vehicles will be divided by age of car and price of trip. Comments by clients about drivers will not be directly considered. «The comments are what determines whether or not a driver can work in the Taxify system,» he added.
At the moment, the application still features the major taxi company logos but in a couple of months these will also disappear. «What we have left are fleets with 50 cars or above. With some we have contracts which feature advance notice time, we cannot just up and alter that,» said Mr Villig.
We don't know it it's because Taxify still shows the well-known carrier logos as the small ones have disappeared, but is was actually a small-firm-cabby who complained to Postimees that as the logo was removed his weekly orders went down 30 percent.
«Overnight they took the logos off last week, without a warning,» lamented a taxi driver for 13 long years. He asked for anonymity, not wishing to lose the cooperation by Taxify. «As all Tallinn taxi biz has basically moved into the app, a large part of Tallinn taxi biz is in Taxify hands and basically they regulate the market as they want,» he said, adding that clients have said they do look at the brand and not price only.
Tulika foresaw the change
Mr Villig said Taxify sent taxi drivers a newsletter last week explaining background to the change.
«We reckoned that Taxify was a business which in the longer perspective would lead to them removing the trademark and then it will be Taxify taxi and Taxify app. This corresponds not to our vision. Therefore, today we are already pulling out of Taxify together with the Tallink trademarks,» said Tulika Grupp chief Mati Saar who underlined they have toiled at their brand for two decades. To maintain their brands, Tallink and Tulika have created an app of their own named Taxofon currently in testing phase.
The pulling out means that the drivers of the two groups may indeed continue to provide services via Taxify as well but may not use their trademarks which would soon be impossible anyway.
Also, Mr Saar said they are currently without an official contract with Taxify having failed to reach agreement with price at one point in time. Mr Saar said hat of their 300 drivers, about 15 percent have of own free will joined Taxify. What they do from now on is for them to decide.
Good for the no-licence drivers
The small-firm cabby who talked to Postimees said that by removing the logos Taxify would be blessing the rental car and share-ride people with no licence also mediated by Taxify as taxis. «I my eyes this is piracy. A car drives up with no taximeter or anything. What they have is a tablet with something like taximeter uploaded,» said the taxi driver.
Estonian Taxi Drivers Association board member Lembit Poolak said it seems to him that Taxify is eyeing a ride-sharing thing like Uber.
Like Uber, Taxify opened a private drivers service wherein anyone who wants may enlist as driver and offer the so-called taxi service. Thus, a customer may order a ride by a private driver with no taxi transport licence.
In this, Martin Villig sees no problem. «There are some thousand taxis in Tallinn the price of which does not correspond to the quality offered – the cars are very old and the drivers speak neither Estonian nor English. The numbers of taxis with good price/quality ration is limited. Were there more of such, we would be glad to add them; but as there are not, then in order to service clients we need to invent other variants as well,» he explained.
Taxi drivers say this is hogwash. «The taxi market is oversaturated. There's not enough work for all to feed their family,» said Mr Poolak.
Mr Saar added that taxi service and rental car service providers operate on one and selfsame market and are competing for the same customers, while requirements for providers of service vary.
«Taxi business is inspected manifold more. A rental vehicle with driver is, by essence, a taxi service provider but they have not made the investments required in taxi segment. The issue arises if it makes any sense to maintain the taxi segment or better just switch to rental,» added Mr Poolak.
Mr Saar underlined that taxi drivers need to buy the taximeter, have it verified, pay a dearer insurance, get a special training, get a taxi licence and trip card from local government. Also, they must feature a visible marking and price list.  
«With a business of same kind coming up next to us but without these requirements, this cannot be,» added Mr Saar who said it will be an interesting year.
Martin Villig thinks this is much ado about almost nothing. To his knowledge, of the 1,500 Taxify taxi drivers five to seven percent are ride-sharing service providers. But he did admit that in the future the percentage will surely rise.
«But we do select them very carefully – the car must be decent, we will also look at the punishment register. We do tests and trainings. These people are often even better picked than taxi drivers where in many companies they do not even look at the punishment register,» said Mr Villig.
As for the dissatisfaction in major taxi firms, he says this is rather because lots of drivers have left these companies to escape the franchise fees.
Meanwhile, referring to the inequality of requirements between taxi drivers and ride-sharing, Mr Villig points accusing finger towards economy ministry. «Today, technology has advanced, real-time feedback systems are functioning, why do we need the taxi regulation? Perhaps, time to move on,» thinks Mr Villig who understands that change may be painful.
«What's better. A licensed driver who driver at high prices and tries to cheat tourists or less licensed drivers whose activity and feedback is monitored by ordering platforms?» he asked.
«In the ministry, we have initiated discussions with market players regarding the need to complement regulation as to accommodate the new services in legal framework. Still, let me underline that until legislation is altered, provision of paid passenger transport without relevant right is prohibited,» said economy ministry transport and traffic department head Sander Salmu.