Lack of money has major hospital acting as old folks home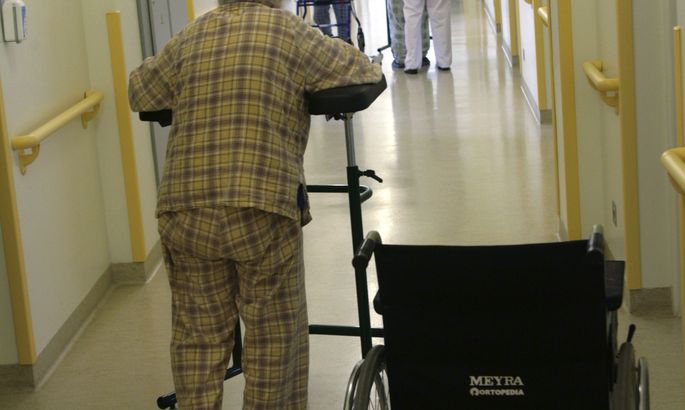 As in the second half of this year East-Tallinn Central Hospital (ITK) is short of the money to offer nursing services, they have opted to use part of the beds as «retirement home». 
«The correct way is calling it paid nursing service. It isn't prudent to leave beds standing empty if we have both demand for the service and the option of it,» said ITK nursing clinic director Eve Karmo.
At the moment, the paid nursing service costs €24 for 24 hours, barely covering the so-called hotel costs (warm room, clean laundry, decent food). «Unlike nursing homes, we have nurses and doctors available at the pressing of a button,» she said.
The decision was taken to keep the hospital within the budget set by health insurance fund. An alternative would have been leaving 25 nursing care beds empty.
Ms Karmo said the problem was actual costs per case were «substantially higher than prescribed by health insurance fund contact.»
To achieve the contractual cost, the hospital should send patients in need of long-term nursing care circling between various hospitals providing like services «causing patients additional suffering,» said Ms Karmo.
Ms Karmo underlined that they are seeking never to send home patients on tube-feeding, bedsore or practically comatose. «Not every time do we succeed, as some relatives are already used to wheel the patient from one place to the other,» she admitted.
Citing planning procedures for contracts, health insurance fund partnership management head Maivi Parv said with correct adherence to agreements lack of money during second half of year ought not to occur.
Health insurance fund compensates hospitals for nursing care service for up to 60 days. On the average, patients stay for 30.
Assessment of patient's functional condition, determining need for nursing care, its planning and execution, appointment of befitting diet
Ensuring personal hygiene
Dressing the patient of help therewith
Assisting the client in raising up, moving about, teaching use of medical device, feeding
Care for stoma (client's personal means)
Oral administration of medicines (client's personal medicine)
If client's condition changes, consultation of doctor or nurse
In-patient nursing care bed/day in health insurance fund price list costs €61.32, of which own payment is 15 percent i.e. €9.20
East-Tallinn Central Hospital charges €24 for 24 hours of paid nursing
Villa Benita charges €26 per 24 hours
Iru Nursing Home charges €22 per 24 hrs
Merivälja boarding house (Kursana) charges from €22.85 per 24 hrs
Hageri nursing home prices begin at €21
Source: the nursing establishments