Incoming foreign intelligence chief says Russia is playing itself into international picture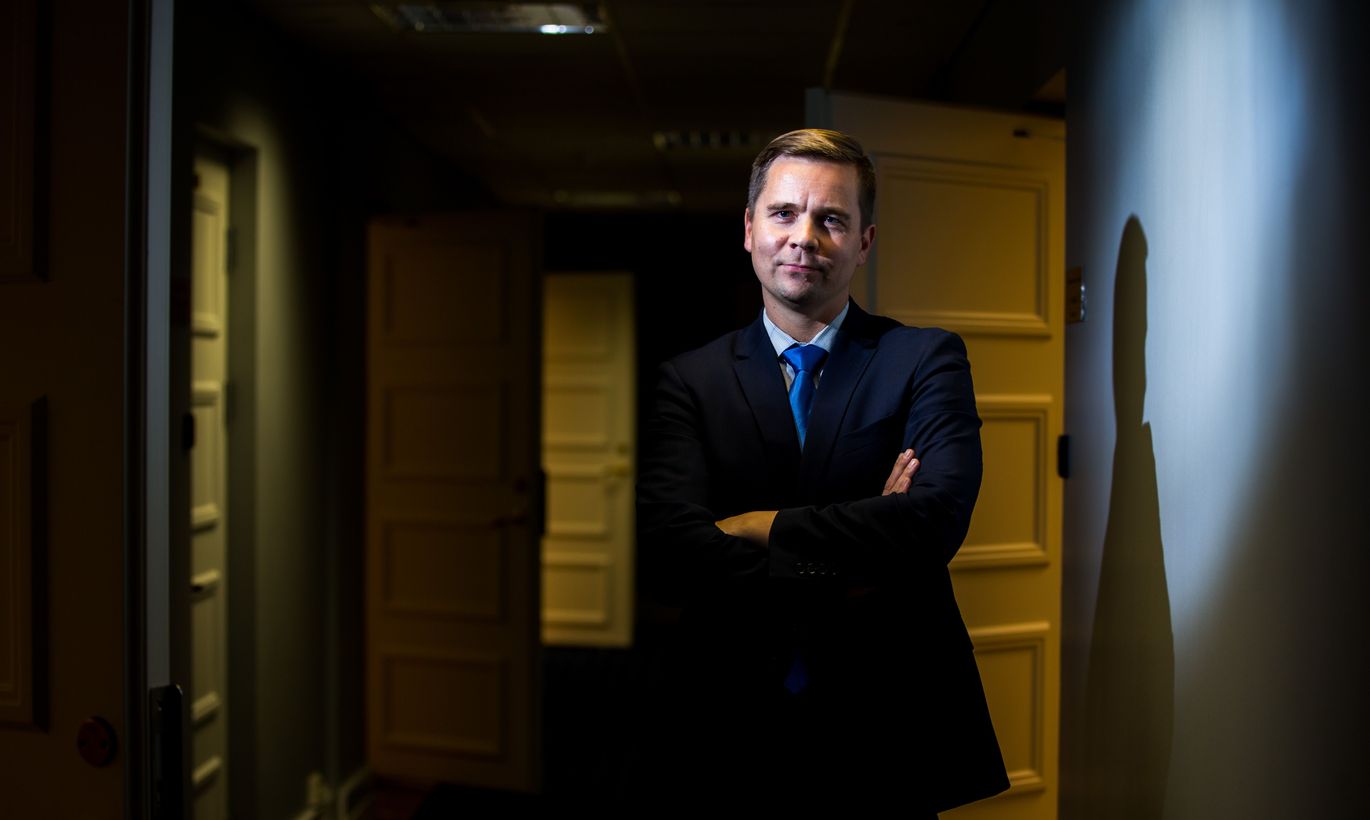 A long-time chancellor at defence ministry, come New Year Mikk Marran (37) will assume leadership of Estonia's foreign intelligence, the Information Board. Drawing on his current job at the ministry while peeking into the future, he admits to be troubled by Russia's deepening aggressiveness and closeness.
-Following the Paris terrorist attack, lots of people the world over are trying as if to convince one another that we must not fear, must not feel afraid. Honestly, however, humanly speaking this is difficult. It seems these butchers have undertaken to attack the so-called common people in crowded places which creates the utmost instability and vulnerability. How much is it possible to foresee these attacks at all, and to prevent them?
Every day, intelligence agencies are doing their best to collect information and prevent the worst. Regrettably, not many of the intelligence success stories make it to the news. The fact remains that the bulk of attacks are prevented by security agencies. Some failures are inevitable.
-How is it possible that the French intelligence was caught unawares?
It happens in the best of families. The French intelligence agencies are on a very good level.
-Could you suggest the executed terrorist acts and the prevented ones ratio? To which degree will we never know how much evil is actually being planned?
The ratio is overwhelmingly towards the prevented terrorist attacks. Indeed, this is both the beauty and the bane of intelligence that we will never know how much and what kind of atrocities have been prevented. With corruption crimes, for instance, it different. These need a public approach, to avoid future crimes. With terrorism hatched, it's different – should we publish all the prevented episodes, this would sow needless panic and would perhaps offer ideas to perspective baddies.
-Has there been real danger in Estonia these past months?
I am only able to answer from my current position. There is no direct military threat to Estonian state and it is not foreseen in near future. Meanwhile, we are daily involved both domestically and with the allies and broadly at NATO to avoid any miscalculation by Russia regarding NATO solidarity and decisiveness longer-term as well.
What is worrisome is Russia increasingly encapsulating, aggressive and unpredictability. Meanwhile, I have no reason to think we could not sleep peacefully.  
-Should we also be worried that after these latest attacks France has announced that it will not exclude cooperation with Russia against ISIS? What options will this leave us?
Clearly, with its operations in Syria Russia is playing itself back into the international picture. I think this is intentional by the internationally isolated Russia. As a result of that, in issues related to Syria and ISIS [the West] must talk to Russia. Which will not mean that we and our allies would tolerate Russia's behaviour in Ukraine and on other international topics.
-Fear is usually caused by the unknown. How dangerous is the world after the Paris attacks for an ordinary citizen and through your eyes, meaning that you and other security experts have altogether different information at your disposal?
Any terrorist attack in our near neighbourhood and our cultural space understandably creates fear in people. As a citizen, and as an individual, I totally understand that. Definitely, security specialists see this from a slightly different angle, knowing how many attacks have been managed to avoid.
No doubt they are analysing the broader impact; every case is a lesson – domestically and in international cooperation. Meanwhile, democratic and open nations are not immune against terrorism.
-What is expected from Estonia in the world? What kind of information is expected from us as Russia's neighbour?
Our three intelligence agencies – Information Board or the foreign intelligence, Internal Security Service, and the security police, and the Military Intelligence Centre at the Defence Forces –, among other things, these have for years laboured to ensure our allies and friends the best expert assessment possible.
As a small nation, we cannot analyse, cover the globe with our expert assessment. Which isn't the goal either. Doubtless, Estonia's peculiarity is our location, our historic background, our innovation and effectiveness.  
-As it became known you would be the next Information Board head, you promised to try to show more openness in your work. Is this realistic and necessary? I believe a large number of people would rather live in a serene state of ignorance, rather to be reported the threats all the time.  
On the broad scale this is realistic and necessary. I have not promised constant reports on threats; rather, I have thought that after certain intervals, Estonia could be presented a so-called public threat assessment as is the practice in numerous nations. In my opinion, this would help shape sound thought and a better consolidated information space, as well as helping to diminish the insecurity from time to time apparent in our society, or even signs of panic. Also, I think the Information Board could brief the media, a couple of times a year.
Secondly, foreign intelligence may not be an agency which does not exist. This is dishonest towards the people working there, while limiting the options to draw new brilliant analysts, specialists etc.
Thirdly, openness helps refute misunderstandings regarding what foreign intelligence is doing and what it is not doing, and offers an opportunity to communicate with the public without filters. Naturally, a large part of the work of the agency will be concealed from the public; no-one intends to alter that.
-Have you already had the time to regret these past few days that you accepted the job offer, in October?
The events in the past few days have not affected the decision at all. For those involved in security, such incidents are part of the daily work. No regret, definitely. This is a huge challenge, so I'm excited and stirred, rather.
As the outgoing head, Rainer Saks has set a very high standard. I will lean on the fine people at the Information Board. Information Board is the frontline to defend Estonian state. Every employee thereof feels the responsibility, every employee needs to be aware that on his wisdom, determination, watchfulness and cooperation hangs the continued existence of Estonian state. I expect my future colleagues to be responsible, show initiative and have new ideas. I also hope to offer these myself.
In Estonia, Information Board is not functioning in a vacuum, but in cooperation with other agencies. I have every reason to be convinced that cooperation with security police, the military intelligence centre, police and border guard board, prosecutor's office and other vital partners is going great. I know and I respect these agencies, and their leadership.  
-Has security been upgraded at Estonian Embassies in Europe these past few days?
Speaking of physical protection, this is first and foremost a question to foreign ministry. Defence ministry is not involved with security of Embassies, and my future employee the Information Board is engaged in counterintelligence to protect our foreign representations. Regarding the latter, I believe, the routine work is continuing.
Chancellor at defence ministry since January 1st 2011, having worked at the ministry since 1999. In 2006–2009, director of defence department of Estonian permanent representation at NATO.  
Had his Master's in national resource strategy at National Defence University, USA. Bachelor's at public administration in Tallinn University
An agency under defence ministry ensuring national security by defending constitutional order by non-military preventive measures, cooperating with security police to prevent crimes against the state.