Estonia eyes engagement against ISIS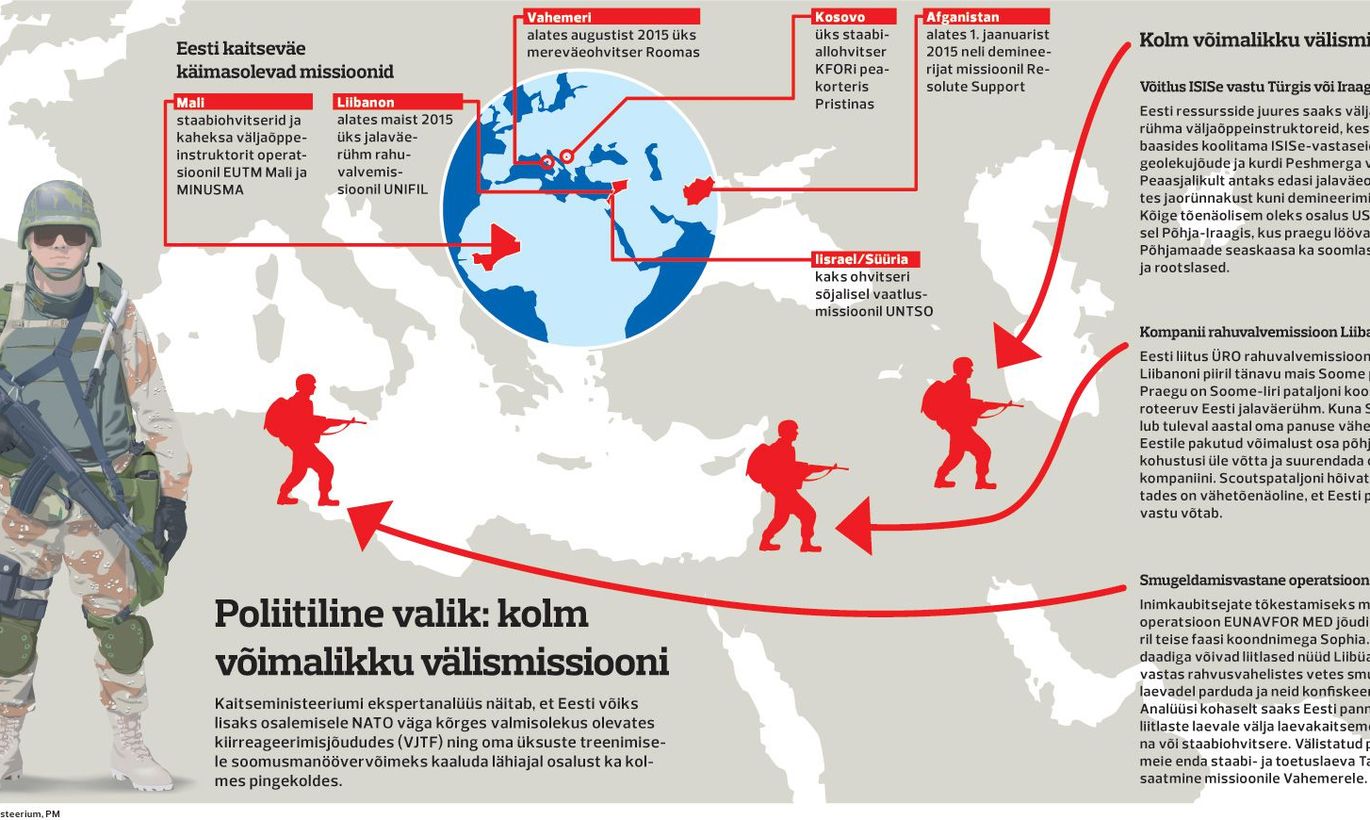 At defence ministry, ideas have been put into writing regarding Estonia's options between three likely foreign missions looming. A scenario would take our soldiers back to Iraq, to train combatants fighting Islamic State. 
Let it be made clear: the analysis completed last week is so fresh as to be yet unknown to key ministries and Riigikogu. Regarding missions, however, it is the latter that provides the mandate, so it is all far indeed from being settled.
Even so, the analysis is a kind of a foundation for such a decision. The best brains of Estonian defence planning are currently going by the assumption that crises and their outcome – like with the mass migration – will rather grew worse over the world. The 600 member Scoutsbattalion, left a bit idle as Afghanistan and Central African Republic missions ended, would be able to help alleviate these while boosting Estonian foreign political clout.   
The options are three. The first would be Estonian soldiers joining the anti-ISIS coalition in Iraq or Turkey. We would not be talking about combat units, but instructors at bases training Iraqi security forces and the fighters of Kurdish Peshmerga. Mainly, they'd be passing on infantry skills from squad attack to mine clearance.
Though ever since 2014 Estonia has been part of anti-ISIS coalition along with 60 others, thus far the participation has only been indirect. As an example of that, at end of this summer we sent Kurds 28 tonnes or ammunition i.e. a million cartridges. Also, we donated to Iraq about 50 Soviet era firearms and mine-throwers which we do not need.
If a manned mission against ISIS becomes reality, it will probably mean a rotating platoon-sized unit on location. The likeliest spot would be Anbar Province in Central Iraq, as the militarily mighty Turkey has thus far only allowed UK and US boots on its ground.
In Iraq, Estonians would not do the training alone. This summer, Sweden sent 120 near Erbil, Northern Iraq, while Finland added 47. Belgians and Norwegians were there before. At the moment, Latvia and Lithuania are considering participation. If the mission comes, it would surely be longer than one rotation as before ISIS is subdued it would be politically complicated for the coalition to withdraw from the area.
Commander of the Defence Forces Lieutenant-General Riho Terras says the mission in Iraq would not compare in danger to what was experienced in Helmand, Afghanistan, while the risk would not be as low as in Western-Ukraine where our servicemen head to train Ukrainian soldiers in the beginning of November.
Although the land around allied training bases in Northern and Central Iraq is predominantly under Kurdish control, the front with ISIS is continually shifting back and forth. Outside the bases the situation is very volatile as evidenced by the mainly US and Danish fighters bombing ISIS positions constantly and on a very broad territory. As the Finns headed for Iraq this August, the Brigadier General in charge Petri Hulkko noted they'd probably avoid direct fire by ISIS at training camps – while suicide attacks were not ruled out.
According to the analysis, the second option would carry a risk a lot lower. That would be Estonia involved at the Mediterranean, in the operation EUNAVFOR MED aimed against human trafficking. Two weeks ago, the operation entered its second phase named Sophia. It is happening in international waters on ten sea areas directly against Libyan shores whence refugee vessels are launched to the life-threatening journey en masse. Freshly mandated by UN, the allies are now allowed to board the vessels and confiscate them.
Estonian defence forces already experienced by training Scoutsbattalion combatants as pirate fighters for the operation Atalanta near Somali shores, we'd probably get a team on board of an allied vessel this time as well. True, this would demand time of preparation, as without delay Navy may only send staff officers to missions.
Estonian third option would not be a new mission but the enlargement of an existing one. Currently, we do have an infantry platoon at UN peacekeeping mission in the Southern Lebanese «blue zone» while partners – Finnish-Irish joint battalion – carry the main load. As the Finns are considering shrinking their share next year, Estonia this August was unofficially offered to raise our input to company size.
It's no secret that Estonia's foreign political ambition to participate in Lebanon is linked to desire to sit as non-permanent UN Security Council member by 2020. Though Estonia has had a company in Lebanon in 1996–1997, it will probably not be repeated. Mainly because for the 600 professional Scoutsbattalion soldiers the work load would become too much. Also, it would tie Estonia's hands for a long time to peacekeeping and would not let us take quick decisions in other crises.
«We have no basis whatsoever to assume that a year from now we will not be in some third places altogether,» says defence ministry policy planning department head Andres Vosman.
He cites the example of Estonia's mission to Central African Republic last summer as initiated by a call by French defence minister to then colleague Sven Mikser. It took mere five weeks from telephone call to mandate by Riigikogu, and till today our diplomats are benefitting from the swift help extended to France.  
Without exaggeration, almost daily Estonian national defence heads are unofficially asked about Estonians for missions. As an example of that, a major input would immediately be welcome in Kosovo, as well as in Mali, Somalia or Southern Sudan. Indeed, the three fresh proposals by defence ministry are guided by the understanding that though militarily impractical, it makes sense for Estonia to rather participate in several operations with few soldiers that in one with many.
Lieut.-Gen. Terras says that though defence forces are not anxious to get to missions, negotiations are constantly underway. «We have been talking to Americans, Brits, Germans. We have been seeking options so politicians would have offers on the table about where we could really go,» he says. Often, it is Estonian warrant officers and lieutenant-colonels who are desired for missions, but the latter are very busy even at home.
Furthermore, Estonia took a decision in 2012 that having withdrawn from the Afghani ISAF mission, in 2015–2017 we would be focussing on Estonian input at NATO Response Force (the NRF). Which means one year in constant readiness and two in ongoing exercises.
We have been unable to extend the agreement unconditionally, having added peacekeeping duties in Lebanon and the training in Ukraine. When at the beginning of 2016, the initial CV90 combat vehicles arrive for Scoutsbattalion from Holland, part of the battalion needs to be home being trained for the new equipment. «Actually, we have no slack at all,» admits Lieut.-Gen. Terras.
Though Estonia is capable of keeping about 150 soldiers at foreign missions constantly, and at peak times it stood at 350, NRF has messed up the plans. Thus, any new and bulky mission decision may only come on account of shrinking Estonia's input at NATO Response Force.  
A way out would be involving Defence League or reservists at peacekeeping missions, but thus far there's no political direction towards that. No matter the future choices, Mr Terras believes Estonia could manage the anti-ISIS trainings in Iraq while doing the rest.
Meanwhile, both defence ministry and headquarters are on edge by the advance of Taliban rebels in Afghanistan where only 12,500 allied soldiers are left at the follow-up operation Resolute Support. Last week, US president Barack Obama suddenly declared he will halt withdrawal of US troops remaining in Afghanistan and will keep the units at current level in 2016.  
Though NATO as such lack any willingness to return to Afghanistan, it is likely that USA will ask every ally separately. At the moment, Estonia has four mine removers, and a mandate has been given for 25 soldiers.  
«I believe they will ask us. A moment may come when we will have to decide,» predicted Mr Terras – a good example about keeping some spare capacity in store when it comes to the missions.