City centre edges towards the sea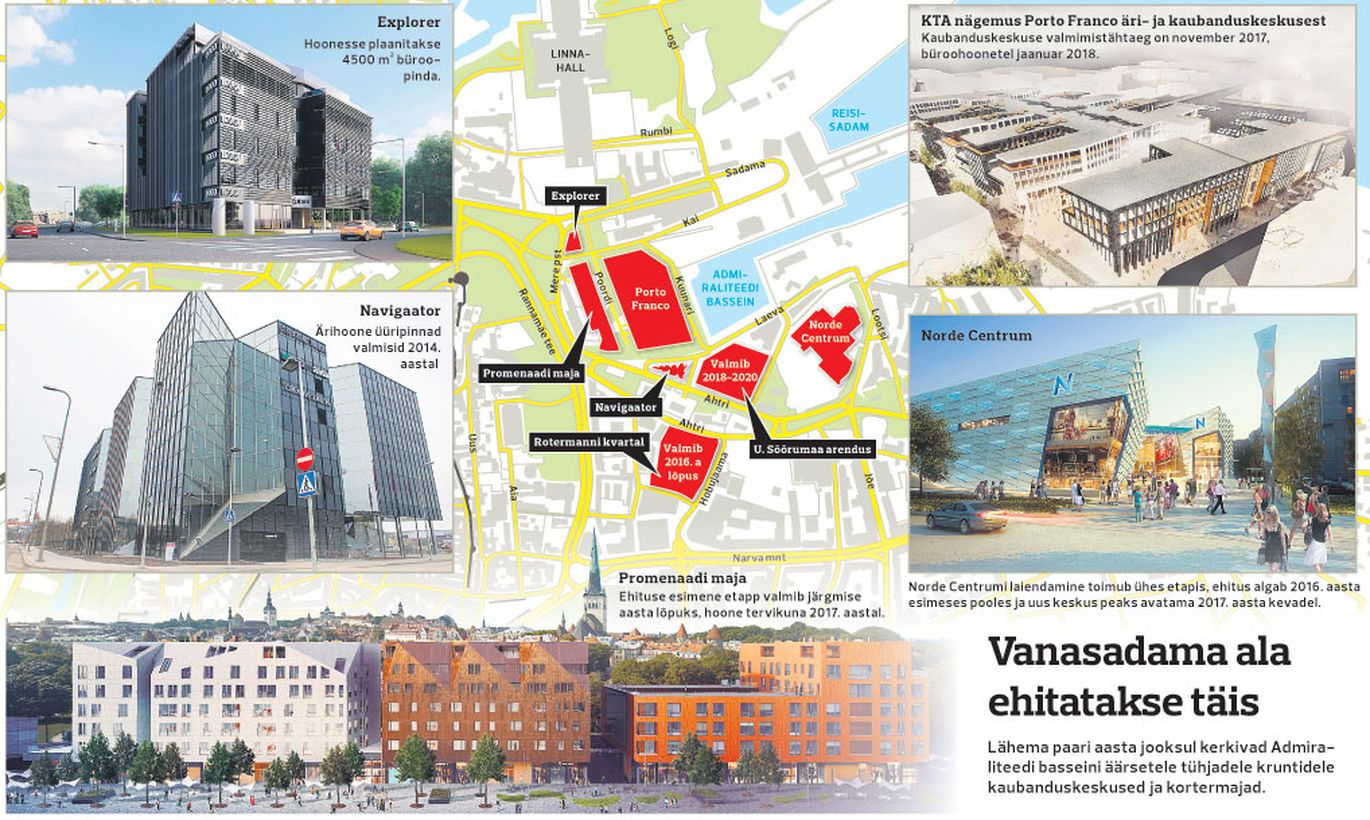 During five to ten years, Tallinn city centre will be edging from Viru area towards Admiralty Basin, closer to the sea. Around Old City Harbour, construction has begun on lots of lots. Meanwhile, not all developers have disclosed their plans to broader public. 
On the desirable parcels of land lining Admiralty Basin, major works are now underway – to alter the picture around harbour beyond recognition. On Wednesday last week, «rafter party» was celebrated at Explorer office building at Kai St and Mere Avenue corner. In the eve of same day, corner stone was laid for Promenaadi House which rather looks like a campus of sorts. Next to Capital Mill's apartment developments, the Hillar Teder driven Porto Franco shopping and business area will be erected, divided by a broad promenade-to-be.
A couple of hundred metres off, to the others side of Ahtri St, there lies a newly built town of another multi-millionaire – Rotermann Quarters. «The more life around the Admiralty Basin here, the more life will be in the Rotermann Quarters,» said Urmas Sõõrumaa while glancing out his office windows at the four cranes building the several new houses in his domain by end of next year.
The ambitions in Mr Sõõrumaa aren't limited to Rotermann Quarters, however. Also, the businessman owns a large lot across Ahtri St currently used as car park. «No matter the park with 50 years old trees drawn unto my lot – which is the best over there at Admiralty Basin – by 100th Anniversary of the Republic it will feature a magnificent centre,» says Mr Sõõrumaa, hinting at the lot between Porto Franco and Norde Centrum which in neighbour's brochure is depicted as a park.
On the lot where a spa was planned some years ago, a commercial and apartment building will begin to be erected in 1.5 years from now, said Mr Sõõrumaa: «In the centre, apartments will be the main emphasis. Ground floors will be for commercial spaces.»
The apartment block will sit between two shopping centres – the future Porto Franco to its West, and Norde Centrum towards the East. As for the owners of the latter, by spring 2017 they intend to double its size. The competition being tough, enlargement is needed for development. «We have had work underway for about a year and a half. At the moment, we are applying for building permit and the procurement will be launched this very week. I do not see a need to change anything now due to the developments next to us,» said Capfield OÜ board member Ruben Gornischeff.
«While initially we thought we would do a simple extension to the centre, today we will lay more emphasis to its interior and outer quality.»
The area does feature one more mover and shaker – AS Port of Tallinn –, which has thus far kept to the sidelines. «Regarding the land with options for development, for years we have been thinking, analysing and planning. We have been asked: how long will you then be preparing? For 20 years you've been deep in thought. I'd say very serious work in that direction has begun during the past five years. Five years planning harbour areas is a very short time, as this is no ordinary planning of lots,» explained the port's real estate development business direction head Ahto Ader.
«We have land between the cruise area and the City Hall (Linnahall), with a private lot in its neighbourhood – that's one place. The other place where we may take a brisk look around is near D-Terminal, a bit towards the planned Reidi Road and «Russalka» [statue –edit]. As Reidi Road comes into being, options will be created for us over there as well. Currently, this is basically the port's back yard. The plans do exist on paper at the moment, but we will have to decide whether we will do it, when we will do it, and how big we will do it,» revealed Mr Ader. He said all future steps will depend on the company's new council and management.
As noted by Mr Ader, serious though ought to be given to traffic solutions in the harbour area, because when port's traffic is tied up in knots or neglected, all developers will be deep in trouble. «For the success of the business, it is necessary for the people and the cars to have good access. Makes no difference what colour your building is – if access is poor, people will not come,» said Mr Ader.
The city intends to alter traffic arrangement its centre. At the moment, a pedestrian path project is in preparation to connect the port area with the city, and a Tallinn main street project touching Narva Highway and Pärnu Highway, to totally transform traffic arrangements in city centre.  
In near future, the Kopli tram course is planned to be slightly altered and the trams should someday be going to Old City Harbour. Also, traffic density should calm down as Reidi Rd gets ready; regarding that, the city and the state have reached agreement and project design is underway.
«All these are the running engagements. Alas, our current capacity does not allow to do as in some cities abroad where they begin with building out a metro line with the stops, and then they proceed to erect the houses. As a rule, in Tallinn we are developing the streets network together with other things or even one step behind these. An excellent example of the opposite being true is Kalaranna Street, perhaps, but there the interest of developers played a major role,» said Tallinn chief architect Endrik Mänd.
Mr Mänd is so glad that, at long last, city life reaches the sea: «We have waited for that for a very long time.»
«The direct contact of Admiralty Basin with the sea creates the prerequisites for the city centre to shift. From the current city centre – around the Viru Square – the area is differentiated by the greater emphasis on public city space. Public space is an important aspect in favour of the development of the districts,» added Mr Mänd.
Capital Mill CEO Igor Mölder agrees: in the district, car traffic will largely be taken underground, and thus significantly larger public spaces will be created for pedestrians. «In a city, people love to walk among people, and where they feel good. I am convinced that the harbour area will turn out to be just like that,» he said.
Meanwhile, there are arguments against the centre shifting to the sea shore. Ruben Gornischeff says the existing heart of the city will not yield its positions easy: «Even with this Porto Franco coming, Viru Centre will not be shut down because of that. Also, another shopping centre is planned for Viru Centre at Rävala St 8 and negotiations are underway with potential lessees. And the grapevine says Maakri Tower will begin to be built pretty soon.»