Arabic speakers countable on fingers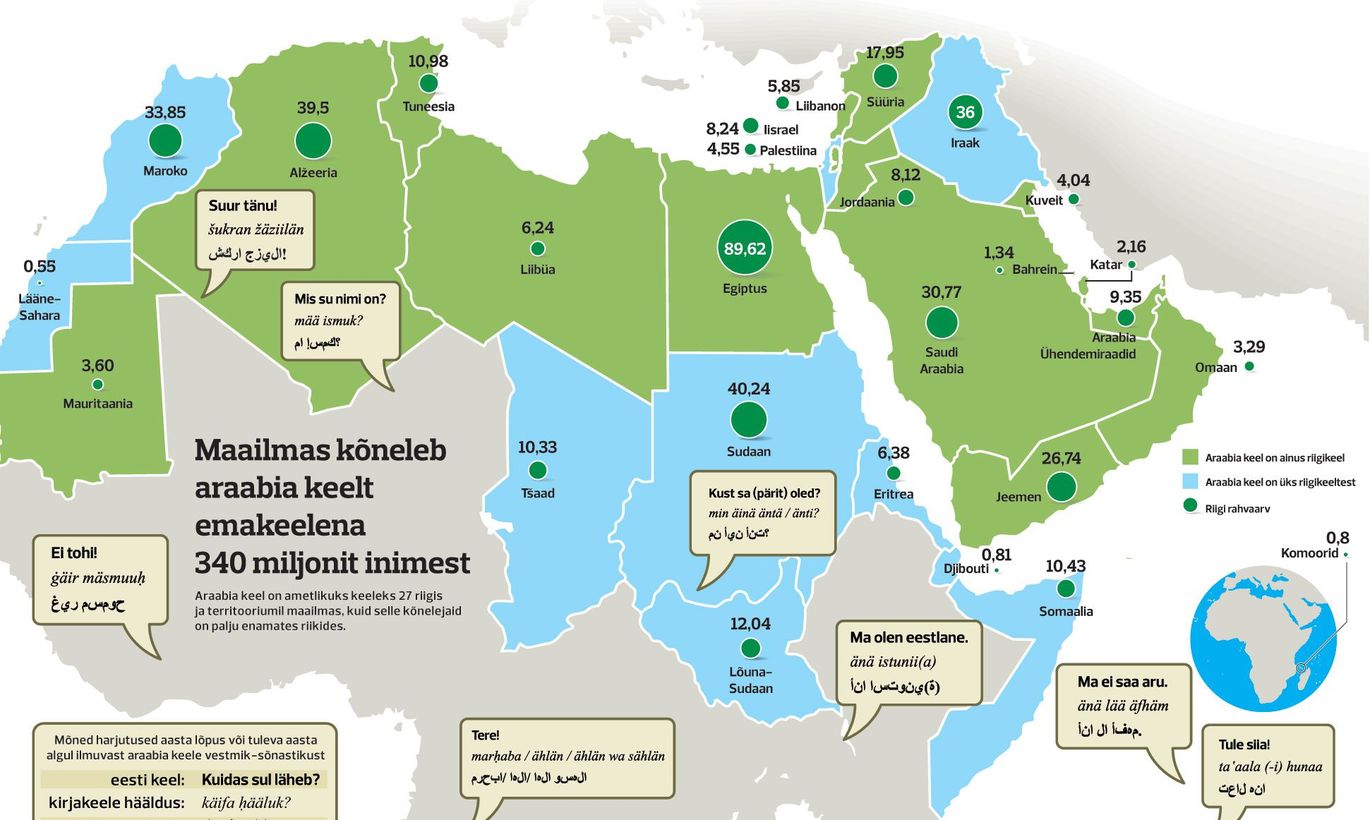 Lion's share of refugees coming to Estonia will be Syrians whose command of English will be our basic school level at best. Meanwhile, Arabic speakers in Estonia number under two dozen. 
As admitted by Juhan Saharov of Johannes Mihkelson Refugee Centre, of those currently in Estonia from Arab speaking nations, mere minority speaks any English at all. Thus, the Syrians can't help but do language immersion regarding Estonian as hopes of daily state sponsored interpretation services are vain. Whoever will fail to master the language is in danger of isolation and unemployment.
Even so, interpreters are needed in numbers a lot larger than we currently possess – in all likelihood, a person hardly speaking any English will be at pains telling a doctor what ails him. Also, interpreters are needed for all sorts of official business that come with living in Estonia.
Wikipedia says the world holds 340 million who speak Arabic as native tongue. Even so, command of the language has been limited to a narrow circle if Estonian intelligentsia. During the past decade, some have been added such have married to an Arab of have dwelled for a time in the Middle-East or Northern Africa. Also, people of Arab origin have moved into Estonia who also speak Estonian. But here, also, these are dozens and not hundreds. And most of them have other things to do than to help interpret refugees.
While over 200 students are now studying Chinese in Estonian schools of general education, there's no place to study Arabic. Surprisingly, it's not taught even at University of Tartu. True, theology department does offer month-long intensive courses. This will hardly provide for interpreters, however; rather, it just provides a basis for further individual Arabic studies.
At Tallinn University, however, Arabistics is on offer since 2007 and the language is being taught ten hours a week. By end of second year, the students are supposed to show B2 level of standard language and take their baby steps in colloquial language.
Middle-Eastern culture lecturer Helen Geršman says they enrolled ten students in Arabistics this year. According to her assessment, Estonians might feature some twenty good Arabic speakers. «With Arabic, we are talking separately of written and spoken languages,» she says. «Thus, two languages need to be studies instead of one. Even for Arabs, learning Estonian would not be easy.»
Social ministry's international protection policy chief Triin Raag says they have yet to thoroughly count the Arab speakers in the land. «Largely, the information regarding interpreters is at refugee centres and non-profit organisations dealing with refugees,» she said. «They are not always using professional interpreters, but often just those who happen to speak the language.» To the knowledge of Ms Raag, however, a large part of refugees reaching Europe speak at least the rudimentary English.
With dealings with doctors and officials, Mr Raag said interpreters are involved via phone or Internet if needed. Finland, for instance, features a special telephone interpretation service.
Though majority of refugees coming to Estonia will be Syrians, we'll probably get our share of Eritreans whose native tongue is mostly Tigrinya – while Arabic is also widespread in Eritrea.
Ms Raag said language studies will rather be happening as immersion i.e. teachers will not need to know Arabic, to say nothing of Tigrinya.
Johannes Mihkelson Centre's Juhan Saharov says that the English of arriving Arabs largely varies. «Lots of Palestinians do speak rather good English, while with Syrians it varies – half do, half don't speak it,» he said. «Sudanese are the worst at English.»
Mr Saharov assures us Arabic is badly needed when receiving refugees. The centre has managed to find three Arab speakers for its support person group, one of whom is a foreigner. «Among those coming from Arab speaking nations, a minority speaks English,» he adds.
Vao refugee centre head Jana Selesneva says they do have an interpreter for dealings with state agencies, but not daily. She says about half of Arabic speaking asylum seekers have a more-or-less satisfactory command of English.
Places like Tartu University Hospital are asking where to find an Arabic interpreter if needed. «We have been informed from social ministry that as the initial refugees arrive at the end of the year, an ambulance will meet them in Tallinn to do a medical check,» says the hospital CEO Urmas Siigur. «The ministry says an interpreter will be going with them, but I don't know when they'll het the interpreter. Just in case, we have found a family in Tartu who is ready to interpret Arabic if needed.»
Interior ministry citizenship and migration policy head Janek Mägi said Estonia would be trying to get refugees who speak some European tongue and not Arabic only. «With Arabic, in Estonian local governments one will hardly manage,» he admits.
Mr Mägi said the talk is it would mainly be Syrians relocated into Estonia, less so Eritreans. Iraqis are not excluded. He would specify that at interior ministers' summit on July 22nd it was agreed that Estonia would receive 130 refugees who have reached Italy and Greece, plus 20 picked by us from a refugee camp outside of EU. In addition to that, a further 47 from Italy and 152 from Greece was decided in September. The refugees will be relocated during two years.
Though Italy has been especially flooded with Eritreans, Mr Mägi said Estonia would be attempting to find mostly Syrians even from there. «We will firstly go by how well the person would cope in Estonia,» he added. «If at all possible, we'll try to limit ourselves with Syrians. At the moment, 30 percent of immigrants into EU are Syrians so there should be no lack of Syrians.»
According to Arabist Üllar Peterson, mastering Arabic would be no easy feat for an Estonian. «Estonians are unfamiliar with the language family, problems arise beginning with the very alphabet,» he explained. «There have been Arabic lectures held at University of Tartu, and as far as I know a hundred people will show up for the first one, and by the third there'll be 30 left perhaps and by the last one some single few.»
Mr Peterson thinks Arabic will remain for the narrow circle of specialists, as those arriving will have to learn Estonian and not the other way round. «Meanwhile, learning Estonian will surely be difficult for them as well,» he said. «These are totally differing language families, and a total absence of cultural points of contact. The beginning will be tough, but then with the contemporary methodology in three-four months some will start speaking.» All told, Russian speakers in Estonia have proven rather illustratively that it's a matter of willingness – for the daily talk, Estonian may be acquired in half a year. Meanwhile, one may live here for decades without speaking Estonian.
In Arabic speaking nations, the level of English greatly varies: Mr Peterson says in Egypt the youth speaks at least some kind of English. «It's largely up to the historical heritage – in Algeria, French speakers are more than of English,» said Mr Peterson. «In Libya, however, during the Muammar Gadaffi era no language but Arabic was recognised.»